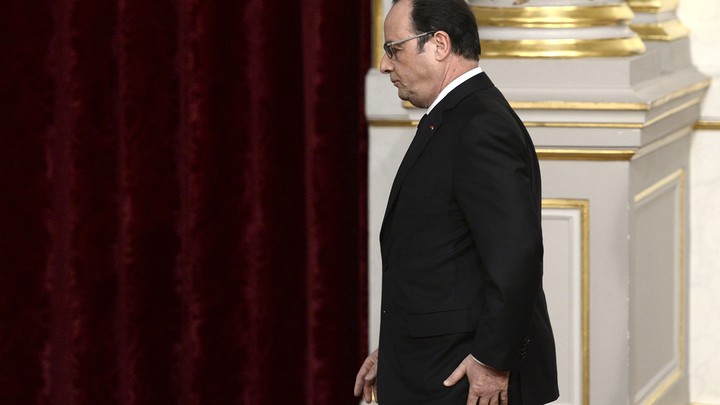 A measure proposed in France in the aftermath of last November's terrorist attacks that prompted vocal support, ardent opposition, passionate debate, the resignation of a Cabinet minister, and which was being watched worldwide for its potential implications is now dead.
President Francois Hollande, a Socialist, dropped the plan to strip some French militants convicted of terrorism of their citizenship. Also gone is a proposal to expand emergency powers. Both measures would have required changes to France's Constitution.
"Parts of the opposition have been hostile to a revision of the Constitution," Hollande said Wednesday after a weekly Cabinet meeting. "I deplore this attitude. I have decided to end this debate."
The measures were proposed in the wake of the November 13 attacks on Paris that killed 130 people. France was shocked not only because it was the second major terrorist attack on Paris in a year—in January, gunmen targeted Charlie Hebdo, the French satirical publication, and a Jewish supermarket, killing 20 people—but also because many of those who carried out the attacks were French citizens. ISIS claimed responsibility for both attacks. In response, Hollande proposed sweeping changes to enhance security, including the measure to strip some convicted terrorists of their citizenship and expanded emergency powers.
Although the measures had support in the aftermath of the deadly attacks, the debate quickly became heated. Critics pointed to history when the French citizenship of Jews and members of the Resistance was stripped by the wartime Vichy government. Legal experts, on the other hand, pointed out that international treaty obligations prevent states from stripping people of the citizenships if it makes them stateless. France had signed this treaty, but hadn't ratified it. To get around this, the French government proposed stripping only those convicted terrorists who possessed dual citizenship of their citizenship. This, critics pointed out, would largely target the children of Muslim immigrants to France, and in essence would create a two-tier citizenship in a country that prides itself on its liberté, égalité, and fraternité. As Heather Horn explained in The Atlantic: "It's not hard to understand why some on the left, including anti-racism activists, are so angry: Why should someone of North African descent, who's been a French citizen all his life, have a less durable claim to citizenship than his white multi-generational French neighbor if they both get involved in terrorist activities?"
That wasn't all. Although the French proposals were powerful, they were merely symbolic. France, as a member of the European Union, has an open-borders policy with fellow members of the bloc. Stripping convicted French terrorists of their citizenship, critics of the proposal argued, would do nothing to prevent  militants from other European countries from entering, plotting, and carrying out attacks inside France. Indeed, many of the attackers in November were French-speaking Muslims who were Belgian citizens.
In the end, it's these sorts of questions that couldn't be resolved by France's two houses of parliament. France's National Assembly, the lower house, removed the reference to dual nationality when it approved the bill. The Senate, the upper house, restored the language. The debate played out in the French government with Christiane Taubira, who, like Hollande, is a leftist, resigned in January from her post as justice minister in protest against the measures.
In the end, Hollande's decision Wednesday suggested the proposed constitutional changes didn't have the required three-fifths support in both chambers of Parliament.
"A compromise," the president said, "appears out of reach."
We want to hear what you think about this article. Submit a letter to the editor or write to letters@theatlantic.com.