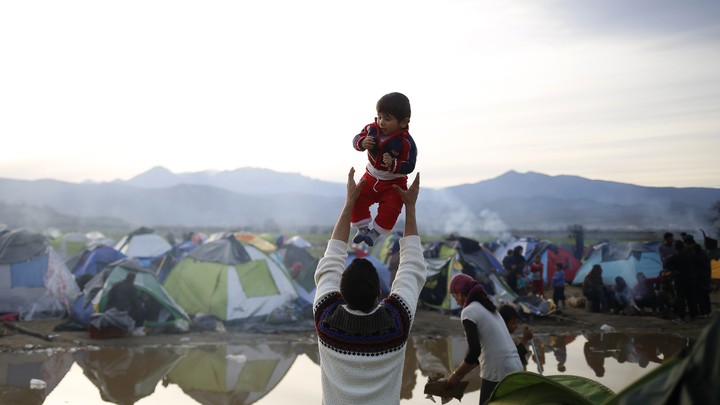 As European leaders continue to work on ways to resolve the continent's migration crisis, Turkey has ratcheted up its demands to help limit the hundreds of thousands of refugees fleeing war in Syria and Iraq from crossing over to Europe.
Turkish Prime Minister Ahmet Davutoglu on Monday outlined a tentative plan whereby EU countries would settle one refugee from Turkey in exchange for each refugee EU countries have returned to Turkey, a major transit country for migrants. Officials hope that such an arrangement would curtail the incentive to migrate illegally to Europe and without proper screening.
For its part, Turkey would receive an additional $3.3 billion, visa-less travel within Europe for its citizens, and expedited consideration for entry into the European Union. In return, Turkey will accept the return of all migrants who illegally cross into Greece, an EU nation, from Turkey.
European leaders, who are desperate to stem the flow of people, said they welcomed a possible deal, although as debate carried into Tuesday, there were some notable dissents among countries like Hungary that want to strictly limit immigration and others that object to Turkey's linking of EU membership to the crisis.
External criticisms of the deal, which could potentially put Syrian refugees at risk of being returned to war zones, were particularly harsh. Filippo Grandi, the UN high commissioner for refugees, questioned its legality under international law. Others noted that migrants themselves would likely protest this arrangement heavily.
Doctor Without Borders, in a statement on Tuesday, said that Europe's leaders "have completely lost track of reality" and characterized the potential agreement as cynical. It added, "This crude calculation reduces people to mere numbers, denying them humane treatment and discarding their right to seek protection."
The deal also would give Turkey a boost amid an unprecedented crackdown on free speech and media, which includes the recent government takeover of Turkey's largest daily newspaper and an uptick in charges brought against citizens for insulting Turkish President Recep Tayyip Erdogan.
Last week, Donald Tusk, the European Council's president, warned people not seeking asylum against making the often dangerous journey to Europe.
"I want to appeal to all potential illegal economic migrants, wherever you are from: Do not come to Europe," he said. "Do not risk your lives and your money. It is all for nothing."
We want to hear what you think about this article. Submit a letter to the editor or write to letters@theatlantic.com.
Adam Chandler
is a former staff writer at
The Atlantic
. He is the author of
Drive-Thru Dreams: A Journey Through the Heart of America's Fast-Food Kingdom
.