Cuba and the Danger of High Expectations
"People want Saint Obama to work miracles."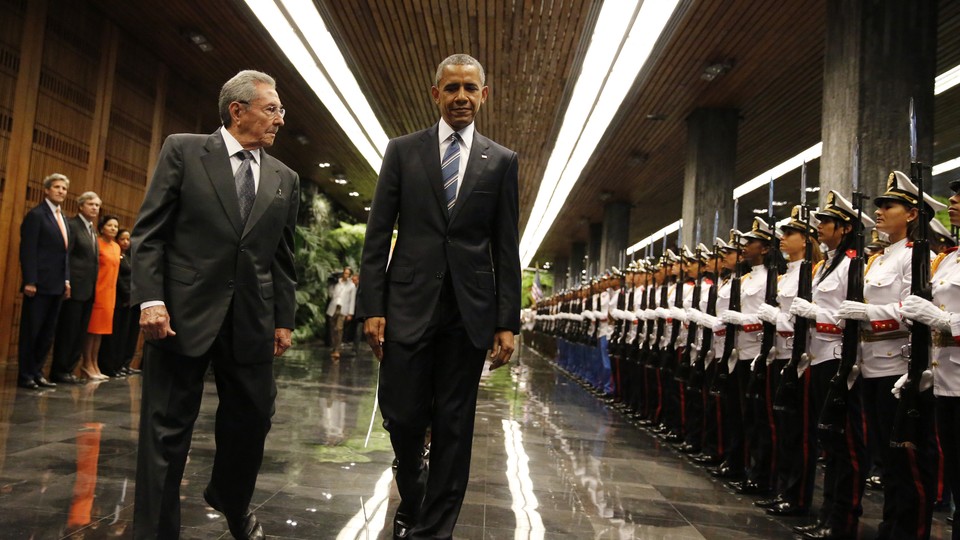 Barack Obama's visit to Cuba will be remembered, in part, for the iconography it generates: a sometimes-Spanish-speaking Obama guest-starring on a Cuban sketch-comedy show; the president tweeting ¿Que bolá Cuba? ("What's happening Cuba?") as Air Force One touched tarmac at José Martí International Airport for the first time ever; the U.S. and Cuban leaders shaking hands.
On Sunday, as the trip got underway, one of Cuba's most prominent bloggers wrote an article that's worth keeping in mind amid all the talk of "historic" moments and images. She applauded Obama's mastery of the symbolic—casting himself as good humored where Cuba's leaders are humorless, as a member of the post-Bay of Pigs generation focused on the future rather than the past. But she didn't necessarily describe that talent as a good thing.
"With each symbolic chord Obama touches in the popular imagination [of Cubans], he assumes a responsibility," wrote Yoani Sánchez, a steadfast critic of the Castro government (and past Atlantic contributor). "The dreams of economic relief, the end of food shortages and improvements in the country's infrastructure, are at their highest point this Sunday but have a short expiration date." (I'm quoting from the English translation of Sánchez's article, which originally appeared in Spanish on 14ymedio, a website she founded.)
"People want Saint Obama to work miracles," Sánchez noted. She's not so sure he will:
The marvel [some] are expecting from Obama is connectivity, as if in Air Force One, the United States president will have brought the fiber optic cable that will lift the island from the precarious state of its internet access. The man who has used social networks intensively in his political career is seen as someone who can do a great deal to sneak Cubans into cyberspace.

In the prisons, thousands are waiting for the president of the United States to achieve an amnesty. Opponents of the current government project major openings in political spaces and room for expression.
The implication is that Obama's visit has created expectations among many Cubans that can't possibly be met anytime soon. And if they're not met, what then? What will that mean for Obama's legacy and the future of U.S.-Cuban relations?
These high hopes can't all be pinned on Obama, of course. But he's certainly played a role in elevating them over the years, as he's challenged and chipped away at the longstanding pillars of America's isolationist policy toward Cuba. As a presidential candidate in 2008, for example, Obama declared, "My policy toward Cuba will be guided by one word: libertad," or liberty. In explaining why he would maintain the U.S. embargo on the island, he asserted, "It provides us with the leverage to present the regime with a clear choice: If you take significant steps toward democracy, beginning with the freeing of all political prisoners, we will take steps to begin normalizing relations."
Cuba's political prisoners have not been released en masse; on the contrary, dozens of dissidents were arrested just hours before Obama landed in Havana. Cuba is not on a glide path toward democracy. But Obama is in Cuba nonetheless. The policy the president has ultimately pursued is more ¿Que bolá? than libertad—sequencing dialogue before democracy, and normalized relations before political freedom.
The starkest evidence of this? The minority of Cubans who went online on Sunday likely didn't read Yoani Sánchez's article. 14ymedio was blocked that day in Cuba, as it has been for most of the period since its launch in 2014. When I asked the folks at 14ymedio whether the site is still censored in Cuba now that Obama's in town, they told me it was. I'm told users trying to access it get an error message: No se ha recibido ningún dato. "No data received."
---
Related Video