Colombia's Slow March Toward Peace
The government announced it would begin talks with left-wing ELN rebels. Officials are already negotiating on a deal with FARC.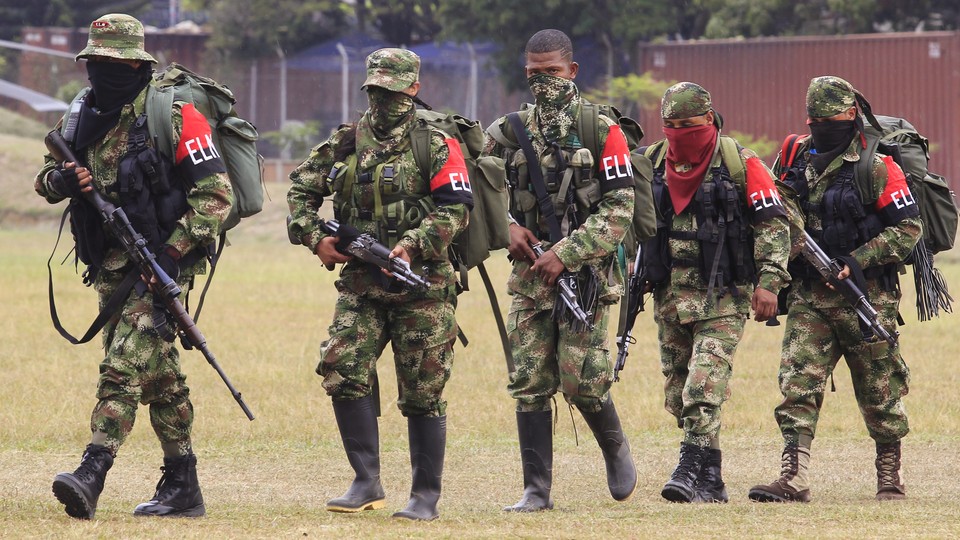 Colombia will begin peace talks with the National Liberation Army (ELN), the country's second-largest rebel group, that, if successful, would end the Latin American country's five-decade-long conflict with the armed Marxist guerrilla movement.
ELN leaders and representatives of the Colombian government made the announcement in the Venezuelan capital, Caracas, where the two sides had been holding informal talks. Official talks will start in Ecuador, and will then move to Brazil, Chile, and Cuba, El Colombiano, the Colombian newspaper, reported. It's unclear when the talks will actually begin.
"From the start of my time in office, I have said that we have to put an end to this conflict, and if the ELN joins in with these efforts, then we'll have a more stable and lasting peace, which is what all Colombians want," Colombian President Juan Manuel Santos said on national television.
These will be the first formal negotiations between the two sides, and the announcement came nearly two weeks after ELN released two hostages. The announcement also included six points of discussion, among them how guerrillas would surrender their weapons, and "guarantees to exercise political action," El Tiempo, the Venezuelan newspaper, reported.
ELN was formed in 1964 after the decade-long civil war, which ended in 1958, and amid the fervor of Fidel Castro's Communist revolution in Cuba. One of the group's early and more prominent leaders was Camilo Torres Restrepo, a Jesuit priest, who famously said: "If Jesus were alive today, he would be a guerrillero."
The group attracted left-wing academics and poor farmers. But since its inception, it has battled for attention, fighters, and territory with the far larger Revolutionary Armed Forces of Colombia (FARC), another Marxist guerrilla group. ELN never grew to FARC's size or prominence, but both groups, which began as left-wing uprisings against the state, devolved into criminal enterprises, with links to drugs, extortions, and kidnappings. They often operate in the same areas of Colombia and have fought each other.
Wednesday's announcement came as the Colombian government is nearing a final peace deal with FARC. Those talks are now centered on how FARC's rebels will disarm—an issue that is likely to come up with ELN, too. Analysts see the prospect of a peace deal with ELN as a sweetener to FARC to disarm and reach an agreement with the government.
More than five decades of fighting in Colombia involving the government, left-wing, and right-wing paramilitary groups has killed more than 200,000 people.