Burma's First Civilian Leader in Five Decades
Htin Kyaw says he will be a proxy for Aung San Suu Kyi, the democracy advocate and Nobel Peace laureate.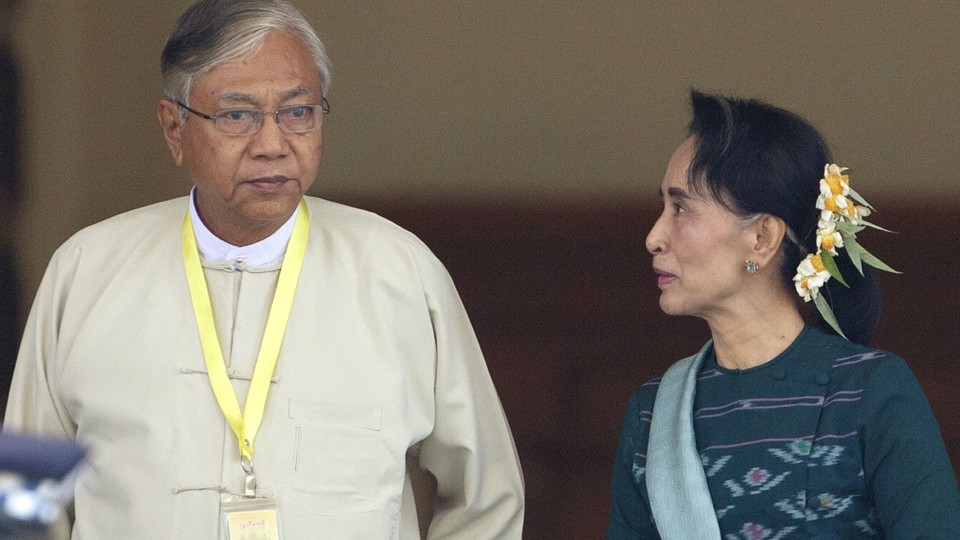 Burma's generations-long transition to democratic rule reached its apex on Tuesday after Htin Kyaw was elected president by the two houses of parliament. The 70-year-old leader was nominated to serve by his party, the National League for Democracy, after a constitutional provision by the ruling military junta barred Aung San Suu Kyi, the democracy advocate and Nobel Peace laureate, from running for office.
Kyaw, the first civilian president in 54 years, made it clear he would serve as a proxy for Suu Kyi and emphasized that after his win."Victory!" he declared on Tuesday. "This is sister Aung San Suu Kyi's victory. Thank you."
Kyaw, the son of Min Thu Wun, a respected poet, is a childhood friend of Suu Kyi, who went to school with her. He later won a scholarship to study in the U.K.
"He's from a family that's been at the heart of Burma's [long-submerged] liberal tradition for nearly a century," Thant Myint-U, a historian, told The Guardian in a recent interview.
But it's as a loyal aide to Suu Kyi that Kyaw is best known. He ran the Daw Khin Kyi Foundation, a charity named for her late mother, and, as the BBC reported, "has been frequently seen at the NLD leader's side, serving as her driver from time to time."
Despite Tuesday's milestone, some remain less optimistic about the work ahead for Myanmar.
"The military continues to wield great power, the NLD has no experience managing large and complex bureaucracies, corruption remains widespread, and Myanmar's relationship with China is fraught," Zoltan Barany wrote in Foreign Affairs in December.
As Kenneth Roth of Human Rights Watch noted, the second-place finisher in the election, and Kyaw's top vice-president, is U Myint Swe, a former military hardliner under sanction by the United States.
On Tuesday, U.S. Secretary of State John Kerry issued his congratulations to Kyaw, but not without adding this note of caution to the proceedings:
The presidential election is another important step forward in Burma's democratic transition, and we commend the people and institutions of Burma who continue to work together to ensure a peaceful transfer of power after the November 2015 elections.