Brussels Attacks: The Latest Developments
Authorities suspect a man accompanied the suicide bomber on the subway system. Separately, the accused logistical planner of last November's Paris attacks will not fight his extradition to France.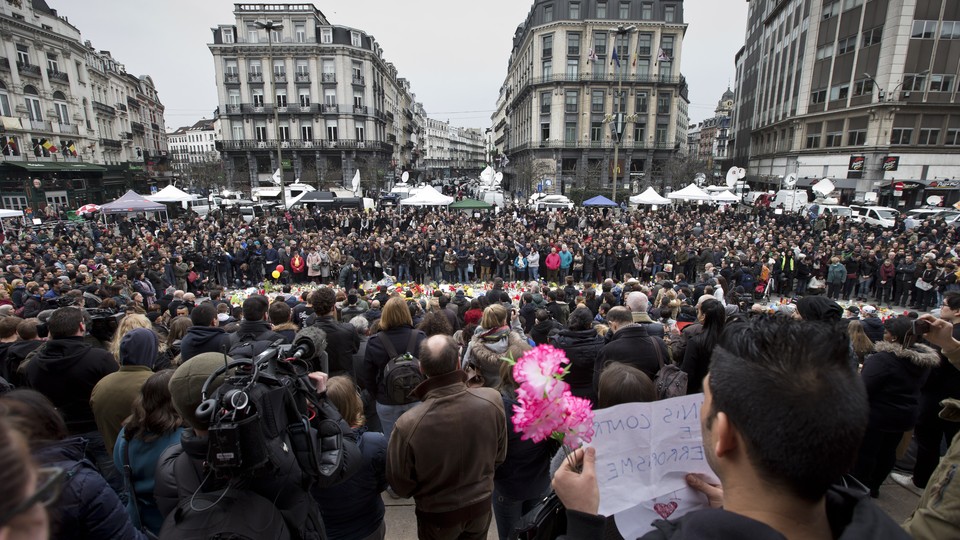 Updated on March 24 at 10:41 a.m. ET
Here's what we know so far on Thursday:
—Belgian authorities suspect a second man accompanied the suicide bomber in the attack on the Brussels subway system, Belgian state media are reporting. If confirmed, that would bring to five the number of people who participated in Tuesday's attack.
—In a related—but not yet explicitly connected—development, Salah Abdeslam, the accused logistical planner of last November's Paris attacks, will not fight his extradition to France, his lawyer told reporters.
—The attacks killed more than 30 people and wounded 300 others. The numbers are preliminary and are likely to rise. Three of the dead have been identified. Several are unaccounted for.
—The Islamic State, which carried out the Paris attacks, claimed responsibility for Brussels, too.
---
Belgian investigators are trying to determine the number of people who carried out Tuesday's attacks on Zaventem airport and on a  subway train at Maelbeek station. On Wednesday they said two brothers, both suicide bombers, were among the four attackers. One of them, Ibrahim el-Bakraoui, 30, attacked the airport. The other, Khalid el-Bakraoui, 27, attacked Maelbeek.
In a photograph that was widely circulated on Tuesday, the day of the attack, two men were seen with Ibrahim el-Bakraoui at the airport. One of them, who has not been publicly identified, is on the run. The other has been identified by RTBF, the Belgian state media broadcaster, and other media, as Najim Laachraoui.
On Thursday, RTBF reported that authorities suspect a second man accompanied Khalid el-Bakraoui on the subway. That man's identity is as yet unknown. He is seen carrying a big bag, the reports said.
The revelation offers a window into how investigators piece together evidence after a terrorist attack—and how complicated that task is. Indeed, four months after the deadly attacks in Paris that killed 130 people, French investigators are still seeking answers about the scale of the planning behind the attack. They should get some answers soon.
On Thursday in Brussels, a lawyer for Salah Abdeslam said the accused logistical planner of the Paris attacks will not fight his extradition to France. Abdeslam had previous opposed extradition. The lawyer, Sven Mary, also said Abdeslam, who was captured in Brussels last Friday, did not know about the Brussels attack.
Belgian authorities have not explicitly connected the two terrorist attacks that were carried out by the Islamic State just months and 200 miles apart. Still, many of the Paris attackers were Belgian nationals or residents, and, as my colleague David Graham has previously reported, Belgium has become Europe's hub for Islamist radicals. Belgian officials had previously warned their country's citizens of a serious, imminent threat of terrorism, and later cancelled the New Year's Eve fireworks in the capital.
Estimates of the number of potential terrorists in Europe vary widely, but Robin Wainwright, the director of Europol, the EU's policy agency, told the BBC the network is "more extensive than perhaps we first feared."
He said there were concerns over "a community of 5,000 suspects that have been radicalized in Europe, that have travelled to Syria and Iraq for conflict experience, some of whom—not all—have since come back to Europe." Wainwright and Europol had warned, as far back as January, that Islamic State "special forces" planned to target European cities in attacks like those on Mumbai, India, in 2008.
There appear to have been both general and specific warnings about the threat to Belgium. On Wednesday, Turkey said it had deported Ibrahim el-Bakraoui to the Netherlands last year and had warned that he was a foreign fighter. Nevertheless, el-Bakraoui was released. On Thursday, Reuters and Bloomberg both reported that Belgian Interior Minister Jan Jambon and Justice Minister Koen Geens had offered their resignations over the attacks, but Prime Minister Charles Michel declined to accept them.
Belgium observed its second day of its three days of mourning Thursday to mark the attacks that have killed more than 30 people and wounded about 300 others. The numbers are likely to rise. Maggie de Block, the health minister, said 61 of the injured were in critical condition. Three people have been identified as among the dead: Adelma Tapia Ruiz, a Peruvian-born woman who lived in Brussels with her Belgian husband and their twin 3-year-old girls, was killed at the airport. Leopold Hecht, a student at the Saint Louis University in Brussels, and Oliver Delespesse, who worked for the Federation of Wallonia-Brussels, died in the subway attack. Two others—David Dixon, a Briton, and Raghavendra Ganeshan, an Indian, remain unaccounted for. Both were at Maelbeek. Americans are among the missing, Mark Toner, the U.S. State Department spokesman, said on Wednesday.
In response to the attacks, raids are being conducted across Belgium and the country raised its terror-threat level from three to four, the maximum level. Public transport was functioning again amid tight security. The airport will remain closed until Saturday.