Naming the Dead in Brussels
Only a few of the dead in Brussels have been confirmed and named, and some families are growing frustrated.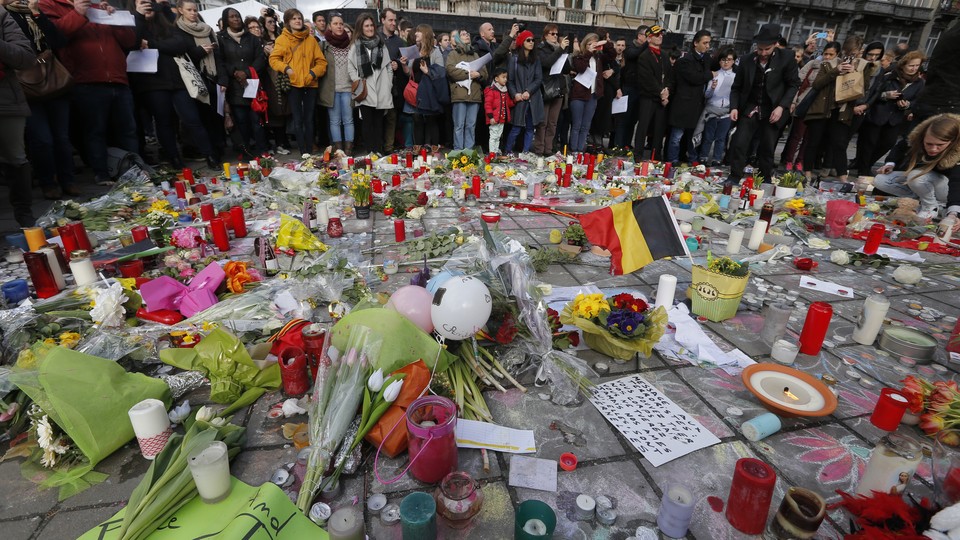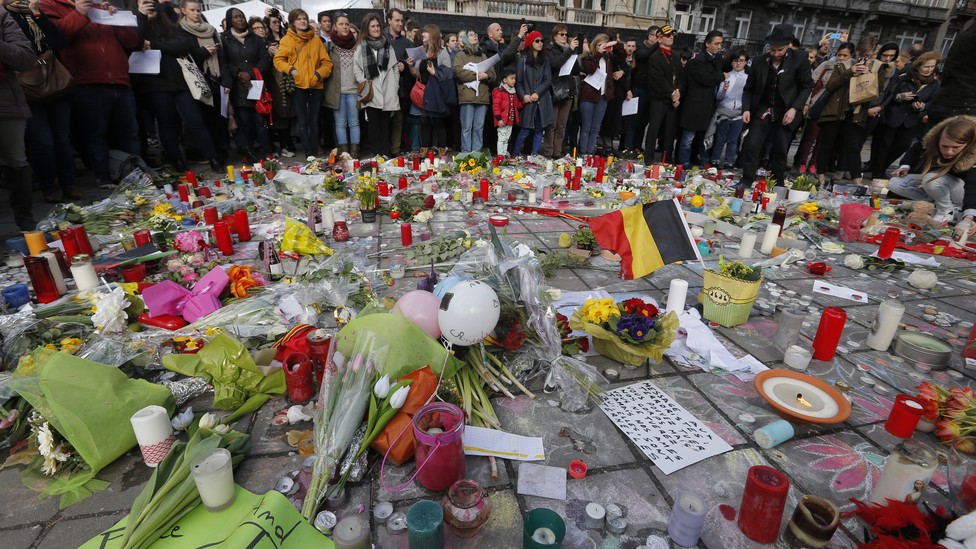 U.S. Secretary of State John Kerry said Friday Americans were among the more than 30 people killed in Brussels in Tuesday's attacks.
"The United States, I want you to know, is praying and grieving with you for the loved ones of those who have been very cruelly taken from us, including Americans, and for the many who were injured in these despicable attacks," he said in Brussels alongside Charles Michel, the Belgian prime minister.
An unnamed U.S. official later said two Americans had been killed. Neither has been publicly identified. Before Friday, those victims of the attacks who have been named so far weren't identified by embassies or government officials, but by families on social media.
Victims from more than 40 countries are among the dead and injured, which could account for why governments have been so slow in naming the dead publicly. Two forensic teams have been working to identify the bodies. The nail-packed bomb blasts and damage to the bodies may also have made identifying the dead more difficult.
So far, eight people have been publicly identified.
Adelma Tapia Ruiz's death was confirmed in a Facebook post by her brother. She was a 36-year-old mother of twin daughters, originally from Peru, who had lived in Brussels nearly nine years.
Leopold Hecht was a law student studying at the Université Saint-Louis in Brussels. The president of the university posted a Facebook message Wednesday confirming Hecht had died.
Olivier Delespesse worked for a company that helped French speakers in Brussels, called La Federation Wallonie-Bruxelles. The company confirmed Delespesse's death.
David Dixon, a British father living in Brussels, was also confirmed dead Friday by his family, as was Bart Migom, a Belgian student, whose death at the airport was confirmed by his father.
Three Dutch citizens, a brother and sister who lived in New York, and a woman who was on her way to New York for a funeral, were among the dead.
CBS in New York reported the family of Sascha and Alexander Pinczowski, the siblings, sent a message to the news organization Friday, that read: "We received confirmation this morning from Belgian Authorities and the Dutch Embassy of the positive identification of the remains of Alexander and Sascha. We are grateful to have closure on this tragic situation, and are thankful for the thoughts and prayers from all."
The third Dutch victim was identified as Elite Borbor Weah, who was about to fly to the U.S. for a funeral.
China said at least one of its citizens died in the attack. Morocco said three women were killed.
Then there are those still missing.
The families of Justin and Stephanie Shults have not heard from them since the bombings. He was from Tennessee, she from Kentucky, and the married couple had lived in Belgium for the past two years working as accountants. Stephanie Shults's mother had visited, and the two had dropped her off at the airport around the time of the attack. On Wednesday, Justin's brother, Levi Sutton, tweeted that the U.S. State Department said the couple had been found. Then Sutton tweeted there'd been a mistake. He wrote,"I am disgusted that the information given to us wasn't 100% correct."
"This is exactly what we were trying to avoid," Sutton tweeted (the account is now private), "and now I've told friends and family members things that weren't true."