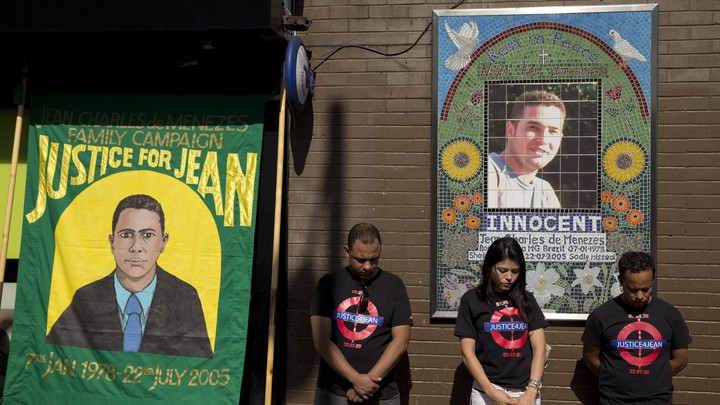 The European Court of Human Rights has ruled in favor of Britain's decision not to charge police officers who shot and killed a Brazilian electrician in 2005 after mistaking him for a terrorism suspect.
In its ruling Wednesday, the court, in a 13-to-4 decision, ruled Britain had not violated Article 2 of the European Convention on Human Rights, which covers the right to life. A cousin to Jean Charles de Menezes, the 27-year-old electrician who was killed, had complained to the court that Britain "had not fulfilled its duty to ensure the accountability of its agents for his death." A British investigation into de Menezes in 2009 resulted in no charges being filed against the officers who killed him.
"The decision not to prosecute any individual officer was not due to any failings in the investigation or the State's tolerance of or collusion in unlawful acts," the European court ruled on Wednesday. "Rather, it was due to the fact that, following a thorough investigation, a prosecutor had considered all the facts of the case and concluded that there was insufficient evidence against any individual officer to prosecute."
On July 7, 2005, suicide attacks on London's public-transportation system killed 56 people. Then, on July 21, two weeks later, unexploded bombs were found on three London Underground trains and one unexploded device was found on a London bus. London, already reeling from the attacks, was on edge. Police feared a suicide bomber might try—and succeed—in targeting the city's public- transportation system.
Enter de Menezes.
On July 22, a day later, the Brazilian electrician left for work from his home in London and made his way, eventually, to Stockwell Underground station. Two terrorism suspects lived at the same address as de Menezes and were being watched by police. But the officers, seeing de Menezes emerge from the address, assumed he was one of the suspects (one of the officers later said he was convinced de Menezes was their man because he had "Mongolian eyes."). The officers followed him as he made his way to Stockwell station. Here's how The Telegraph described what happened next: "The armed officers followed him onto a Northern line train, pinned him down and shot him seven times in the head and once in the shoulder." They avoided his chest, it later emerged, because they feared de Menezes was wearing a suicide vest, which might explode upon impact.
De Menezes died on the scene.
The next day, July 23, Metropolitan Police acknowledged de Menezes was not carrying explosives and wasn't connected in any way to the attempted bombings of July 21. They called his killing "a tragedy."
Britain's Independent Police Complaints Commission said de Menezes's death was caused by a series of avoidable mistakes, and it identified a number of possible criminal offenses the officers involved might have committed. British prosecutors concluded no charges would be brought because the officers didn't stand a realistic prospect of conviction. But prosecutors did charge the Metropolitan Police with breaching health and safety laws—a charge that led to an approximately $252,000 fine. De Menezes's family reached a separate settlement with the department.
De Menezes's cousin brought the case before the European Court of Human Rights in Strasbourg, France, in 2008. But it was heard for the first time only in June 2015. The cousin maintained that Britain had violated Article 2 of the European Convention on Human Rights. The court disagreed.
"The facts of this case are tragic," a British government spokesperson told the BBC, "but the government considers that the court has upheld the important principle that individuals are only prosecuted where there is a realistic prospect of conviction."
We want to hear what you think about this article. Submit a letter to the editor or write to letters@theatlantic.com.