Brazil's Deepening Political Crisis
The PMDB, Brazil's largest political party, has left the ruling coalition, raising the odds President Dilma Rousseff will be impeached.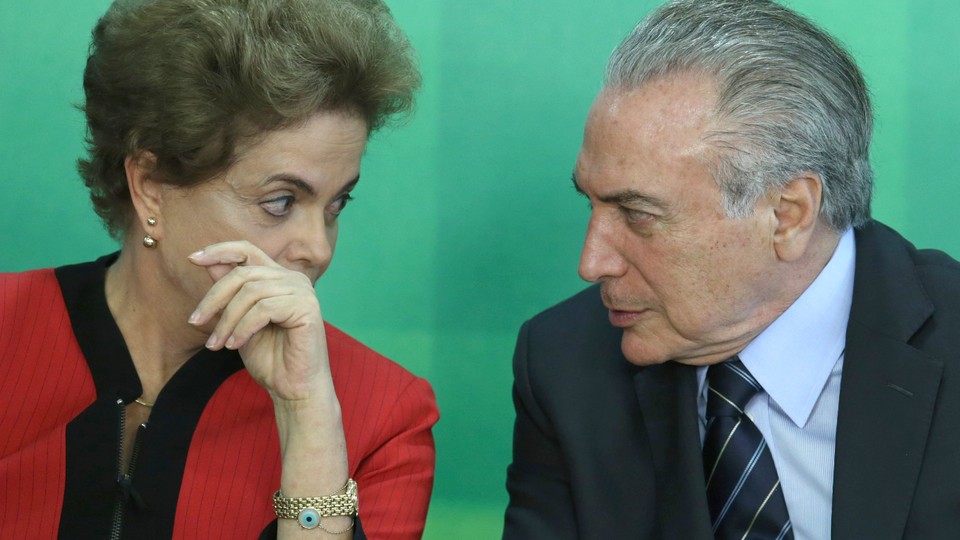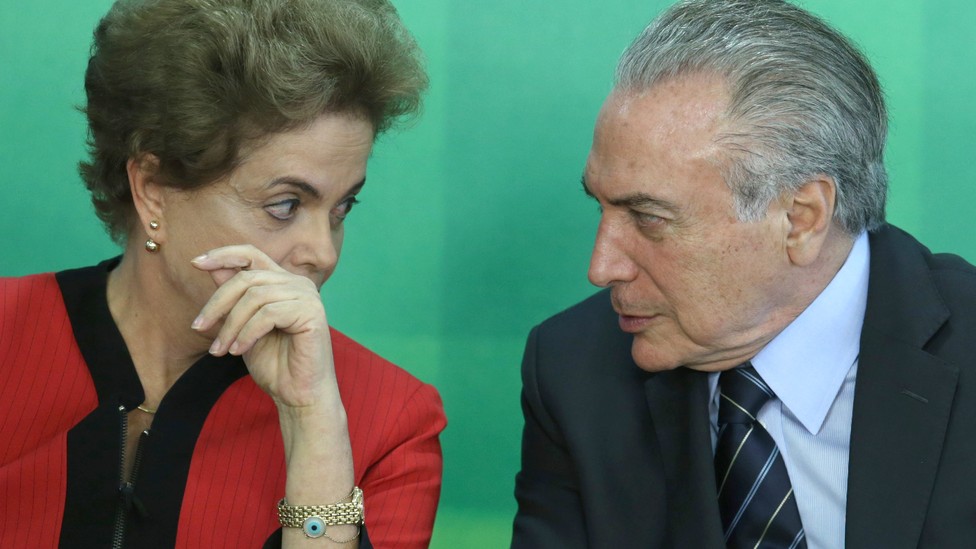 The Brazilian Democratic Movement Party (PMDB), Brazil's largest political party, has left the ruling coalition, raising the odds that President Dilma Rousseff will be impeached.
The centrist party's decision to quit the government immediately, a step that was taken Tuesday at the party's national leadership meeting in Brasilia, came a day after Tourism Minister Henrique Eduardo Alves, a PMDB leader, said he was resigning from Rousseff's Cabinet.
David Fleischer, professor emeritus of politics at the University of Brasilia, told Bloomberg that PMDB's departure may spur other coalition members to follow suit.
"The PMDB leaving is a big game change," he told Bloomberg. "This makes her impeachment much more likely."
The Brazilian opposition is pushing to impeach Rousseff on allegations she doctored fiscal accounts to help her re-election in 2014. She denies those charges. But with the PMDB's departure, the Senate is likely to suspend Rousseff as early as May. If this happens, she will be replaced by Vice President Michel Temer, who heads the PMDB, while the Senate decides whether Rousseff should be removed permanently.
Bloomberg adds that Temer "hasn't publicly opposed the president and didn't participate in Tuesday's meeting. Yet he is, in fact, one of the intellectual authors behind the strategy to split from the government, according to a person briefed on the discussion."
Temer aides said the vice president is ready to take over and move fast to restore business confidence in Brazil, in an effort to pull the economy out of a tailspin. Brazilian media reported over the weekend that a team of Temer aides is drawing up a plan for his first weeks as president.

Brazil's stocks and currency rose Monday on the prospect of Rousseff's removal. Many blame her for running Latin America's largest economy into the ground, while Temer is widely viewed as far more business friendly.
The impeachment scandal is merely one of several that Rousseff is battling. Far bigger, as we previously reported, is the Petrobras scandal, which has ensnared some of Brazil's biggest political and business leaders, raised questions about Rousseff, and cast a shadow over the legacy of her mentor, Luiz Inacio Lula da Silva, whom she succeeded as president. Rousseff is also under fire ahead of the upcoming Summer Olympics in Rio and the fears raised by the Zika virus.