Nigeria's Mission to Free Boko Haram's Hostages
Nigerian troops have freed hundreds of hostages held by the militant Islamist group.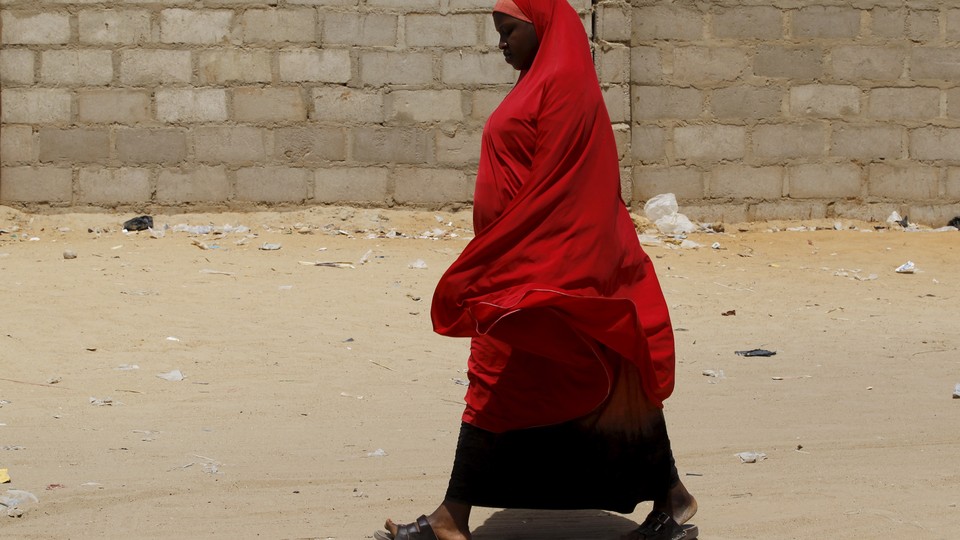 Nigerian troops have freed hundreds of hostages held by the militant Islamist group Boko Haram in recent counter-terrorism efforts in Nigeria's northeast.
The military missions, aimed at driving out terrorists and rescuing their captives, freed 829 people last week. The army rescued 520 people in the village of Kusumma, and 309 others from 11 other villages. Troops have also rescued 72 people held captive in northeast villages in two "clearance operations," army Public Relations Director Sani Usman said in statements Sunday. The group still holds an unknown number of hostages.
"The gallant troops cleared the remnants of the Boko Haram terrorists hibernating in Kala Balge general area," Usman said of one of last week's missions.
Soldiers also destroyed a terrorist training camp, warehouse, and factory in Tilem, a northeast village, he added. Twenty-nine insurgents were killed and troops recovered weapons from Boko Haram hiding spots in the operations that freed 72 people.
Since 2013, Boko Haram has carried out mass abductions in Nigeria and neighboring countries in its quest to drive out Western influence and establish an Islamist state. The kidnapping of 276 Chibok schoolgirls in 2014 brought the group to global attention, birthing the viral hashtag #BringBackOurGirls. Two years later, 219 girls are still missing. Last week, one of two girls arrested in north Cameroon carrying explosives claimed to be one of the kidnapped girls.
The human-rights organization Amnesty International estimates Boko Haram has abducted about 2,000 girls and women over their seven-year history. Women are forced into marriage and sexual slavery, and are often made to carry out suicide attacks—at times in their own villages.
Earlier this month, two women blew themselves up at the Molai-Umarari mosque on the outskirts of Maidugrui, a northeast city that has long-endured Boko Haram's violence. Twenty-four people were killed, and Nigerian officials suspect Boko Haram was responsible for the attack. The mosque had reopened just days before the attack after a near-identical bombing in October forced it to close. Two suicide bombers killed six people in that incident. One of the attackers was reportedly a woman.
Boko Haram has recently increasingly targeted public places like mosques, markets, and schools. The Global Terrorism Index 2014 Report found "terrorist activity in Nigeria has more in common with the tactics of organized crime and gangs, focusing more on armed assaults using firearms and knives than on the bombings of other large terrorist groups," but recent months show an uptick in suicide bombings for Boko Haram.  The group's violence is said to be responsible for the displacement of more than 2 million people since 2013.
Four days after the mosque bombing in Maiduguri, Nigeria's Information Minister Lai Mohammed said Nigerian army efforts have reduced Boko Haram's ability to carry out large-scale attacks, in an interview with Al Jazeera.
"Before these villagers (in Maiduguri) were under the control of Boko Haram insurgents; today they have been dislodged, now they're attacking soft targets, which is what happens with a insurgency on its way out," he said.