Who Carried Out the Deadly Explosion in Berlin?
Police are investigating the blast that killed the driver of a moving vehicle in the German capital.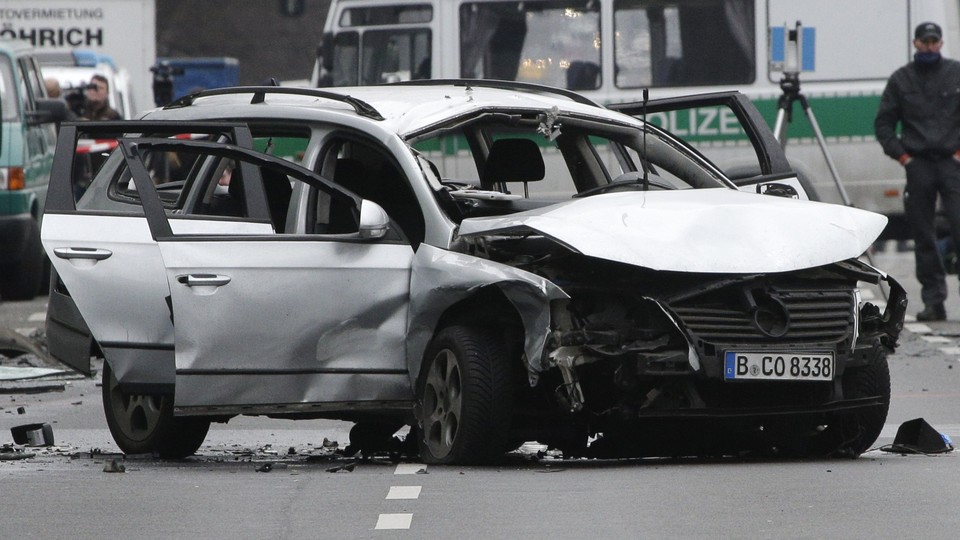 Updated on March 15 at 8:26 a.m. ET
Police in Berlin are investigating a bomb that killed the driver of a moving vehicle in the German capital on Tuesday.
The car exploded during rush hour in Charlottenburg, a suburb of the capital, Carsten Müller, a spokesman for Berlin police, told the Associated Press. He said investigators are working on the assumption that an explosive device "inside or on the vehicle" caused the blast. Authorities identified the driver as a 43-year-old Turkish citizen with criminal links.
No other explosive devices were found at the scene, police said, adding there's no evidence yet that the explosion was a terrorist attack.
The explosion, which occurred on Bismarckstrasse, caused the silver Volkswagen station wagon to overturn and hit a parked vehicle. Police cordoned off the street, and a forensics team gathered evidence.
Incidents such as this are rare in Berlin, and haven't been seen since the 1970s and '80s when the Red Army Faction staged bombings, assassinations, and kidnappings across what was then West Berlin. An attack by Palestinian factions on a Jewish-owned restaurant in 1982 killed a young girl; a year later, Armenian nationalists planted a bomb in the French consulate, killing two people.
Perhaps the most famous attack in Berlin is the one staged by Libyan agents on a nightclub popular with U.S. military personnel. That attack, in 1986, killed three people.