Netanyahu Snubs Obama One Last Time
The Israeli prime minister "surprised" American officials by canceling a White House visit, leaving many on both sides scratching their heads.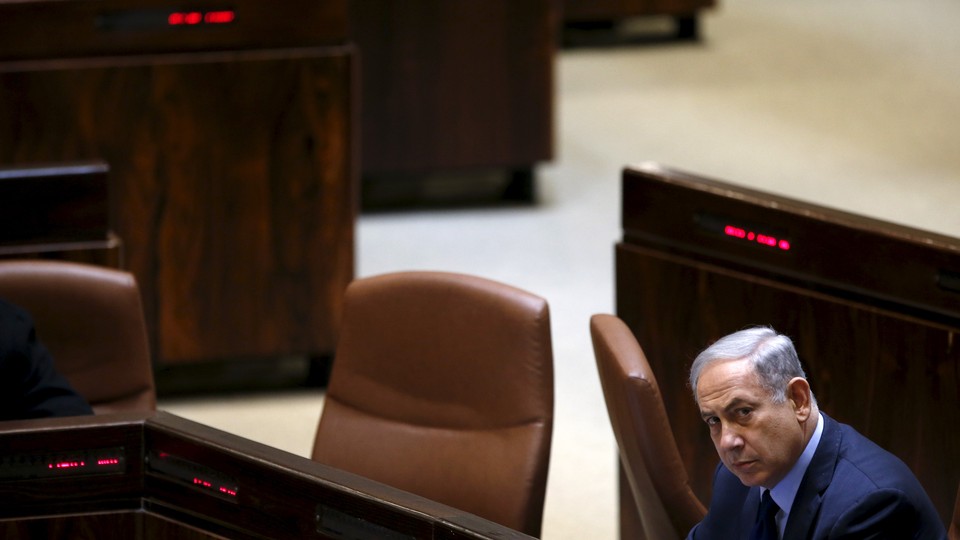 When future historians dissect the U.S.-Israeli relationship in the 21st century, it will be impossible not to remark on the cruelty of fate that placed Israeli Prime Minister Benjamin Netanyahu and President Barack Obama in each other's paths for the majority of each other's terms.
Ten years after being voted out, Netanyahu started his second premiership in late March of 2009, just two months after Obama took office. And while relations didn't immediately devolve, when they did—over Iran's nuclear program, Israel's settlement policy, tactical differences in foreign policy, and beyond—they cratered hard.
The latest evidence comes in the form of a White House visit that Netanyahu was slated to make later this month while in town to speak at a conference for the pro-Israel lobby AIPAC. But the AP reported Monday night that Netanyahu had canceled his trip to Washington, D.C., and that the White House found out through the press.
"We were looking forward to hosting the bilateral meeting," said a spokesperson for the White House's National Security Council. "We were surprised to first learn via media reports that the prime minister, rather than accept our invitation, opted to cancel his visit."
One Israeli cabinet member suggested that Ron Dermer, Israel's ambassador to the United States, had warned his counterpart ahead of time about the possible cancelation. When asked for a reason why Netanyahu would cancel a meeting with his country's most important ally, one Israeli official offered this rationale: "It's a tumultuous primary season in the United States ... we don't want to inject ourselves into that tumultuous process."
Over at The Washington Post, Daniel Drezner isn't buying it:
The claim that Netanyahu is super-concerned about influencing American domestic politics is absurd on its face. Four years ago, any such concerns did not stop Netanyahu from meeting with Obama and addressing AIPAC in person. Oh, and just a quick FYI: That speech happened on March 5, 2012, which just happened to be the day before Super Tuesday, so it's not like the GOP nomination was completely settled at that point.
And this time last year, Netanyahu traveled to Washington to bash the U.S.-led negotiations with Iran over its nuclear program in front of Congress, a visit the White House hadn't approved.
Following Monday's report, some in the Israeli media were't so forgiving either.
Netanyahu's cancelation is unprecedented, writes Raphael Ahren at The Times of Israel. "There is no public record of an Israeli prime minister ever previously rejecting an invite to meet a president at the White House," he says.
Ahren also quotes a befuddled Israeli expert on the U.S.-Israel relationship, who pours this glass of cold water on Netanyahu: "When an American president invites you, you have to go. Sometimes you invite yourself even when the president doesn't want to see you. But when he invites you, you can't say no."
What's at the heart of this snub isn't clear. Residual bitter grapes from the Iran deal? Residual bitter grapes in general? Israel, still wary of and smarting from last year's nuclear accord, is also in the midst of negotiating a military aid package with the United States.
This latest episode comes just as Vice President Joe Biden was touching down in Israel for a visit amid a surge in Palestinian attacks on Israelis. As we noted in October 2014, both Netanyahu's previous visit to the White House and Biden's previous visit to Israel were marred by the announcement of settlement expansions.
White House Press Secretary Josh Earnest on Tuesday brushed aside speculation that the White House was insulted by Netanyahu's decision, but said Israel should have notified the U.S. directly, because "it's just good manners."
"I'm merely suggesting that if they weren't able to make the meeting, they should have just told us before they told a reporter," he told reporters.