The Growing Violence Near Baghdad
At least 47 people were killed in an attack outside the Iraqi capital Sunday, the latest in an increase in violence in the country.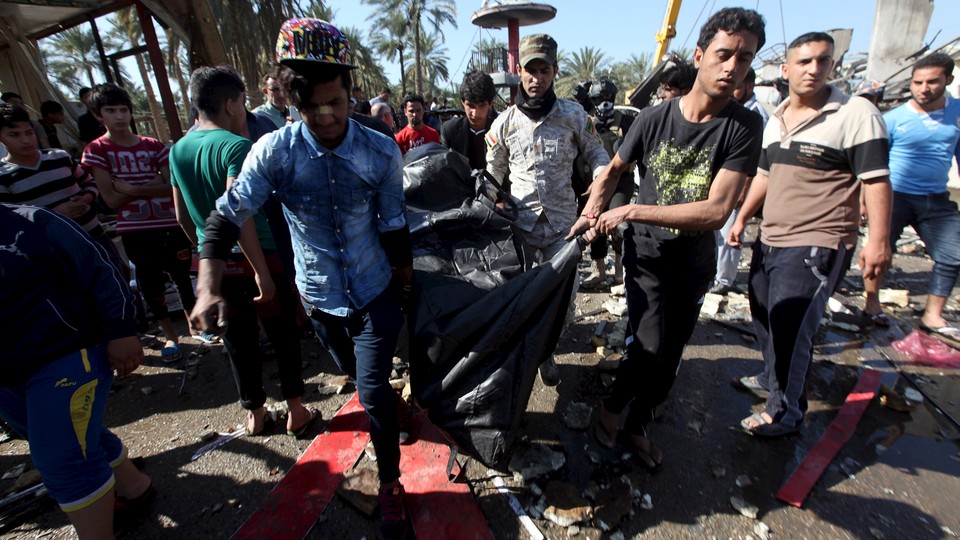 At least 47 people were killed and dozens were injured Sunday when a suicide attack drove a truck loaded with explosives into a security checkpoint in Iraq.
The attack in Hillah, located about 60 miles south of Baghdad, occurred shortly after noon local time, when the entrance to the city was crowded with dozens of cars, according to the Associated Press.
The victims included 39 civilians and eight members of the Iraqi security forces. As many as 65 people were injured. The checkpoint, nearby buildings, and dozens of cars were destroyed.
Reuters reported the Islamic State has claimed responsibility for the attack. The Sunni extremist group controls large parts of northern Iraq, including Mosul, the country's second-largest city.
"It's the largest bombing in the province to date," Falah al-Radhi, the head of the provincial security committee, told Reuters of Sunday's attack.
The bombing was the latest in a rise in assaults claimed by ISIS in the country, particularly around Baghdad. In recent months, the terrorist group has increasingly used suicide attackers and car bombs to target public places and government buildings as Iraqi coalition forces attempt to recapture militant-held territory. Last week, 40 people were killed and 58 were wounded in a suicide bombing of a funeral in Muqdadiya, located 50 miles northeast of Baghdad. Six local commanders of a group of Shia militias were among the dead. Also last week, a suicide bombing at a security checkpoint just outside the capital killed eight members of Iraqi security forces.
The day after those attacks, Iraq launched a major offensive to recapture areas north of Baghdad from ISIS, the AFP reported. The operation includes 7,000 counter-terrorism forces, soldiers, police, and other military personnel.
The United States and other nations have deployed troops to support and train Iraqi government forces and Iraqi Kurdish fighters in their fight against ISIS since the group's rise in the summer of 2014. A U.S.-led coalition carries out near-daily airstrikes against ISIS targets in the country.
At the end of last year, Iraqi coalition forces regained control of Ramadi, the capital of Anbar province held by ISIS fighters since 2014. This year, coalition forces have turned their attention to the north, where the group operates a supply route between Mosul and the Syrian city of Raqqa, which ISIS has claimed as its capital.
Violence in Iraq killed at least 670 people in February, according to United Nations estimates. Two-thirds of fatalities were civilians.