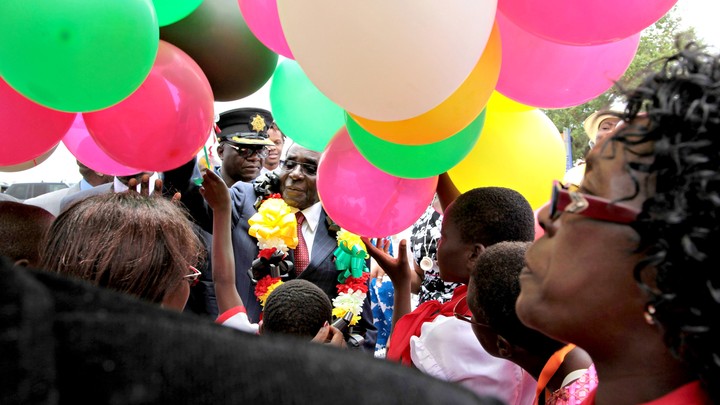 Inside the U.S. Navy's Iran Fiasco
Dan De Luce | Foreign Policy
"In the tense encounter, there was one comical moment. As the Iranians searched through gear and equipment, they held up an iPhone 6 charger with an accusatory air. It took some time for the U.S. sailors to convince the Iranians that it was merely a charger, featuring a new design for the latest iPhone, and not a hi-tech weapon."
* * *
Check In With the Velociraptor at the World's First Robot Hotel
Gideon Lewis-Kraus | Wired
"One of the many wonderful contradictions of Japan is that it hosts both the world's most mature service industry and the world's most advanced androidal technology. It was, in fact, with that contradiction in mind that I'd set out to visit our service future, to see how nostalgic I'd be, in the face of their summary deletion, for human beings."
* * *
The Bidding War
Matthieu Aikins | The New Yorker
"America's war in Afghanistan, which is now in its fifteenth year, presents a mystery: how could so much money, power, and good will have achieved so little?"
* * *
The Complex Tale of EU Cohesion
Josef Janning | European Council on Foreign Relations
"Evidently, the level of cohesion among European societies and EU member states is not strong enough ... for joint political responses. The linkage between the high level of intra-EU trade and investments, structural funds, and security cooperation on the one hand, and the willingness to engage in burden-sharing on the refugee issue on the other, is broken. Europeans are connected in many ways, but when it comes to transnational solidarity, member states find it difficult to refrain from putting their own national interest first. Apparently, practising cheque-book solidarity, as in the case of the sovereign debt crisis, is more politically feasible than making a solid commitment to others as part of a coherent response to the refugee crisis."
* * *
In Zimbabwe, Mugabe's Birthday Is Rife With Political Jockeying
Hopewell Chin'ono and Norimitsu Onishi | The New York Times
"In a region hit hard by a drought that has ravaged wide areas of southern Africa, Mr. Mugabe released 92 balloons into the air to start the festivities and later cut a cake weighing 92 kilograms, or about 200 pounds. Zimbabwe recently declared a state of disaster in drought-stricken rural areas and said that a quarter of the population may lack food in the months ahead because of poor harvests."
* * *
Gang of Goats Roaming the Streets Causing Havoc
Jordan Bond | New Zealand Herald
"A mob of wild goats is causing chaos in a small South Island town.
A gang of 16 goats is destroying gardens and roaming the streets in Blackball, population 330, 29km northeast of Greymouth.
Grey District Council animal control Murray Malloch said the goats hide at night and then congregate to walk through town during the day.
'They just come through and wreck everyone's garden,' Mr Malloch. 'They eat it and then move on to another one. Everyone said they're lovely goats though.'"
We want to hear what you think about this article. Submit a letter to the editor or write to letters@theatlantic.com.