An Emergency Meeting on the Zika Virus
The WHO has declared the virus, along with a birth defect to which it has been linked, a global public-health problem.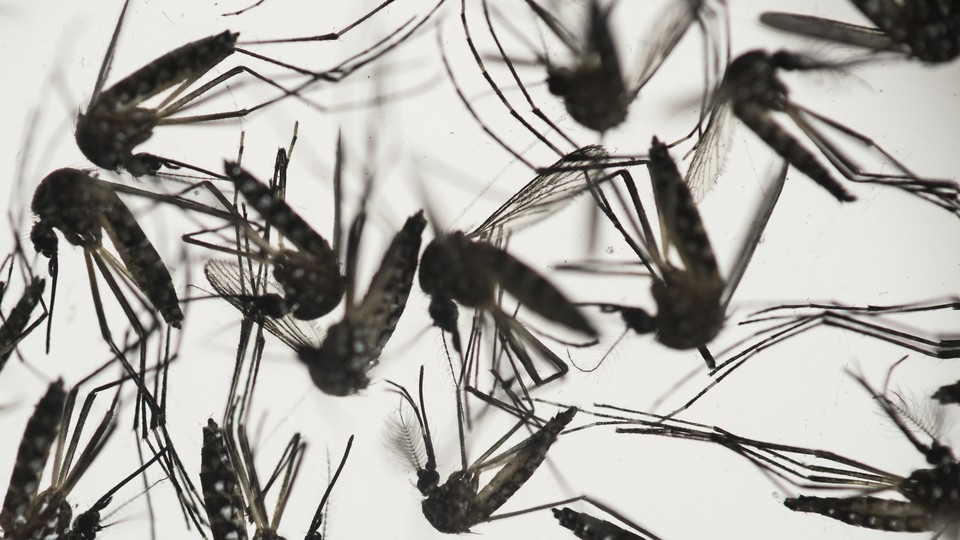 Updated on February 1 at 1:29 p.m. ET
The World Health Organization has labeled the Zika virus a public-health emergency of international concern—a classification that will result in a global response to the virus that has been linked to certain birth defects.
Such a designation, which was made Monday in Geneva, is rare. The WHO previously declared it during the H1N1 swine flu outbreak in 2009; the Ebola outbreak in 2014; and for the resurgence of polio in Syria that same year. But Zika's quick spread to the Americas has many health experts worried.
The virus, which was first isolated in Uganda in 1947, spreads to humans through mosquito bites. For decades, the virus was mostly restricted to equatorial parts of Africa and Asia, but over the past decade spread to the Pacific islands. Last year, it was detected in the Americas (in Brazil), WHO says, where it "is now spreading explosively." It has now been reported in 23 countries and territories in the region.
The illness caused by Zika is itself usually mild, the CDC says. Symptoms—including fever, rash, joint pain, and conjunctivitis—last for up to a week. But the arrival of the disease in the Americas has been linked to an increase in the birth of babies with abnormally small heads and in cases of Guillain-Barre syndrome. The WHO says though a causal relationship between Zika and birth malformations and neurological syndromes has not yet been established, it is "strongly suspected."
"The level of alarm is extremely high," Margaret Chan, WHO's director-general, said last week in Geneva.
Writing on CNN, Tom Frieden, the director of the Centers for Disease Control and Prevention, said though most people in the contiguous U.S. are unlikely to ever come into contact with the virus, those living in Puerto Rico, the U.S. Virgin Islands, Caribbean or Pacific territories, and Central and South America are likely to see an increasing spread of Zika.