​A Social-Media Shutdown in Uganda's Presidential Election
Citizens voted Thursday in a process that is already being called fraudulent.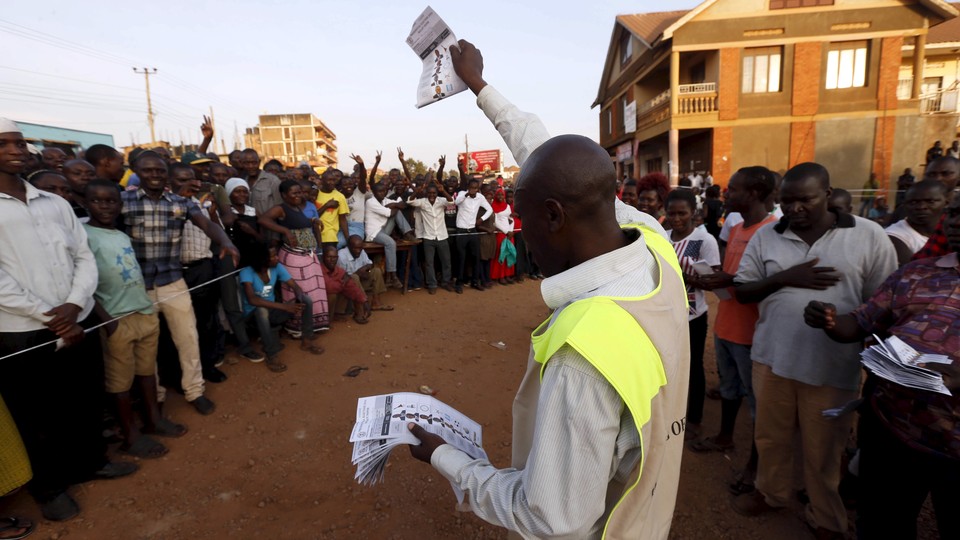 Ugandans voted Thursday in presidential and parliamentary elections already
alleged to be fraudulent
, amid a social-media blackout that hit sites such as Twitter, Facebook, and WhatsApp.
Ugandans used VPNs,
or virtual private networks, to bypass the blockages and tweet about
the shutdown.
Amama Mbabazi, one of
seven candidates challenging Yoweri Museveni's 30-year presidency,
tweeted a VPN to his 138,000 followers.
The Guardian reported that Godfrey Mutabazi, the executive director of Uganda Communications Commission (UCC), said the shutdown was a "security matter." He said the UCC initiated a 24-hour social-media shutdown upon instructions from Uganda's Electoral Commission. The Election Commission, in turn,
deferred the issue to the UCC. The Ugandan news site The Observer reports the shutdown will be lifted after the UCC assesses "the security situation."
In an interview with Ugandan media, Museveni echoed what he called the security risk in social-media access during the election.
"There must be steps taken for security to stop so many creating trouble," he said. "It's temporary. It will go away. Because some people misuse those pathways. You know how they misuse them, telling lies. If you want a right, then use it properly."
The temporary shutdown did not stop Ugandans from tweeting about other election-related issues. According to The Observer, polling stations were supposed to open at 7 a.m., but voting did not begin until hours later. Long lines formed at several voting sites as people waited for hours for ballot papers to be delivered. Officials cancelled voting in two stations in Uganda's capital, Kampala, after conflicts over discontent with delays and lack of voting materials escalated. NBS Television reported tear gas was fired at one polling station in the capital.
There are allegations of unsealed voting and stuffed ballot boxes in the Twitter hashtag #UgandaDecides.
The Election Commission extended voting hours at some polling stations to make up for the morning's delays.
Officials began counting votes at other sites Thursday afternoon, ahead of election results expected Saturday.