A Blow to Facebook in India
Regulators have banned the company's Free Basics program and services like it that provide limited Internet access in developing countries.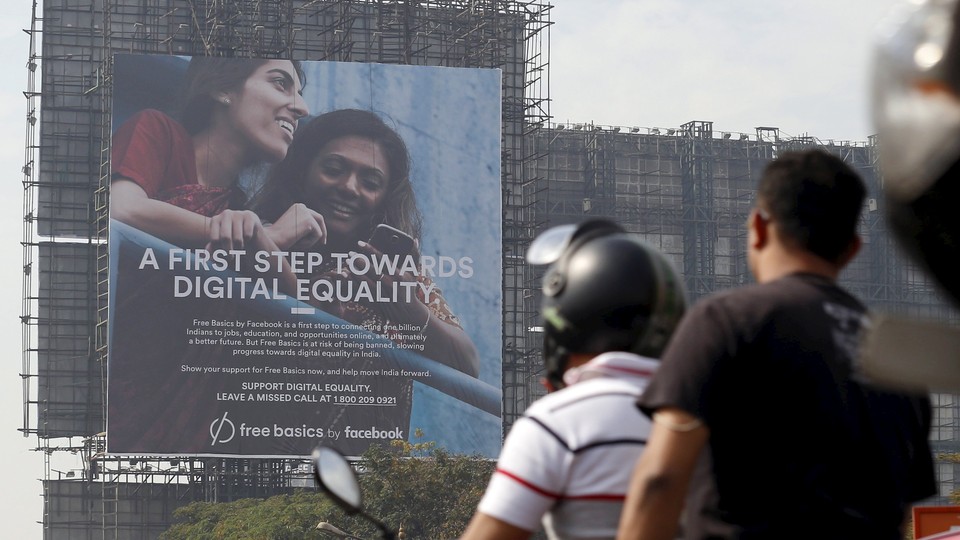 Is limited Internet access for hundreds of millions of people superior to unlimited Internet access, as enjoyed by a limited set of the population? Indian regulators say no, dealing a blow to Facebook's Free Basics program and others like it.
In its ruling Monday, the Telecom Regulatory Authority of India (TRAI) banned zero-rated Internet services, saying:
(1) No service provider shall offer or charge discriminatory tariffs for data services on the basis of content. (2) No service provider shall enter into any arrangement, agreement or contract, by whatever name called, with any person, natural or legal, that has the effect of discriminatory tariffs for data services being offered or charged to the consumer on the basis of content.
There are exceptions, such as in the case of providing emergency services, or "at times of grave public emergency," TRAI said in the ruling, which the agency said it would review in two years.
Violators, the agency said, will be fined an equivalent of about $735 a day, up to a maximum of about $73,000. The amount may be a pittance to Facebook, which was not specifically named in Monday's ruling, but the decision is a major blow to the company that had expended time and money toward promoting Free Basics in India. The service offered Indians access to a few websites without using up the data plans on their cell phones.
Last year, on a visit to India, Mark Zuckerberg, the Facebook founder and CEO, described the service as "our mission is to give everyone in the world the power to share what's important to them and to connect every person in the world." But protests against Free Basics began in India almost as soon as the program was announced.
Here's a summary of the two sides of the debate, courtesy of Gizmodo:
Last year, Indian net neutrality activists argued that Free Basics was a way for Facebook to shape internet access. Which is true. Zuckerberg & Co. countered that it's actually a way to connect people who may otherwise not have internet access. Which is also true!
Another way to look at Monday's decision (via TechCrunch): "While this may be a victory for net neutrality supporters, others might see it as a step back for the wider growth of smartphone usage in the country, where a large part of the population cannot afford services without subsidies."
India is seen as one of Facebook's biggest markets for growth. The Free Basics program is offered in about three dozen countries, but none of them come close in size to India, where only about a quarter of the nation's 1.2 billion people are online. Facebook said it was disappointed with TRAI's decision.
"Our goal with Free Basics is to bring more people online with an open, non-exclusive and free platform," it said in a statement Monday. "While disappointed with the outcome, we will continue our efforts to eliminate barriers and give the unconnected an easier path to the internet and the opportunities it brings."