The Search for Survivors in Taiwan
Dozens of people were trapped in the rubble of an apartment building that collapsed after a powerful earthquake this weekend.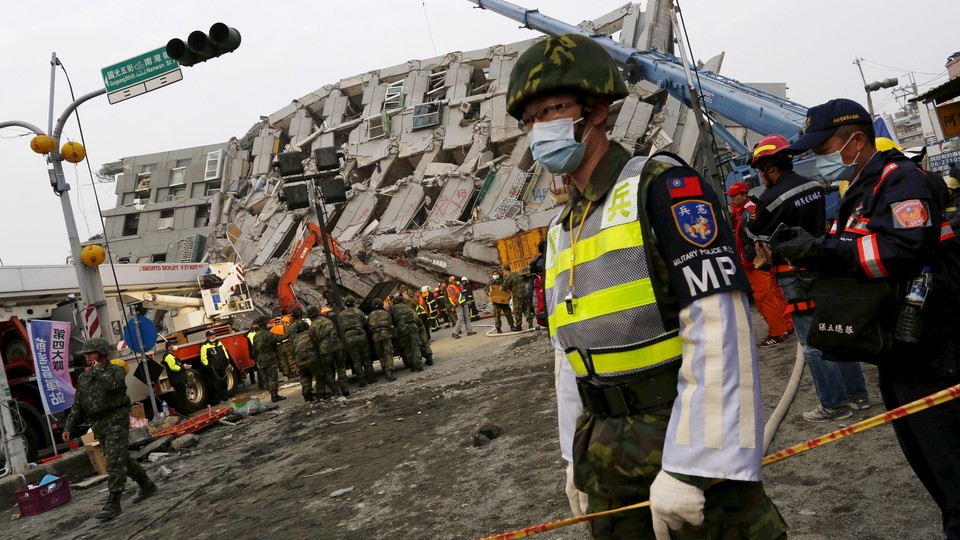 Dozens of people remain trapped in the rubble of an apartment building that collapsed Saturday after a powerful earthquake struck southern Taiwan, killing at least 26 people.
Rescue personnel spent Sunday searching for survivors in the remains of the 17-story building in Tainan, which collapsed after a 6.4-magnitude quake rattled the city Saturday. Reuters photos show the building leaning away from its foundation before it crumpled on top of itself.
The government in Tainan said that more than 170 people have been rescued so far, the Associated Press reported. Authorities believe as many as 300 people were inside the building when it came down, and 120 are thought to be trapped in the rubble. Nine other buildings in the city collapsed.
The rescue effort at the fallen high-rise entered its second day for Tawain, where it's early Monday. Hundreds of rescue workers scoured the mountain of rubble, lifting survivors out on cranes. Dogs were dispatched to help locate people trapped under several floors of debris. In some cases, it took hours to free individuals after their voices were heard.
Local official Wang Ding-yu told the AP that a rescue worker gave Mao Yi-chen, 20, a photo album and homemade cards that were found next to her when she was rescued from the building soon after the quake hit.
"He said that 'maybe your home is damaged, but memories of the family can last,'" Wang said. Yi-chen's older sister was pulled from the site on Sunday and is in serious condition.
The BBC reports a six-month-old baby girl was found 30 hours after the building collapsed, but died in the hospital.
The city has launched an investigation into the construction of the high-rise, built in 1989, to determine whether developers cut corners.
Taiwan experiences frequent seismic activity because of its proximity to a boundary between two tectonic plates. Ninety earthquakes of magnitude 6.4 or higher have occurred within about 155 miles of Tainan in the last century, according to the U.S. Geological Survey.