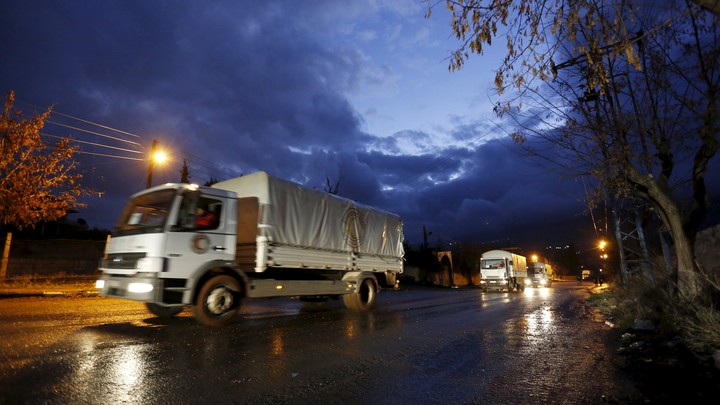 Humanitarian groups will deliver food, medicine, and other supplies this week to besieged Syrian towns where dozens of people have died of starvation and hundreds have been killed in the country's civil war.
The United Nations has dispatched trucks to thousands of people in Madaya, Fouah, Kafrayah, Mouadhimiyeh, and Kafr Batna. Some of the towns are besieged by rebels; others by the Syrian government. The UN is expected to airlift aid into the city of Deir Ez Zour, which is encircled by the Islamic State.
The deliveries are the product of an agreement reached last week by the 17-member International Syria Support Group—which includes the the United States, Russia, the European Union, and the Arab League—and a step, diplomats hope, that leads to a cessation of hostilities this week.
The UN said deliveries would "continue as long as humanitarian needs persist." The Syrian Arab Red Crescent, a humanitarian organization, photographed the effort:
@SYRedCrescent +100 trucks loaded with #humanitarian_aid towards #Madaya ,#Zabadani & #Moadamiya & #Kefraya & #Foua pic.twitter.com/ovbCNjG9rw

— Syrian Red Crescent (@SYRedCrescent) February 17, 2016
Many of the towns have been for months sealed by checkpoints and barricades, the people inside subjected to frequent bombing from overhead. Food, drinking water, electricity, and fuel are in short supply. "The people have been literally starving," said Staffan de Mistura, the UN Special Envoy to Syria, in an interview with CNN. "And when they're not starving, they're very close to it."
The Syrian government has long refused to allow aid groups to reach areas controlled by rebels fighting against its troops, but some legal experts say the UN has a legal right to ignore that policy, and have criticized its leaders for not going in earlier.
"People in Kafrayah and Fouah, they need diesel to switch on the water pumps—without the diesel, they cannot dig for water, they need water, drinking water," Mouhannad al Assadi, a spokesman for the Syrian Arab Red Crescent, told the BBC on Wednesday.
Madaya, where 31 people died of starvation in December, received humanitarian aid last month for the first time in six months. The Syrian American Medical Society, which operates dozens of hospitals in the country, reports that as many as 40,000 civilians face starvation in Madaya, and some have resorted to eating plants, insects, and cats. The sole clinic there sees about 300 patients a day, mostly children. "They have no supplies, and no training—one of their only doctors is a veterinarian who is now operating on humans," said Ammar Ghanem, a doctor who heads the organization, in a recent report on Madaya.
The UN says more than 400,000 people live in besieged areas in Syria.
The agreement that allowed for the humanitarian deliveries was a compromise between the U.S. and Russia, who are on opposing sides of Syria's nearly five-year-long civil war. The U.S., which wants Syrian President Bashar al-Assad removed from power, had wanted an immediate cease-fire. Russia, which is supporting Syrian military action with airstrikes, suggested fighting should halt next month. Both sides are seeking a "cessation of hostilities" in Syria after the aid is delivered this week—not quite a ceasefire, but a pause in the recently intensified violence in the region.
The Syrian government and the UN exchanged barbs soon after the deal was reached. De Mistura said the deliveries would serve as a test of the Syrian government's commitment to its beleaguered citizens. State-run media in Syria reported criticism of De Mistura, quoting an official as saying Syria does not "wait for anyone to remind us of our duties towards our people."​
The agreement does not apply to the fight against the Islamic State, which controls large parts of territory along Syria's border with Iraq, or al-Nusra Front, an al-Qaeda affiliate that operates in northwestern Syria.
We want to hear what you think about this article. Submit a letter to the editor or write to letters@theatlantic.com.