Deadly Explosions in Syria
The attacks come amid negotiations between the U.S. and Russia about a possible cease-fire.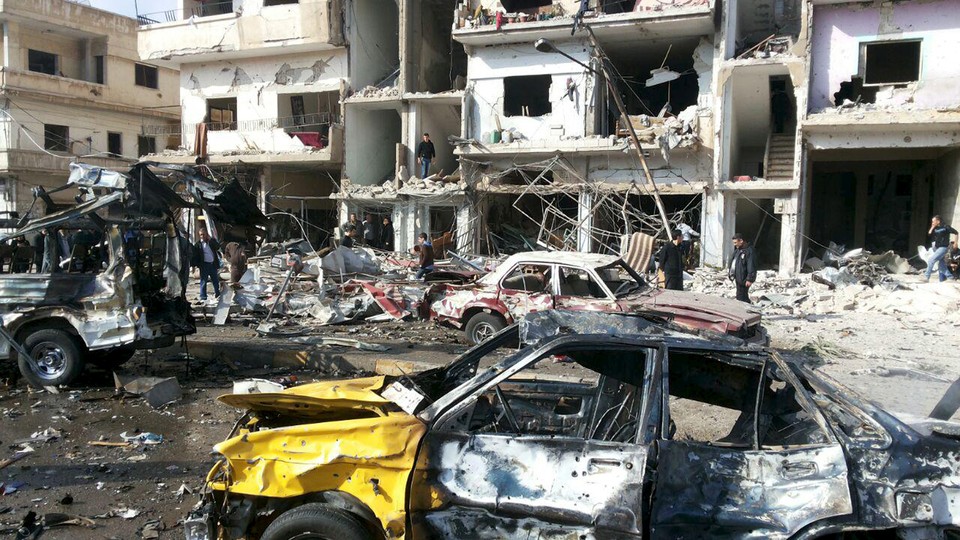 Dozens of people have been killed and many more injured after bomb attacks in Homs and Damascus on Sunday.
At least 34 people were killed and 39 were wounded when explosives in two cars detonated Sunday morning in the city of Homs, according to Homs Governor Talal al-Barazi, Syrian state media reported. The Syrian Observatory for Human Rights, a British-organization that works with activists on the ground in Syria, estimated the death toll was 46.
The attack occurred in the neighborhood of al-Zahraa, which Syrian government forces recaptured from opposition groups earlier this month. Photos from state media showed charred and mangled cars in the street. The exteriors of adjacent buildings had been blown off.
Hours after the Homs attack, car and suicide bombs detonated in a suburb of Damascus, Reuters reported. The Syrian Observatory estimated at least 62 people were killed. The extremist Islamic State group claimed responsibility for the attack.
The perpetrators of the Homs blast have not yet been confirmed, but the Islamic State is suspected. The group claimed responsibility for car and suicide bombs that killed 20 people and wounded more than 100 in Homs in January.
The attacks come in the midst of negotiations between the United States and Russia—who are on opposite sides in Syria's five-year-long civil war—about a possible cease-fire among the various factions involved in the conflict. U.S. Secretary of State John Kerry said Sunday he and his Russian counterpart, Foreign Minister Sergey Lavrov, had reached a "provisional agreement" on a cease-fire that could be implemented in the next few days, the Associated Press reported. But the deal "is not yet done," Kerry said.
Syrian President Bashar al-Assad said in an interview with Spain's El Pais published Sunday he is "definitely" prepared to recognize a cease-fire brokered by Washington—which wants him removed from power—and Moscow—the longtime ally supporting his troops.
The tentative agreement comes days after a similar one failed. On February 12, the U.S., Russia, and other world powers called for a pause in fighting within a week. While the agreement allowed humanitarian workers to reach and deliver much-needed food, medicine, and other supplies to seven besieged Syrian cities, the deadline for a cessation of hostilities came and went. Syrian troops, backed by Russian airstrikes, have continued conducting offensive operations in opposition-held parts of northern Syria. State media reported Sunday that government forces had taken over 19 villages in the Aleppo province held by rebels.
Neither agreement applies to the fight against the Islamic State, which controls large parts of territory in Iraq and Syria, or the al-Nusra Front, an al-Qaeda affiliate that operates in northwestern Syria.