Raising Funds for Syrian Refugees
World leaders gathered in London want $9 billion in aid.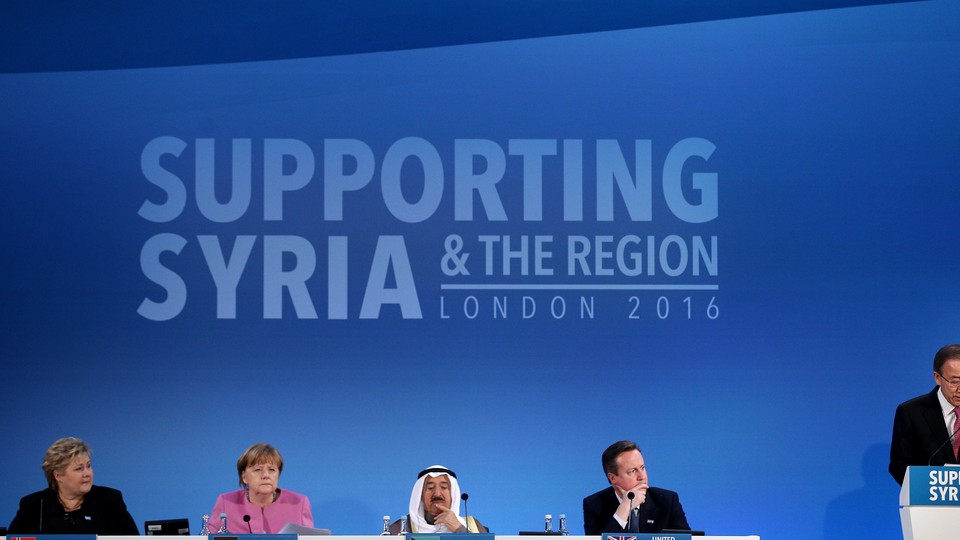 Updated on February 4 at 12:19 p.m ET
World leaders gathered in London are urging $9 billion aid for the refugees fleeing Syria's bloody civil war—and British Prime Minister David Cameron said the conference had raised $10 billion.
The funds, he said, include about $6 billion pledged for this year, and another $5 billion committed by 2020, the UN says.
The donor conference, which began Thursday, is the fourth of its kind for those adversely affected by the conflict that has spawned more than 4.5 million refugees, the vast majority of them living in camps in Turkey, Lebanon, and Jordan. The previous efforts fell short of their stated fundraising goals.
European leaders, who are also dealing with a massive influx of asylum-seekers, many of them from Syria, are among the 30 world leaders from 60 countries who are attending the conference.   
The $9 billion being sought from world leaders comprises $7.7 billion the UN wants and $1.3 billion sought by regional governments. Germany and Britain were among the first on Thursday to make financial commitments.
Germany's pledge is about $2.69 billion; Britain's about $1.7 billion.
The U.S., meanwhile, pledged $900 million for the effort, bringing its total contribution to $5.1 billion. The U.S. is the largest national donor to the cause.
The BBC reported that the European Union would announce $2.2 billion in aid.
Thursday's developments come a day after the UN suspended talks in Geneva with rival Syrian factions until February 25, citing a lack of progress. The UN-mediated talks had brought together representatives of the Assad government and the Syrian opposition, which includes many groups involved in the nearly five-year-long civil war.
The conflict pits Assad's regime, which is backed by Russia, Iran, and Hezbollah, against a motley of rebel groups, ranging in philosophy from moderate to Islamist, some of which are backed by the West and its allies. Despite the attempts at talks in Geneva, there appears to be little sign the conflict will be resolved soon.
Indeed, even as the representatives met in Geneva, the Syrian government was launching a major offensive on the city of Aleppo. Turkey's prime minister estimated that about 70,000 Syrians have fled the bombing and are headed toward Turkey.
That's just a fraction of the total number of people who have fled the violence. Many of them have fled to Europe, which despite the efforts of countries such as Germany and Sweden to welcome those fleeing the conflict, has been woefully unprepared for the scale of the influx and has been unable to agree on a common refugee policy.