The Continuing Saga of Julian Assange
The Swedish prosecutor's office says it is working on a renewed request to interview the Wikileaks founder at the Ecuadorian Embassy in London.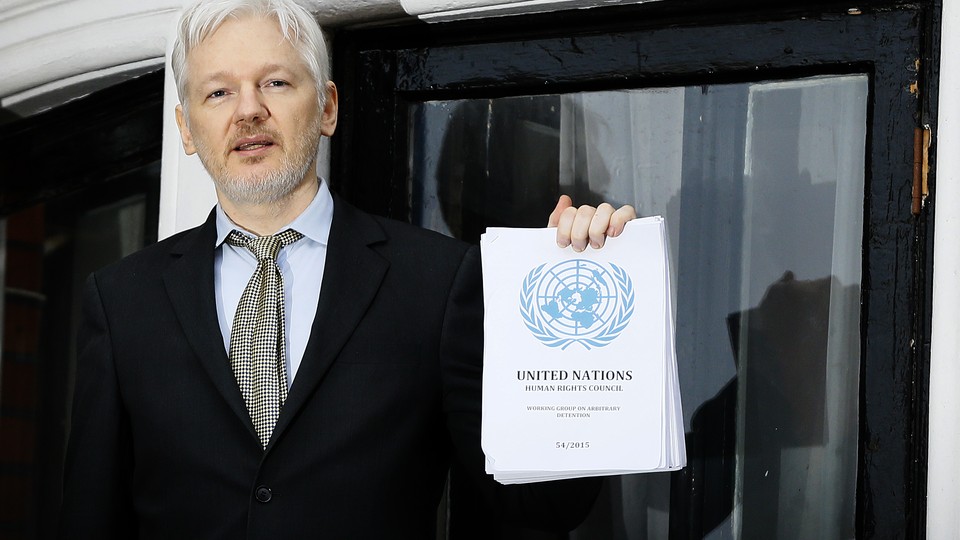 The Swedish prosecutor's office said Tuesday it is working on a renewed request to interview Julian Assange at the Ecuadorian Embassy in London in connection with an allegation of rape against the Wikileaks founder. The statement comes just days after a UN panel ruled that Assange's detention was arbitrary and a month after Ecuador's top prosecutor rejected a previous request from Sweden.
Marianne Ny, Sweden's director of public prosecution, in a statement said last week's ruling by the UN Working Group on Arbitrary Detentions "does not change my earlier assessments in the investigation."
As we reported on February 5, Assange was arrested in 2010 under a European Arrest Warrant issued by Sweden over claims of sexual assault—claims he denies. But in 2012, while on bail, he sought asylum in the Ecuadorian Embassy in London so he could avoid extradition. Last year, Swedish authorities dropped two cases of sexual assault against him, though the allegation of rape still stands—and it's in connection with that case the Swedish prosecutor wants to question him. Assange says he fears that if he's sent to Sweden he'd be extradited to the U.S., whose secret diplomatic cables were published by Wikileaks. The U.S. says there's no sealed indictment against Assange.
In 2014, Assange appealed to the UN panel, saying his situation was tantamount to arbitrary detention because he couldn't leave the embassy without being arrested. The panel agreed, saying Assange's detention "should be brought to an end, that his physical integrity and freedom of movement be respected … [and he] should be afforded the right to compensation."
Britain and Sweden said they reject the UN ruling, which isn't legally binding. They say his presence in the Ecuadorian Embassy is purely voluntary.
Last month, Ecuador's prosecutor-general rejected a previous request from the Swedish prosecutor to question Assange in London. That office, in a letter to Swedish authorities, said it will interview Assange and asked for a list of questions the Swedish prosecutor wants the Ecuadorian prosecutor to ask the Wikileaks founder.