Allegations—and Denials—in the Syrian Conflict
Russia is dismissing as baseless claims that its airstrikes hit three hospitals and a school, killing 50 people.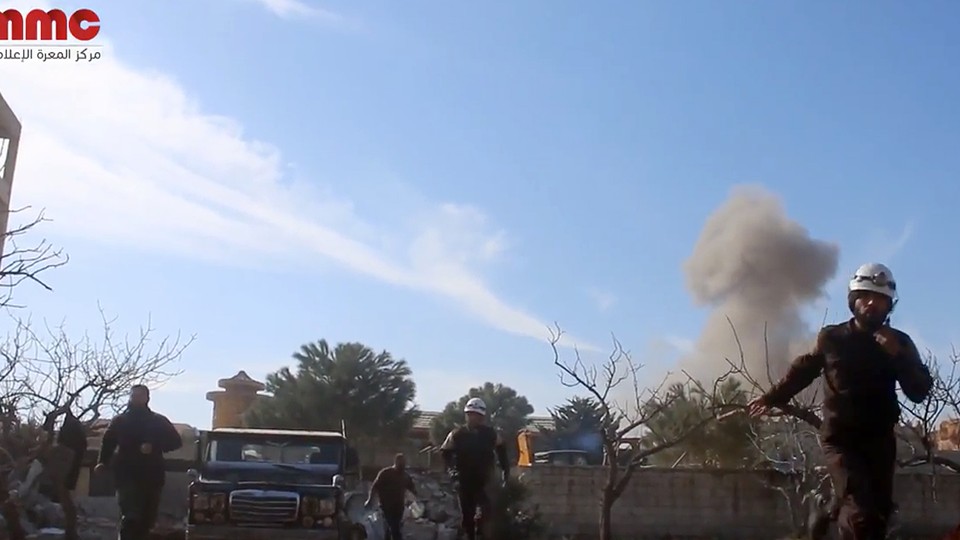 Russia is rejecting allegations by Turkey that its airstrikes in support of Syrian President Bashar al-Assad struck three hospitals in Syria, killing at least 50 people.
"Once again, we categorically dismiss these statements and consider them to be unacceptable," Dmitry Peskov, the Kremlin spokesman,
said Tuesday in Moscow
. "
Especially because those making these statements are unable to prove their allegations in any way."
As we reported Monday, three hospitals and a school were stuck by missiles in northern Syria. One of the medical facilities hit was run by Doctors Without Borders (MSF), the humanitarian organization, in
Maarat al-Numan, which is in
Idlib province. The group said the facility was struck by four missiles. The other two hospitals—and the school—were in Azaz city; they were not MSF-run. In all, at least 50 people were killed.
The area where the strikes occurred is rebel-held and has been the target of a government offensive, backed by Russian airstrikes. France said the attack on the hospitals could constitute war crimes.
Mego Terzian, MSF's president in France,
told Reuters
that either Russia or the Syrian government was responsible. That claim was backed by Turkey. But the Syrian government said the hospitals were struck by U.S. strikes, an assertion the Pentagon rejected.
The conflict in Syria pits the Assad regime against a coalition of rebel groups. Assad is backed by Russia, Iran, and fighters from Hezbollah, the Shia militia group. Some of the rebels are backed by Western nations and their regional allies. Add to this mix ISIS, which controls territory across the Syria-Iraq border, and al-Nusra Front, the al-Qaeda-linked militant groups. In theory, both Assad's forces and the rebels—and both their allies—are fighting the two terrorist organizations.
Monday's strikes on the hospitals and schools in northern Syria comes just days after the U.S. and Russia agreed to work toward a "cessation of hostilities" that would begin this week. That step was seen as a pivotal condition ahead of the scheduled resumption on February 25 of UN-mediated talks with the Syrian government and rebels.
But Assad, bolstered by Russia's backing, has made steady gains since last fall, and now remains more firmly entrenched as Syria's leader than at any point since the fighting began in March 2011. It's unclear if Assad has an incentive to halt the fighting—even temporarily. Indeed, Syrian troops, with the help of Russian airstrikes, continued to make gains around Aleppo, the country's largest city.
In Ankara, meanwhile, an unnamed Turkish official
told reporters
that Turkey would support a ground operation in Syria, but "
with our international allies."
"Without ground operations it is impossible to stop the fighting in Syria," the official said, adding Turkey had raised the issue with the U.S. and others.
More than 250,000 people have died in the Syrian civil war and more than 11 million people have been displaced. The conflict has spawned a massive refugee crisis that is being felt far beyond Syria's borders.