The Steady Trickle of Refugee Deaths in the Mediterranean
Another 27 died Monday. As of February 5, this year alone 374 asylum-seekers have died or are missing.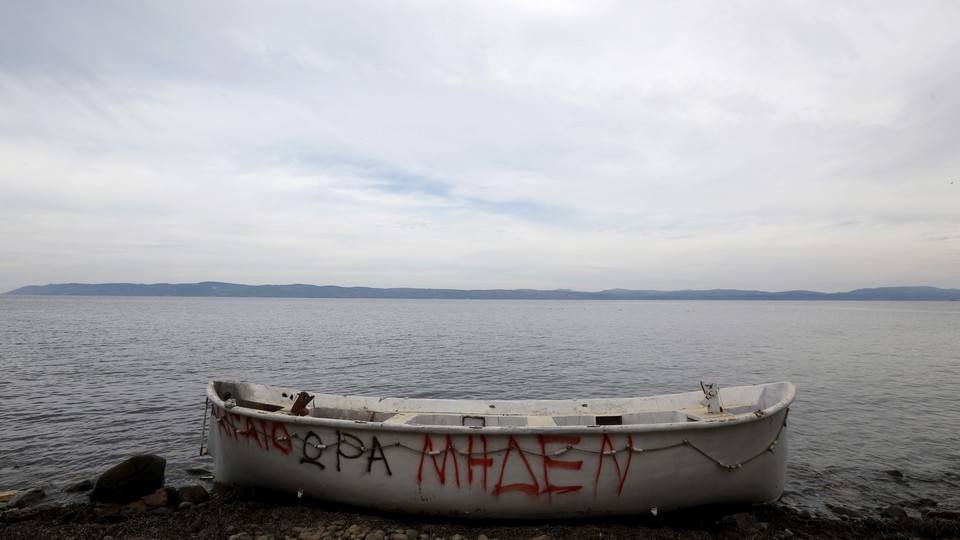 Updated on February 8 at 3:20 p.m. ET
At least 27 asylum-seekers, including 11 children, have drowned in the Mediterranean when the vessel in which they were sailing to Greece capsized, Turkish media reported.
About 40 migrants had set sail early Monday from Edremit, Turkey, toward Lesbos, Greece, when their boat capsized about two miles offshore. The Turkish Coast Guard recovered 27 bodies, including those of 11 children.
Already this year, 374 people have died or are missing, as of February 5, while crossing the Mediterranean, according to data compiled by the International Organization for Migration (IOM). Additionally, IOM notes, 74,676 people arrived in Italy and Greece between January 1 and February 5 to seek asylum in Europe. The number is a significant increase from the same period last year when 11,834 arrived in the two countries (though 428 people died in that period).
Although the asylum-seekers are coming from a variety of countries, including Afghanistan, Iraq, and parts of Africa, most are fleeing the civil war in Syria. That conflict, which has now lasted almost five years, pits the government of Bashar al-Assad against a coalition of rebel groups as well as ISIS and other Islamist terrorist groups. Assad is backed by Russia, Iran, and Hezbollah, the Shia milita organization from Lebanon. The rebels are backed by the West, Turkey, Saudi Arabia, and others. Both sides are also fighting ISIS.
The civil war has spawned a humanitarian crisis, creating nearly 4.6 million refugees, the overwhelming majority of whom are living in camps in Turkey (2.5 million), Lebanon (1 million), and Jordan (635,000), with smaller refugee populations in Iraq (245,000) and Egypt (117,000). A significant number has also tried to flee to Europe after Germany and some other countries last year announced an open-doors policy for Syrian refugees.
In 2015 alone, more than 1 million asylum-seekers, many of them Syrian, made their way into Germany. But the open-door policy advocated by Germany, Sweden, and others, proved to be controversial in the European Union. Many of the bloc's members, especially newer ones such as Hungary and the Czech Republic, balked at having to take in the newcomers, and countries such as Denmark adopted tactics to deter the asylum-seekers from coming there.
With no end in sight to the Syrian civil war and, consequently, the flow of refugees into Europe, EU leaders are looking for ways to stem the numbers.
Indeed on Monday, German Chancellor Angela Merkel visited Turkey to discuss ways to reduce the number of refugees entering Europe. The EU says it will give Turkey $3.3 billion for help in stemming the flow.
Turkey, meanwhile, says it's finding it difficult to cope with the increased flow of refugees into its territory following the Syrian government assault, backed by Russian airstrikes, on Aleppo. The bombardment of the city in recent days has prompted tens of thousands of people to amass at the border with Turkey.
"In some parts of Aleppo, the Assad regime has cut the north-south corridor ... Turkey is under threat," President Tayyip Erdogan told reporters.
Turkish aid agencies have taken relief supplies to the Syrian side of the border and set up shelters there. Reuters reports Turkey is under pressure not only from the EU to stem the flow of refugees, but also from the U.S. to secure its border with Syria. But with as many as 35,000 people at the Oncupinar gate, which divides the two countries, Turkey may have little choice.
"If needed," Erdgoan said, "we will let those brothers in."