Orbital View: 'Synergy Between Land And Sea'
Editor's Note:
This article previously appeared in a different format as part of The Atlantic's Notes section, retired in 2021.
The European Space Agency has a great caption for this watercolor-like view of a coastal French city:
This is La Rochelle, capital of the Charente-Maritime department in western France. La Rochelle sits on layers of limestone dating back some 160m years, when a large part of France was under water. 💧 The coastal area is dominated by sandy beaches, which are visible as white lines. Between the beach and the water-line, we can see darker sand and silt layers. The 4–5 m tidal range creates a heaven for wild mussels and oysters, making it one of the major places for shell farming in Europe.

Thanks to the high-resolution multispectral instrument on Sentinel-2A, we can clearly make out the various agricultural fields around the city and surrounding towns, as well as on the Île de Ré Island. 🌴 Part of the Natural Reserve of the Bay of Aiguillon is visible at top right. It is one of the most important reserves in France, hosting hundreds of thousands of migratory water birds every year.

This is a place of synergy between land and sea, between saltwater and freshwater, and between nature and humankind.
A more inland view of La Rochelle, from SPOT Satellite (via Wiki):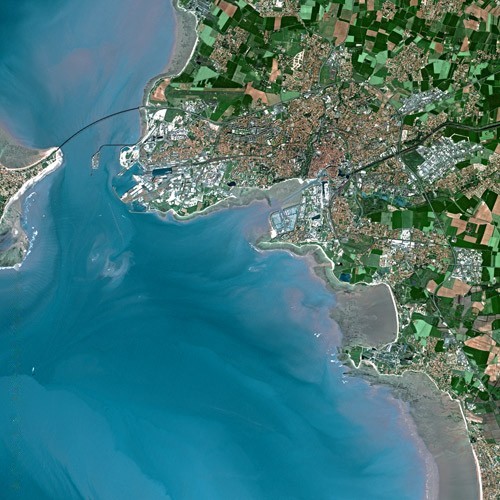 (See all Orbital Views here)