A Satellite Launch in North Korea
The reclusive country launched a long-range missile into space Saturday night, defying international warnings.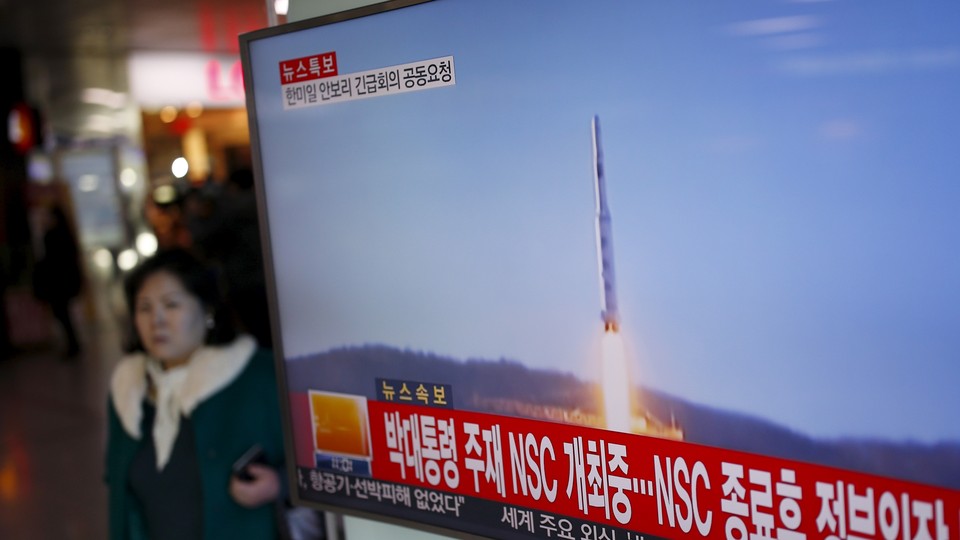 Updated at 1:30 a.m. on February 7
North Korea launched a long-range missile and placed a satellite into orbit, the country's state-run media outlets announced Saturday night.
Details from the isolated country remain minimal, but official state broadcasters said the launch had been a "complete success" and the Kwangmyongsong-4 satellite was orbiting Earth every 94 minutes.
North Korea had indicated in previous days that a launch was imminent. The country is under strict UN sanctions related to its ballistic-missile program; Pyongyang insisted the launch was for peaceful space-exploration purposes.
The U.S. Department of Defense, which tracked the missile launch, said it was not an immediate threat to the United States or its allies.
U.S. @DeptofDefense systems detected and tracked today what we assess was a North Korean missile launch into space at 2:29 p.m. HST.

— U.S. Pacific Command (@PacificCommand) February 7, 2016
Japan, South Korea, and the U.S. quickly condemned the launch and called for an emergency meeting of the United Nations Security Council to discuss the incident. Secretary of State John Kerry described the launch as a "major provocation."
The test comes one month after North Korea said it tested a hydrogen bomb, although international experts threw cold water on that claim.
This is a developing story and we'll update it with more information as it becomes available.