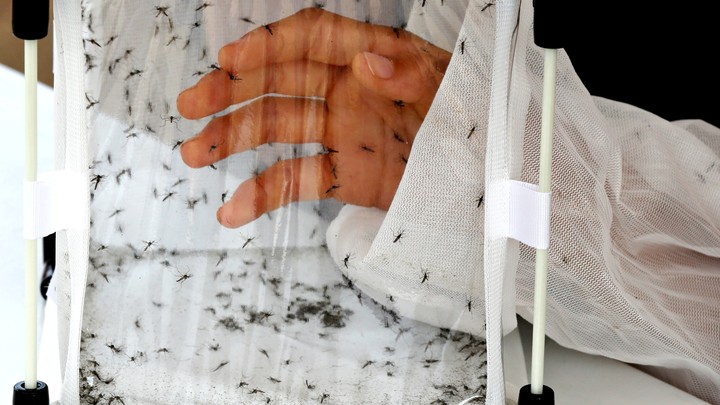 The Middle of Everywhere
Samia Madwar | Up Here
"When Alestine Andrew flies from Norman Wells to Inuvik, NWT [Northwest Territories], she looks out the window to watch the hills, valleys, rivers and lakes below her. To most passengers, the features appear as little more than a sprawling, natural canvas. To Andre, it's like looking at a familiar cityscape from above. She can point out specific spots and tell stories about each of them.
'I know exactly where those places are,' she says. 'I'll remember crossing a creek there and having to cut down 10 trees so we could make a bridge to cross.' And that might be a 20-year-old memory."
* * *
Meet the Brazilian Woman Fighting Zika By Dumping Thousands of Mutant Mosquitoes Out of a Van
Dan Vergano | Buzzfeed
"As [Cecilia] Kosmann, a field trial supervisor with Oxitec, put it: 'We're fighting mosquitoes with more mosquitoes.'"
* * *
Where the Dead Don't Count
Selam Gebrekidan and Allison Martell | Reuters
"Lucky sat atop a pile of supplies, hanging onto a post with his feet dangling over the side. He knew the driver would not stop if anyone fell off. He was parched and hungry. The sand that sprayed up from under the truck's tyres stung his eyes. For three days they drove, stopping occasionally to refuel and drink their water.
On the fourth day, the driver lost his way. His compass had stopped working. Some in the group would never make it out of the desert."
* * *
How Islamic State's Secret Banking Network Prospers
Margaret Coker | The Wall Street Journal
"'I don't ask questions,' said Abu Omar, whose money-exchange offices in the Iraqi cities of Mosul, Sulimaniyah, Erbil and Hit charge as much as 10% to transfer cash in and out of militant territory—twice normal rates. 'Islamic State is good for business.'"
* * *
How to Spend One Day in Tokyo
Justine Wong | Lucky Peach
"It is a fading tradition, but a long soak at the local sento is one of my favorite things to do after a good meal. Unlike an onsen or a spa, the sento isn't particularly luxurious and at 500 yen, is exceptionally affordable. You can stay for as long as you like, and will go in naked and scrub yourself clean before you take a dip in their many tubs—each with its unique health properties. The best part is the glass of cold milk at the very end, but I would also sometimes opt for a cold beer, or some sake, or even a late-night dessert in the city to end a long day."
* * *
Afghan Idol Throws Off Her Burqa and Belts Out Domestic Violence Protest Song
Danielle Moylan | Newsweek
"In late January, millions of Afghans watched Arian's performance on Afghan Star, a wildly popular singing contest modeled on American Idol. As the lights illuminated the 23-year-old singer, one of only two female contestants, it became apparent this wasn't an ordinary performance. It was a protest. Cloaked in a blue burqa, pulled back to show her face, Arian had smeared on dramatic makeup to simulate a beating. Thick streaks of bloody red paint ran underneath her nose, staining her lips and chin. Black smudges around her eyes resembled swollen bruises."
We want to hear what you think about this article. Submit a letter to the editor or write to letters@theatlantic.com.