A U.S. Strike Against an ISIS Target in Libya
A militant who masterminded two major attacks in Tunisia last year was reportedly targeted.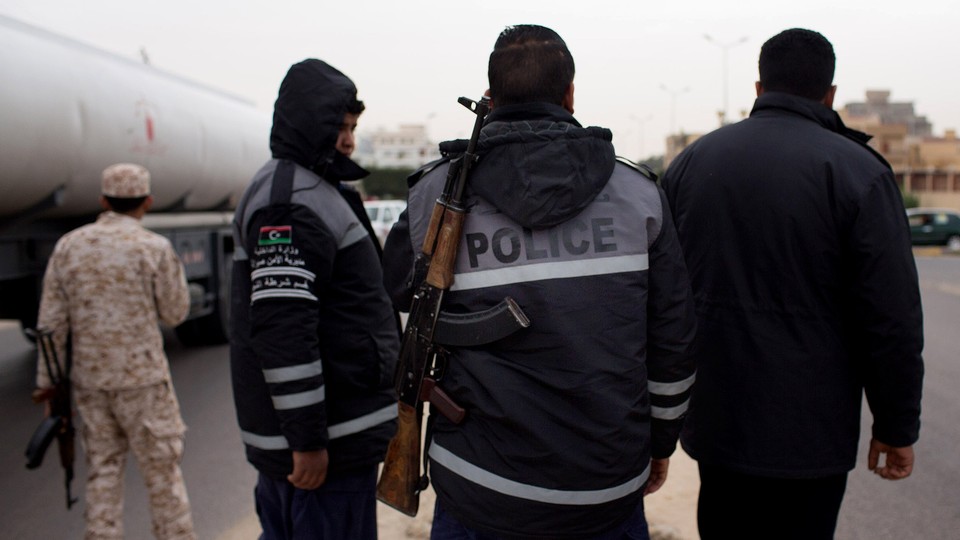 U.S. airstrikes in Libya have reportedly targeted a Tunisian ISIS commander, multiple news organizations are reporting, citing U.S. officials.
The airstrikes, which reportedly were carried out early Friday near the town of Sabratha, about 50 miles west of Tripoli, the capital, come as the White House is considering military action against ISIS, which has made significant recent gains in Libya.
The New York Times, citing the Pentagon, reported the ISIS operative, Noureddine Chouchane, was most likely killed. A spokesman for the U.S. African Command, Colonel Mark Cheadle, told Reuters the Pentagon was "assessing the results of the operation." An unnamed U.S. official told the Associated Press the target of the strikes was an ISIS training camp in Libya, but did not provide any indication as to whether Chouchane was specifically targeted.
Chouchane is the ISIS militant who is believed to have masterminded two deadly attacks in Tunisia last year: one on the Bardo National Museum in Tunis killed 22 people; the other,  in a coastal resort in Sousse, killed 38.
There were varying reports of how many people were killed in the U.S. airstrikes. The Times, citing an unnamed Western official, said at least 30 ISIS recruits, many of them Tunisian, were killed at the site. Libya Herald, an English-language news website, quoted sources at the town's hospital as saying at least 41 bodies had been brought there. Hussein Dawadi, the town's mayor, provided similar numbers to Libya TV, adding most of those killed had recently arrived in town.
The Times added that the strikes were carried out by Air Force F-15E jets. And, the newspaper added, the site was being monitored for several weeks by Special Operations forces, using reconnaissance drones, satellite imagery, and other surveillance equipment. A second Western official who spoke to the Times said it appeared that the militants were planning a "major attack outside of Libya, either in the region or possibly Europe."
Libya has emerged as the main focus of ISIS's attention outside of the vast swath it controls across the Iraq-Syria border. Like those countries, Libya lacks a strong central government and well-functioning civic institutions. The country has mostly been in political turmoil since the ouster, capture, and eventual death of Muammar al-Qaddafi, its longtime dictator, in the wake of the Arab Spring.
Friday's attack is by no means the first U.S. strike in Libya against ISIS. Last November, the U.S. killed Abu Nabil, an Iraqi militant who led the terrorist group in Libya, in the eastern town of Darnah. And, The Guardian reports: "Unidentified aircraft have bombed other Isis bases in the eastern Libyan towns of Sirte and Derna in recent days, with Human Rights Watch saying a hospital was struck in the Derna raids."
Speaking this week at a news conference about ISIS's presence in Libya , President Obama said the U.S. would go after the group "wherever it appears."
"We will continue to take actions where we've got a clear operation and a clear target in mind," he said. "As we see opportunities to prevent ISIS from digging in, in Libya, we take them."