An Old-New Lech Walesa Scandal
New documents reignite old claims that Poland's former president and the founder of its anti-Communist Solidarity movement was a paid Communist informant in the 1970s.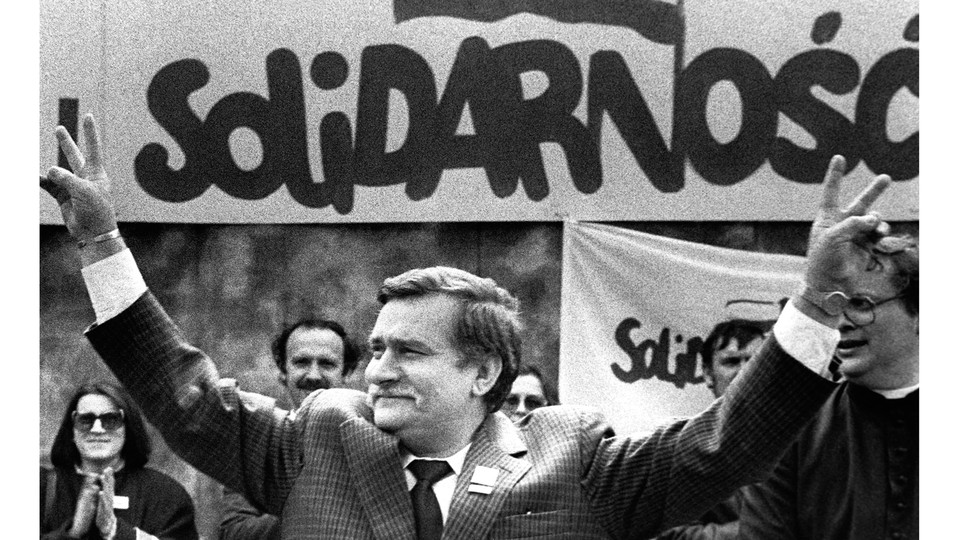 Like a ready-made Hollywood drama about Cold War-era Eastern Europe, this story begins in the house of Czeslaw Kiszczak, a deceased Communist general and the former Polish interior minister.
It was there that new documents were seized this week that appear to show that Lech Walesa—the shipyard worker and founder of Poland's anti-Communist Solidarity movement—was a paid informant for the Communist regime he later brought down. Walesa eventually won a Nobel Prize for his democracy promotion and became Poland's first president after the fall of Berlin Wall.
This is, in some ways, old news. Walesa previously admitted to having been an informant, which was not uncommon at the time. Walesa maintains that he never collaborated with the government then and, in 2000, a special court cleared him of any wrongdoing. (The Polish government still prosecutes Communist-era crimes.)
But the specifics of the documents claim to show new evidence that would link Walesa to actual work for the government from 1970 until 1976.
"Among the documents in the file there are also handwritten and signed with the nickname 'Bolek,' confirmations of receipt of money," a press release read from the Institute of National Remembrance, which is holding the papers.
The file reportedly contains an unsent letter written by Kiszczak in 1996 that was meant to accompany the documents. The institute added that an expert has vouched for the papers' authenticity; Kiszczak's widow was said to having been working to sell the documents before they were seized.
Nevertheless, the timing and circumstances of these latest accusations are not without their curiosities. As NBC notes, the institute holding the documents has ties to Poland's ruling nationalist Law and Justice party, which Walesa recently accused of anti-democratic behavior following their electoral win in October.
Just earlier this week, Mateusz Morawiecki, Poland's deputy prime minister, accused Walesa of collaborating with the Soviets. "Walesa has an agent's past, of course he does. For the last 27 years I not only suspected this, but was almost sure."
On Thursday, Walesa denied the allegations and claimed that the incriminating documents were forged. (Communist-era security services were also notorious for forging documents.) He pledged to fight the charges in a court of law.
Walesa became a hero in the 1970s and 1980s by striking for workers' rights and galvanizing independent trade unions in Poland, which was under repressive Soviet control. Given that these documents seem to pre-date these efforts, it's unclear how the allegations, if true, would affect his legacy.