Rising Tensions on the Korean Peninsula
North Korea has frozen the South's assets at the Kaesong Industrial Complex and called Seoul's suspension of activities there a "dangerous declaration of war."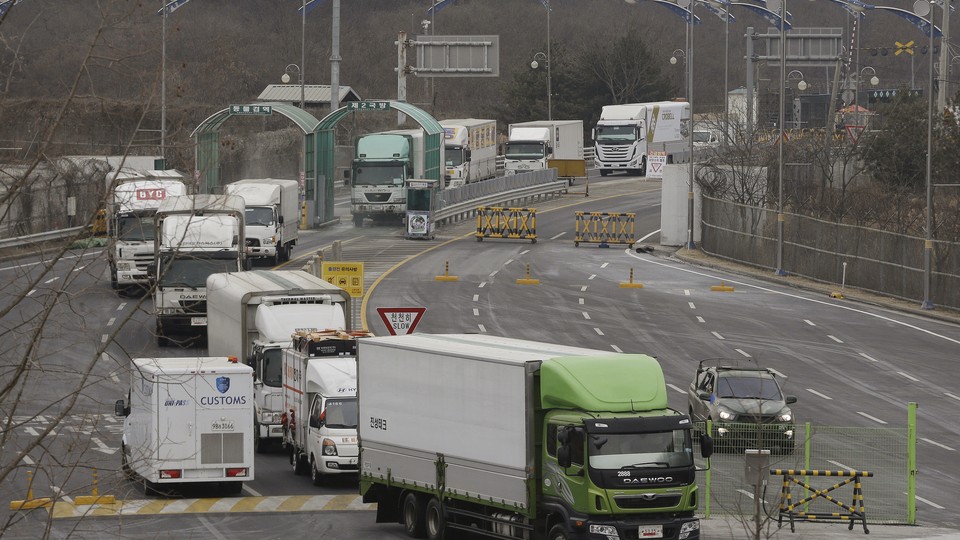 North Korea has seized the Kaesong Industrial Complex, declared it a military zone, expelled South Koreans who work there, and called Seoul's suspension of operations at the complex a "dangerous declaration of war."
"The frozen equipment, materials and products will be managed by the committee of Gaeseong people," said a statement from the North's Committee for Peaceful Unification of the Fatherland. "From 10 p.m. on Feb. 11, (the North) will seal off the industrial park and nearby military demarcation line, shut the western overland route and declare the park as a military off-limit zone."
The North also ordered 248 South Koreans at the complex to leave the country by 5 p.m. Thursday with their personal belongings, adding it would cut all lines of communication with the South, and the cross-border highway that connects the two countries. The AP reported some South Koreans were still at the complex past that deadline and had been told to await instructions from Seoul. The Korea Herald reported that trucks from South Korea returned home with workers and equipment.
"I feel bitter when I think about the possibility that I might lose my job due to the suspension of the factory operations," Yun Sang-eun, a worker who drove a 22-ton truck back to the South with factory products from Gaeseong, told the newspaper.
South Korean business groups had called their government's decision hasty.
More than 120 South Korean companies operate in the Kaeseong complex, which is located in the North Korean city of the same name and was established in 2004 as a symbol of cooperation between the two countries. The facility employs more than 50,000 North Korean workers, has earned Pyongyang about $515 million since it opened, and provides the North one of its few sources of hard currency. The workers there earn about $100 million annually, of which 30 percent goes to the government. In turn, South Korean companies get access to cheap labor.
South Korea's suspension of activities at Kaesong on Wednesday came in retaliation for North Korea's recent rocket launch and nuclear test.