A Good Sign for Iran's Moderates
Estimates from the Islamic Republic's recent election point to a win for reform-minded candidates. But what does that mean?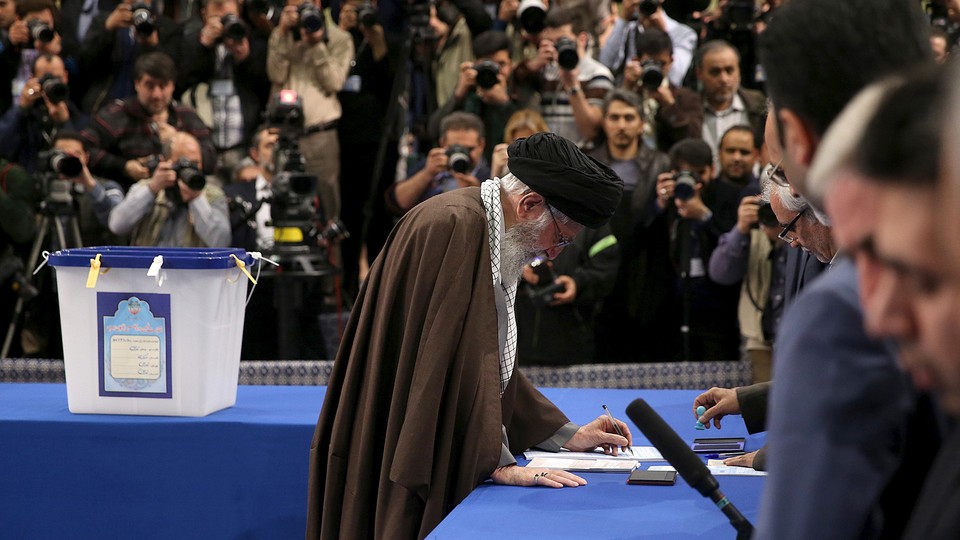 The results from Iran's parliamentary elections haven't been released yet, but some triumphant language has accompanied the anticipated tallies, which indicate a surge for Iranian moderates.
Reform-minded and more moderate candidates swept all 30 parliamentary seats in Tehran, the country's most heavily populated province, and won 15 of 16 seats on the influential Assembly of Experts, a council that will pick Iran's next supreme leader, CNN reported. A record-high number of the women—some 20 seats out of a total 290—were also expected to join the legislature, according to The Guardian.
The election, held Friday, had been widely framed as a referendum on the country's nuclear deal, a diplomatic effort that had been opposed by Iran's more conservative contingents. The deal led by Hassan Rouhani, Iran's more moderate president, brought an end to years of crippling international sanctions last month.
But despite the suggested results, celebrating a newer, friendlier Iran may be premature. Thomas Erdbrink's rhetorical couching of the results in The New York Times reflects a more nuanced picture of post-election Iran.
"While the hard-liners still remain firmly in control of the judiciary, security forces and much of the economy, the success of the moderate, pragmatic and pro-government forces seemed to have lent new momentum to Mr. Rouhani's efforts to chart a course of greater liberalization at home and accommodation abroad," he writes.
But even as Iranians went to the polls, the democratic character of Iran, its robust support for the Assad regime in Syria, and the moderate nature of its leadership remain heavily scrutinized. Also writing in the Times on Monday was Azadeh Moaveni, a former Iranian journalist, who expounded on the meaning of the results with more skepticism:
But outside the capital, initial results indicate that the showing was not so buoyant, and we must remember that Iran has had a pro-reform Parliament and a moderate president before; that synergy did little in the face of the overwhelming structural and economic advantages the system affords hard-liners and their institutions. And now, they have had to make electoral deals with pragmatists, diluting the very notion of "reformist" as a political category.
Ahead of Friday's vote, stories about Iran's decidedly immoderate activities were easy to find. On Thursday, a number of outlets reported that Iran would offer $7,000 to the families of Palestinians killed while carrying out attacks against Israelis.
Meanwhile, a report by Iranian state media last week charged that a government crackdown on drugs had led to the execution of every single male inhabitant of a village in southern Iran. Details, like post-election analysis, remain murky.