The Angry Debate Over Sedition in India
The controversy surrounding the arrest of a student-body leader over his alleged remarks comes down to this question: Do free-speech rights extend to unpopular views?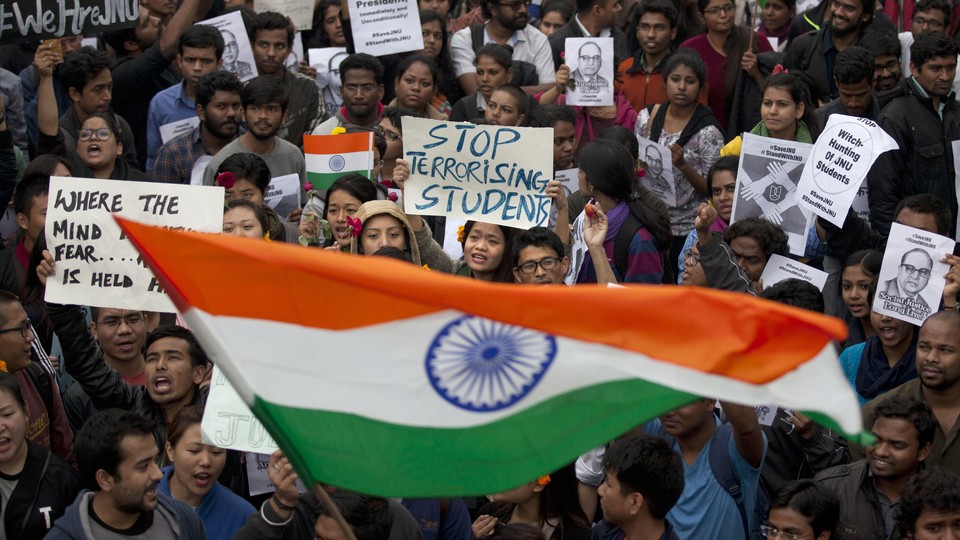 Updated on February 19 at 9:09 a.m. ET
India's Supreme Court has agreed to hear a bail plea from a student-body leader at the center of a heated debate over sedition.
Kanhaiya Kumar, the 28-year-old head of the student union at the prestigious Jawaharlal Nehru University (JNU), in his petition to the Supreme Court, called an alleged attack on him on Wednesday during an appearance at a lower court an "exceptional and unprecedented breakdown of justice delivery mechanism and administration of justice." And, he said, his fundamental rights, guaranteed by the Indian Constitution, had been threatened.
"I am a student of Jawaharlal Nehru University and not some hardened criminal," Kumar said in his petition, which came a day after he was remanded to police custody until March 2.
The Supreme Court apparently agreed, with one justice acknowledging "something extraordinary is going on in this country."
Something indeed is going on across India. Kumar's supporters, as well as his detractors, have staged protests across the country, taken to social media, written columns, and shouted over one another on television to amplify their views, which at their core come down to this question: Do free-speech rights extend to views that are seen as anti-national?
What's the issue?
As we reported last week, Kumar was arrested in connection with an event held on the JNU campus on February 9 to mark the third anniversary of the execution of Afzal Guru. Guru, who was from Kashmir, was sentenced to death in connection with a deadly attack by militants on India's Parliament in 2001. Debate over Guru's guilt has swirled ever since his arrest.
The JNU protests, news reports say, involved slogans in praise of Guru and called for the breakup of India into smaller pieces. These allegations, which have also been leveled against Kumar, have enraged many Indians. But it's unclear whether such words were actually uttered. There are conflicting videos purporting to show entirely contradictory events. (You can watch a video of Kumar shouting what his critics call anti-national slogans here, while this video, which also claims authenticity and comprehensiveness, says he did not. Though it now appears the video that purportedly shows him shouting for freedom for Kashmir is doctored. ) The debate is complicated by the fact that Indians enjoy freedom of speech, but with restrictions. Cases like this come down to the courts.
Following complaints to the police after the JNU rally from rival student groups, Kumar was arrested last week and charged with Sections 124A (sedition) and 120B (criminal conspiracy) of the Indian Penal Code. Police are seeking others in connection with the case. They too have been charged with sedition and criminal conspiracy.
Why are the remarks controversial?
The issue is a sensitive one in India, which since independence from Britain in 1947, has quelled several separatist rebellions in various parts of the country. One of those places is Kashmir, which lies at the heart of the current debate.
Kashmir occupies a unique place in Indian public consciousness. India, while predominantly Hindu, is officially secular. Kashmir is the country's only Muslim-majority state. It is also the scene of a sometimes-bloody separatist rebellion. Part of Kashmir is administered by neighboring Pakistan, a Muslim country. Both India and Pakistan claim Kashmir in its entirety and have fought two wars over it, have come close to a third one, and have been engaged in countless border skirmishes over the region.
Indeed, the sedition law was previously used to charge three Kashmiri students who cheered for Pakistan during a cricket match between India and its neighbor. The charges were eventually dropped.
What is the law?
The sedition law, which was enacted in 1860, states:
Whoever by words, either spoken or written, or by signs, or by visible representation, or otherwise, brings or attempts to bring into hatred or contempt, or excites or attempts to excite disaffection towards, the Government established by law in India, a shall be punished with imprisonment for life, to which fine may be added, or with imprisonment which may extend to three years, to which fine may be added, or with fine.
The colonial-era law has been used in recent high-profile cases, including against the Kashmiri students; against Aseem Trivedi, a cartoonist who was arrested in 2012 after altering the three lions, India's national emblem, to lampoon corruption; Arundhati Roy, the Booker Prize-winning novelist and social activist who was accused of making an anti-national speech in 2010 when she called for Kashmir's independence; and Binayak Sen, a social activist accused of helping India's Maoist rebellion. But the charges have rarely stood up to judicial scrutiny, and have eventually been dropped.
Critics say the sedition law stifles free speech—especially so after Kumar's arrest. No less a personage than Mohandas Gandhi, whom Indians regard as the father of the nation, described Section 124A thusly when we was charged by the British under the act in 1922:
Section 124 A, under which I am happily charged, is perhaps the prince among the political sections of the Indian Penal Code designed to suppress the liberty of the citizen. Affection cannot be manufactured or regulated by law. If one has no affection for a person or system, one should be free to give the fullest expression to his disaffection, so long as he does not contemplate, promote, or incite to violence.

  
Kumar's critics would argue that he and his supporters did, in fact, "contemplate, promote, [and] incite … violence" though he has denied those claims, saying he eschews violence and believes in India's Constitution.
A matter of left vs. right?
At first glance, the debate over Kumar's alleged remarks breaks down in a simple left-right binary. JNU has long been a bastion of left-wing, especially Communist Party, politics. The complaint against Kumar was filed by members of another student group at JNU. This one, known by its initials ABVP, is affiliated with India's Hindu right wing. Recent events at JNU have mirrored India's rightward tilt. Last September, the ABVP won student elections at JNU after 14 years. India itself elected its Hindu nationalist BJP government in 2014 after a decade of rule by the centrist Congress Party-led government.
But the events at JNU serve as a microcosm for much of the debate that's occurring across India—and has been occurring for some time. Some of the previous sedition cases, including against Roy, the novelist, and Sen, the social activist, were filed during the Congress Party's rule. Indeed, the previous time a JNU student was charged with sedition in India was in the 1970s, when then-Prime Minister Indira Gandhi of the Congress Party imposed a state of emergency. The era witnessed a curtailing of civil liberties, mass arrests, and the crushing of political dissent. Many critics of India's BJP government say those conditions are slowly returning along with intolerance of dissenting views. The BJP's supporters dismiss those claims, but some of its ministers have been vocal about where the limits of free speech lie.
"If anyone raises anti-India slogans, tries to raise questions on country's unity and integrity, they will not be spared," Rajnath Singh, a BJP lawmaker who serves as India's home minister, said after Kumar's arrest last week. "Stringent action will be taken against them."