The Sedition Charge Against a Student Leader in India
He and others are alleged to have taken part in an event at the prestigious university that critics are calling "anti-national."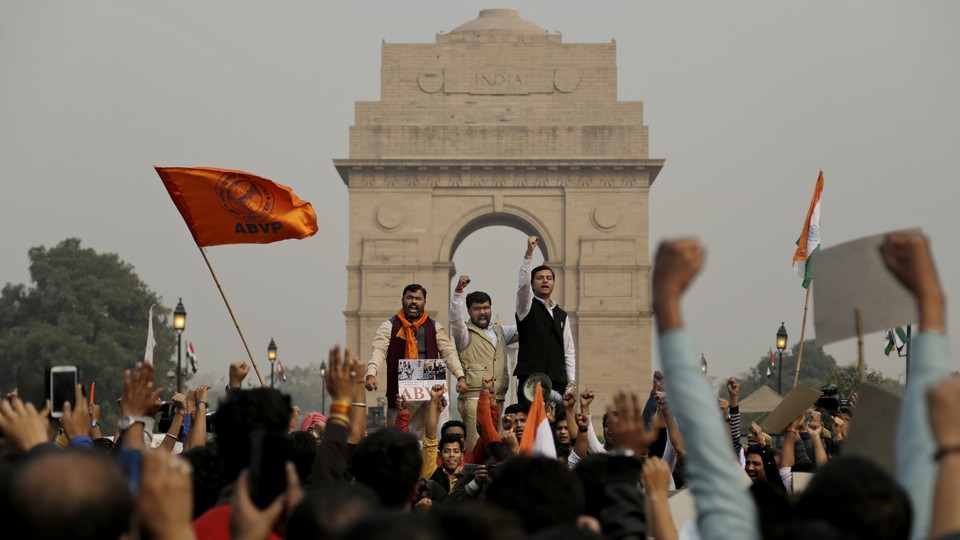 The head of the student body at one of India's most prestigious universities has been arrested and charged with sedition in connection with an event held at the campus of the Jawaharlal Nehru University (JNU) in New Delhi that critics are calling "anti-national."
Kanhaiya Kumar, the president of JNU's student union, was arrested Friday, charged, and sent by a Delhi court to three days in police custody. At issue was a protest held on February 9 at the JNU campus to mark the third anniversary of the execution of Afzal Guru. Guru, who was from Kashmir, was sentenced to death in connection with an attack by militants on India's Parliament in 2001. Debate over Guru's guilt or innocence has swirled ever since his arrest after those attacks. You can read those views here (guilty) and here (innocent).
The JNU protests, news report say, involved slogans in praise of Guru and Pakistan. They went ahead despite the university canceling permission for the event following complaints from another student group, which is known by its initials ABVP. The ABVP, which is affiliated with India's Hindu right wing, as well as a lawmaker from the ruling Bharatiya Janata Party (BJP), many of whose members share a Hindu nationalist ideology, called the protest at JNU "anti-national" and filed a police complaint against the organizers.
Police, in response, arrested Kumar on Sections 124A (sedition) and 120B (criminal conspiracy) of the Indian Penal Code. The court remanded him to police custody until February 15. Police are seeking five others in connection with the case. They too have been charged with sedition and criminal conspiracy.
In court Friday, Kumar denied he had been among those shouting the slogans.
"I dissociate myself from the slogans which were shouted in the event. I have full faith in the Constitution of the country and I always say that Kashmir is an integral part of India," he said.
And, he said, only some of those involved in the protest were JNU students.
The status of Kashmir is a sensitive topic in the country. The state is the only one with a Muslim majority in predominantly Hindu, but officially secular, India. But part of Kashmir is administered by neighboring Pakistan, a Muslim country. Both nations claim Kashmir in its entirety and have fought two wars over it, have come close to a third one, and have been engaged in countless border skirmishes over the region.
The sedition law with which Kumar is charged is, like many holdovers of the Indian Penal Code, a British colonial-era law passed in the 19th century. It has been used in recent high-profile cases, including against a cartoonist. Critics say it stifles free speech.
One of those critics, Amnesty India, said Kumar's arrest and the charges against him are "uncalled for."
India's sedition law contrary to international standards on freedom of expression must be repealed. #JNU

— Amnesty India (@AIIndia) February 12, 2016
Political reaction to the arrest was mixed—depending on worldview of the speaker. The main parties, including the BJP and the opposition Congress, which is centrist in its politics, condemned the events.
"If anyone raises anti-India slogans, tries to raise questions on country's unity and integrity, they will not be spared," said Rajnath Singh, a BJP lawmaker who serves as India's home minister. "Stringent action will be taken against them."
Dissent came from the Communist Party of India (Marxist), which controls nine out of 545 seats in India's Parliament. Sitaram Yechuri, its head, tweeted:
What is happening in JNU? Police on campus, arrests and picking up students from hostels. This had last happened during Emergency.

— Sitaram Yechury (@SitaramYechury) February 12, 2016
The Emergency to which he refers is the 21-month state of emergency declared by then-Prime Minister Indira Gandhi in 1975. The era witnessed a curtailing of civil liberties, mass arrests, and the crushing of political dissent. Many critics of India's BJP government say those conditions are slowly returning along with intolerance of dissenting views. The BJP's supporters dismiss those claims.
The events at JNU serve as a microcosm for much of the debate that's occurring across India. The university has long been a bastion of left-wing, especially Communist, student politics and student activism. But recent events at JNU have mirrored India's rightward tilt. Last September, the ABVP won student elections at JNU after 14 years. India itself elected its BJP government in 2014 after a decade of a Congress-led government.