A Rethink on India's Gay-Sex Law
The Supreme Court says it will revisit its controversial decision to uphold a colonial-era law that criminalizes homosexual acts.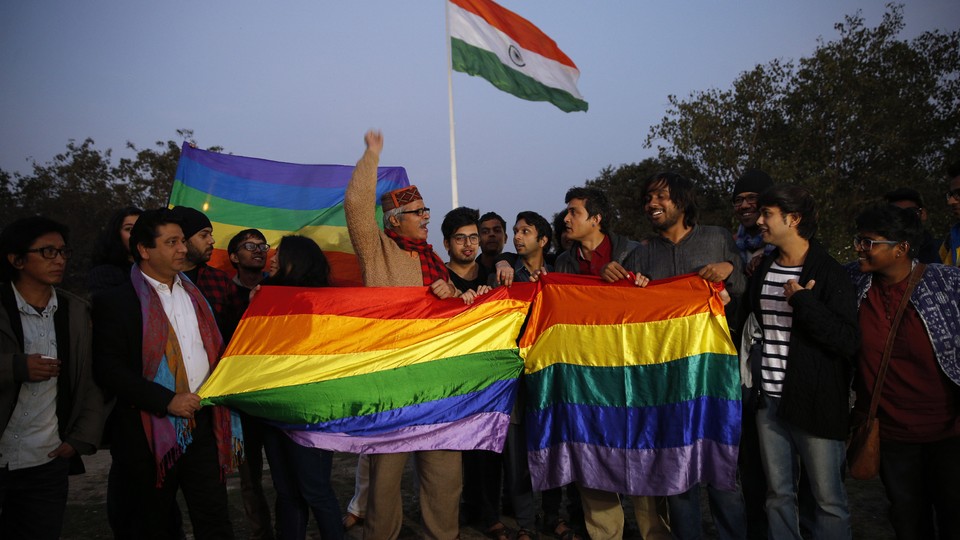 India's Supreme Court is taking another look at a controversial decision that upheld Section 377 of the Indian Penal Code, a 155-year-old law that criminalizes gay sex.
At issue is the colonial-era law enacted in 1860 that imposes a 10-year prison sentence for "unnatural offenses … against the order of nature." In 2013, the Supreme Court overturned a landmark ruling by the Delhi High Court in 2009 that decriminalized gay sex. The lower court had ruled that Section 377 violated the fundamental rights guaranteed by India's Constitution. But its decision was challenged by religious groups, and, subsequently, the Supreme Court ruled only Parliament can change the law.
On Tuesday, the Supreme Court heard a "curative petition" against its decision and said it would re-examine the order, calling it a "matter of constitutional importance." No date has been given for when this will happen, but the issue will be heard by a five-judge panel headed by India's chief justice.
Activists gathered outside the Supreme Court in New Delhi cheered upon hearing the news, and sang "We shall overcome."
"It is definitely a move forward," Anand Grover, a lawyer and longtime campaigner against the law, told Reuters.
The curative petition was the last legal stop available to gay-rights groups and their supporters. A legislative change is considered unlikely at this time—despite support for decriminalization from key members of the government and opposition—because the country, despite growing calls for gay sex to be decriminalized, remains deeply conservative.
India is one of more than 70 countries that has laws criminalizing gay sex. Although prosecutions under Section 377 are rare, it is often used by police to harass gays and lesbians.