A Riot in Hong Kong
Fifty-four people were arrested and dozens injured in clashes that began after police tried to clear hawkers from the streets on the first night of Chinese New Year.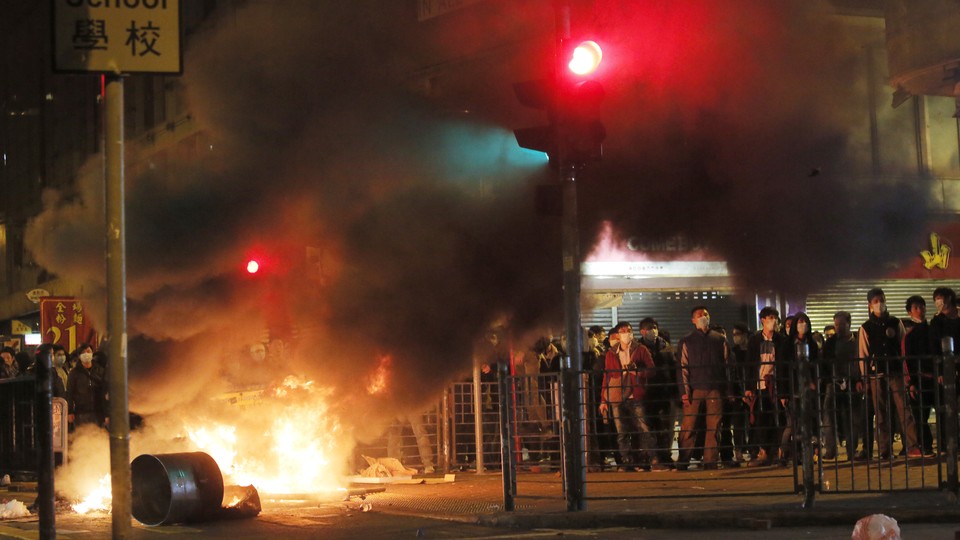 After six hours of conflict early Tuesday, street fires in the Mong Kok neighborhood burned among overturned bins, trash piles, and bricks pulled free from sidewalk.
The fires were only part of the protest-cum-riot in the Hong Kong district that culminated in a reported 54 arrested, and an estimated 90 police officers, and unreported number of protesters, injured.
The conflict began around 10 p.m. Monday night, out of police efforts to clear hawkers from street celebrations on the first night of Chinese New Year. The vendors typically sell food—the hashtag #Fishball Revolution emerged from the protest, inspired by a food popularly sold by vendors—and other items out of unlicensed carts. But when police came to clear them out, they were met by protesters and activists who gathered to defend the vendors. The protest escalated into a riot, according to reports, and some protesters threw bricks and bottles at police, who responded with batons, pepper spray and, eventually, two warning shots.
At a news conference following the riot, which ended around 8 a.m., Lai Tung-kwok, Hong Kong's secretary for security, said police took "all necessary actions." He said authorities were investigating the possibility the riot was premeditated. Edward Leung Tin-kei, the leader of Hong Kong Indigenous, a group that advocates greater autonomy for Hong Kong, was arrested during the protests.
Leung Chun-ying, Hong Kong's chief executive, and various political parties decried the riot, while some protesters and civilians condemned the police response as heavy-handed.
The riot was the most violent since the pro-democracy unrest in 2014.
Lai, the secretary for security, discouraged further protests as the New Year festivities continue in Hong Kong.  Police with riot gear are stationed in Mong Kok for Tuesday night's celebrations.