Storage Solutions From Hong Kong's Back Alleys
How people make the most of cramped space in one of the densest cities in the world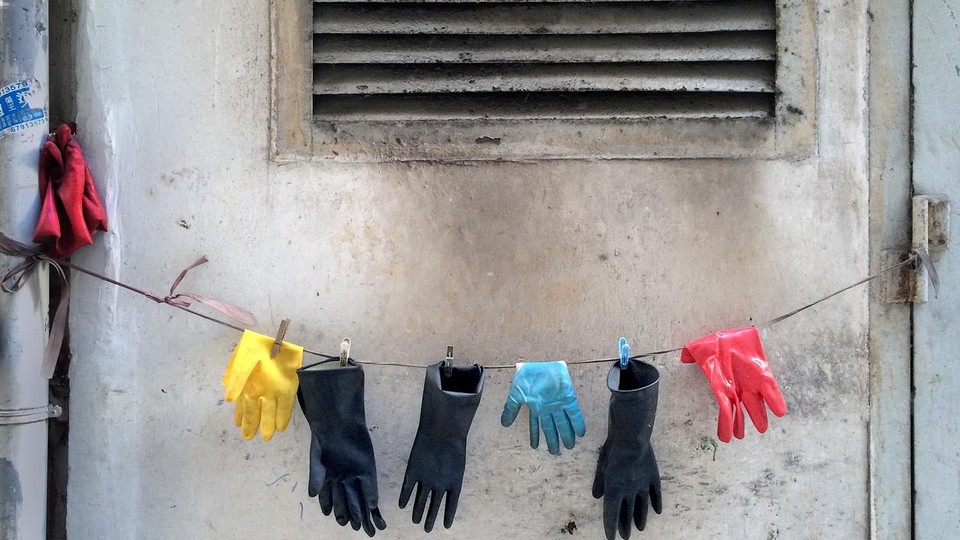 In Hong Kong, where some 17,000 people are packed into every square mile, space is too valuable to go unused. That includes the hundreds of narrow back alleys separating shophouses and high-rises from one another. To the city government, they've become a trashed-filled, rat-infested eyesore in an otherwise picturesque metropolis.
But the German photographer Michael Wolf sees them differently. He's lived in Hong Kong for the past 22 years and has been photographing back alleys throughout the city since 2002. "They remind me of the Surrealist art movement," he said.
In one alley, pink rubber gloves clipped to colorful wire hangers dangle against a concrete wall. In another, white lawn chairs and salted fish hung up on rusting pipes appear to be floating in mid-air. Yet neither are the works of artists.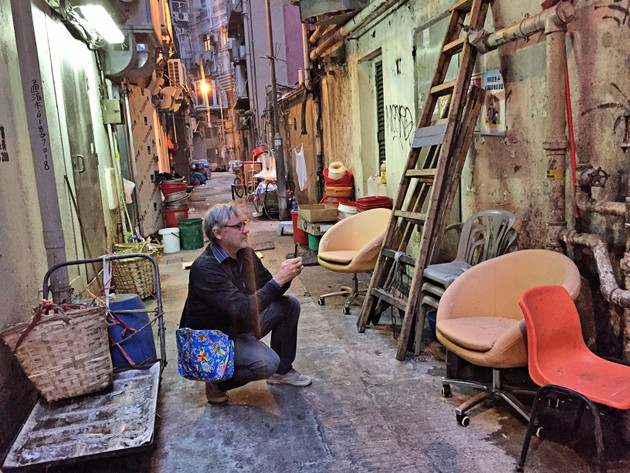 Instead, they're examples of how locals get clever with maximizing the use of space in a fast-growing city, documented in Wolf's newest book, Informal Solutions: Observations in Hong Kong Back Alleys. The average person in Hong Kong currently occupies just 160 square feet, compared to 832 in the U.S., Smithsonian reports. "The problem is that there is very little private space, so people tend to use public spaces on their own," Wolf said. "It's harder to get away with streets and open space, and back alleys are sort of unregulated areas, no man's land."
Back alleys become places for everything: storing household items, hanging clothing, or serving as a quiet area for workers to break away from the chaos of the city. Mops are intricately balanced so that they stand upright. Steel door handles are used to hold brooms, whose handles are then used to hang gloves. And utility pipes are versatile. They become storage for plastic bags and makeshift drying racks for bowls, bottles, and even seafood.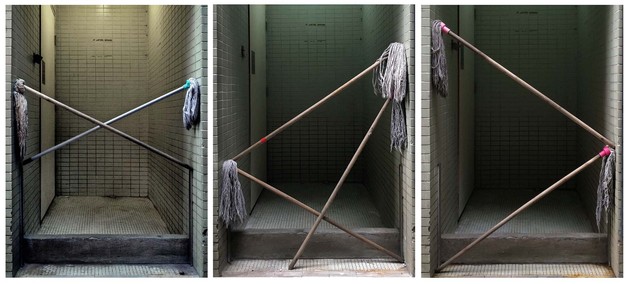 Wolf calls it "aesthetics without the design." Everything is meticulously thought out in design, he said. "Here, they don't give a shit. [The mops] just have to sit without collapsing." The principle, he added, is that anything can be repaired and reused. Take, for example, chairs: "Even if they have three legs, you lean them against the wall and the wall becomes the fourth leg."
But Wolf also acknowledged that this kind of accidental art can take some time for people to appreciate. In 2015, the government introduced new initiatives to clean up alleyways and make them more pedestrian friendly. Local and foreign artists were commissioned to beautify the alleys with murals, graffiti, and art installations.
The problem, Wolf argued, is that the project ignores the fact the alleyways speak to Hong Kong's identity, which emphasizes creativity and respect. Only in Hong Kong, he said, can you put something personal in public space "in very elaborate construction—almost fragile in character—and they're always there when you come back." It's not that Wolf is against change, he added, "but to generally sterilize all the back alleys of Hong Kong, it's a great loss for the city."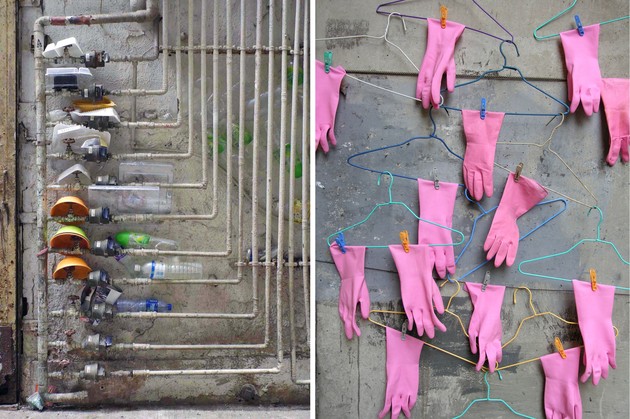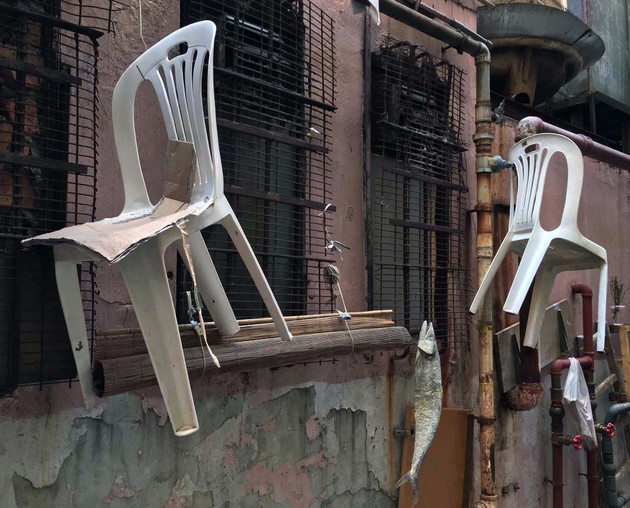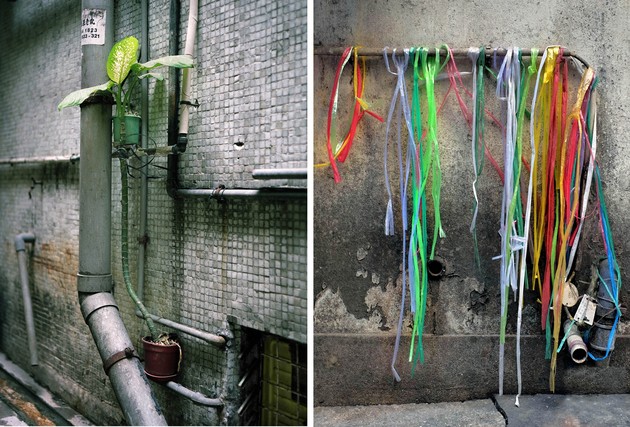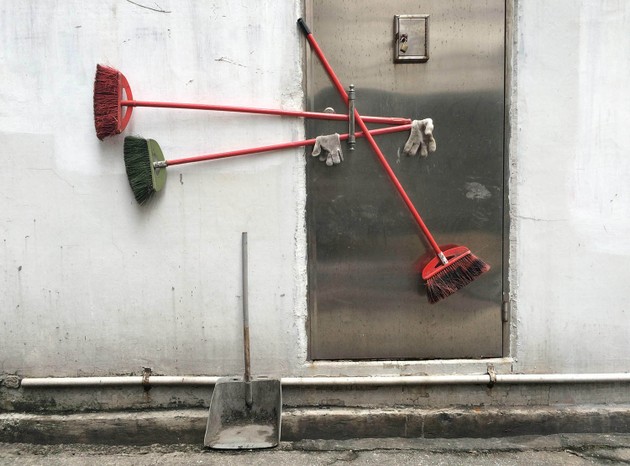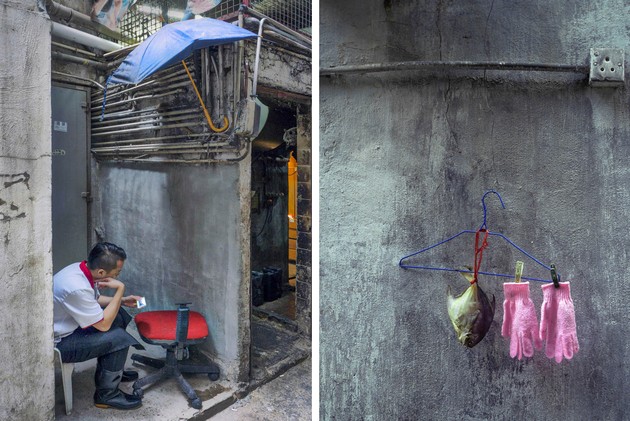 ---
This post appears courtesy of Citylab.