What Happens When a Celebrity Becomes President
In electing a pop star, whose five-year term ended Sunday, Haitians may have been ahead of the curve.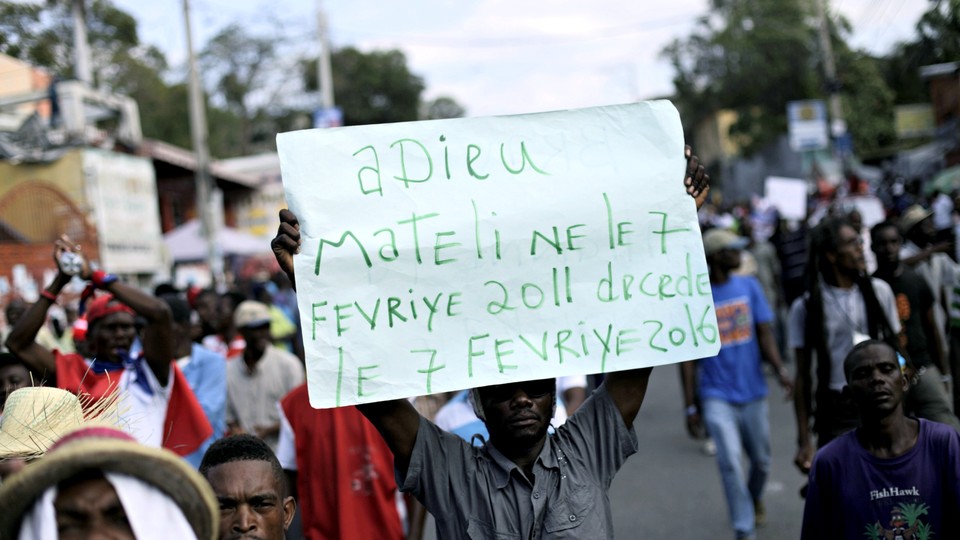 With his country descending into its worst political crisis since a 2004 coup d'etat, and thousands of people demanding his resignation in the streets, Haiti's embattled outgoing president, Michel Martelly, went back to basics last week: He released a new song.
Before Martelly became head of state five years ago, he was a pop star known as "Sweet Micky." Micky was famous for saying or doing anything to get a rise out of a crowd. He would provoke them, insult them, or seduce them with his velvet baritone and bad-boy charm. A lot of it was your typical rock or rap rebel shtick—bragging about sex, drugs, and generally being an outlaw. But Micky's genius move was combining that with the unleashed, upside-down spirit of kanaval, the Haitian Mardi Gras. Sometimes that meant Martelly performed in a halter-top and miniskirt. Sometimes he'd just go naked.
If the transformation of audacious showmanship and fame into political power reminds you of a certain real-estate mogul turned celebrity candidate in the United States, well, it should. Martelly presaged Donald Trump in a lot of ways. Before his election, Martelly's supporters liked to say that, because he was already so rich and famous, their candidate couldn't be bribed or bought. Every time he'd insult other candidates or critics, or just say what other politicians wouldn't, disaffected, angry voters—especially young, unemployed men furious about their endless poverty and the failed response to the 2010 earthquake—just loved him more. In one recording, purportedly made days before the 2011 presidential runoff, Martelly informed a crowd that members of the rival left-wing Lavalas party of ousted former President Jean-Bertrand Aristide were "ugly" and "smell like shit." "Go fuck your mother, Lavalas. ... Go fuck your mother, Jean-Bertrand Aristide," he said, over cheers and peals of laughter. (The phrase is even dirtier and meaner in Haitian Creole.) Then he challenged them to come to his house and kill him.
The competition dismissed Martelly's candidacy as a joke, at first. The press did too, but that didn't stop us from covering him—he made great copy.
Martelly eventually became a more sober candidate with the help of political advisors who had previously worked on campaigns with Mexico's former president Felipe Calderon and John McCain in the United States. That polish, and his full-throated support of foreign investment, won him the key backing of the Obama administration, which continued right up until the end of his presidency.
But after five years of stalled and canceled elections, rising insecurity and poverty, political violence, and accusations of corruption, Sweet Micky's novelty has long since worn off. In his last weeks in power, before protesters forced him to step down at the end of his term on Sunday, any vestiges of presidential restraint had worn off too.
Martelly's new song, released just in time for kanaval, is called "Give Her the Banana." It goes downhill from there. The uptempo track depicts the outgoing president as a doctor called on to insert various things into Liliane Pierre-Paul, one of Haiti's most respected and longest-serving journalists and a critic of his regime.
"Bring her a serum! Bring her a shot! Come with a pill for Little Lili!" the president's back-up singers intone while sirens wail in the background. This is a warm-up for the main event. "Give her a Sweet Micky! Oh!" someone cries, and while the band chants the journalist's nickname over and over, the president—the actual, sitting president—croons:
Take it out and put it in her behind!
Give her a banana!
Give her a banana with no skin!
Give her a banana with the skin on!
Haitian Creole is a fabulously colorful language, with lots of short, rhyming words that can be easily shaped into double or triple entendres. The meanings here aren't hard to figure out. The banana is the symbol of Martelly's handpicked successor, Jovenel Moïse, a little-known businessman whose sole, marginal claim to fame is overseeing a $27 million, partially government-funded banana export project in Haiti's northern corridor. In speeches and on posters, he had to refer to himself as "the Banana Man" to avoid confusion with a better-known candidate whose first name is Moïse. (In the song, Martelly refers to the bananas he's about to "put in" the journalist as "yon bel rejim," which could mean, among other things, "a beautiful bunch" or "a beautiful government.")
Criticism of Martelly and his candidate surged after the first round of presidential elections in October. Despite his near-total lack of name recognition, a nose-diving local currency, and widespread dissatisfaction with Martelly's party and government, the Banana Man managed to garner 33 percent of the first-round vote, putting him comfortably in first place heading into a scheduled runoff—which the opposition promptly pledged to boycott. Opposition groups threatened to attack any would-be voters.
There was a good case for fraud: An independent commission set up to review the election found a whopping 92 percent of polling-place tally sheets contained "grave irregularities," such as missing signatures or incorrect voter-identification numbers. Only about a quarter of the electorate voted. At least 900,000 of the 1.5 million votes counted came from people holding accreditations to be poll observers, which allowed them to vote outside their home precincts. Haitian observers reported accreditations being sold to the highest bidder in the days before the first round.
And there were lots of reasons to doubt that voters were flocking to Martelly's candidate. Far from outrunning the stink of high-level corruption due to his wealth, Martelly has been dogged by allegations that he is surrounded by drug dealers, kidnappers, and murderers. Some of those colleagues trace their political roots to the ruthless Duvalier father-son dictatorships, which plundered and terrorized the country for 29 years beginning in the late 1950s. Martelly is also beset by rumors that his new $9-million beachfront mansion was built with stolen money. Human-rights activists have been threatened and killed. Martelly has emphatically denied all those allegations. But as his new kanaval song makes clear, during his tenure critics of the president, his family, or his inner circle could expect rebuke, or worse. In December, gunmen fired bullets through the windows of Radio Kiskeya—the station co-founded by Pierre-Paul.
As allegations of fraud mounted, and Martelly kept insisting he was going to bulldoze ahead with the runoff elections no matter what, thousands of protesters poured into the streets, some of them trading gunfire with the police. With the situation threatening to spiral out of control, many of Haiti's powerful elite families turned their backs on the president. Martelly's remaining support in Washington—as well as Ottawa, Brussels, Brasilia, and UN headquarters in New York—evaporated.
"Keeping Haiti off the front page is always a concern for U.S. policymakers, and even more so with U.S. presidential elections approaching," said Robert Maguire, director of the Latin American and Hemispheric Studies Program at George Washington University's Elliott School of International Affairs. (This is doubly true for the expected Democratic frontrunner; Martelly in large part owes his presidency to Hillary Clinton, who, as secretary of state, flew personally to Port-au-Prince after 2010's first-round results showed him eliminated from the race, to demand he be put back in.)
The Haitian constitution marked Sunday, February 7—the 30th anniversary of dictator Jean-Claude "Baby Doc" Duvalier's 1986 flight into exile aboard a U.S. Air Force cargo plane—as the day Martelly had to step down. For weeks he pledged to stay on and fight. But the protests got worse. Paramilitaries thought to be loyal to the government appeared in the capital and fanned out into the countryside, reportedly burning a police station and robbing a bank. On Friday, an opposition protester killed one of the paramilitary soldiers by crushing his head with a concrete slab on the plaza outside the president's offices.
With just hours left in Martelly's term, on Saturday, the president and newly elected members of parliament reached an agreement to create a transitional government that will decide how to proceed with elections, earning praise from both the U.S. government and UN Secretary-General Ban Ki-moon. The runoff election remains indefinitely postponed.
On Sunday, in a dour, sparsely attended ceremony—a far cry from his boisterous 2011 inauguration—Martelly took a final bow. "I played my musical score, and that allowed me to leave with the feeling of a job well done. But I can not remove from my mouth the taste of a mission that is not over yet and much remains to be done." He then folded up his presidential sash and handed it to the head of the Haitian parliament. "I declare, from this moment on, there is a presidential vacuum," he concluded.
Parliament is expected to name a temporary president this week, who in turn is supposed to hold an election for a new president within 120 days. But with no one in charge, a lot of Haitians I know are worried that someone will try to take power through other means before then. Guy Philippe, a powerful, nominally pro-Martelly government militia leader, who led the 2004 coup, warned that he is "ready for war" if elections do not proceed. (Philippe is seeking a senate seat, perhaps thinking it will buy him immunity from his pending arrest warrant from the U.S. Drug Enforcement Agency.) Within minutes of Martelly's resignation, anti-government protesters poured back into the streets of Port-au-Prince, tearing down and burning kanaval stands on the capital's central plaza. The festivities, which were supposed to start on Sunday, were postponed as well.
Five years ago, Martelly's election seemed like a fluke, an only-in-Haiti sort of farce propelled by what had been an especially absurd and awful year. But the power of celebrity has steadily been turning itself into real power all over the world, from Guatemalan President Jimmy Morales (comedian) and Filipino congressman Manny Pacquiao (boxer), to Angelina Jolie Pitt (actress turned UN High Commissioner for Refugees special envoy), Al Franken (Saturday Night Live writer turned U.S. senator), and former Governor Arnold Schwarzenegger (you know).
Trump, a brash reality TV star, is now making a credible run for the presidency of the United States. It seems sometimes like he's reading from Martelly's playbook: cussing and slinging insults, playing the fearless anti-politician who will destroy the system in order to save it. Last week, in true Haitian style, the middling mogul turned reality star even called for an election he lost to be canceled and redone. No one knows where Haitian or American politics are headed now. But it may turn out that Haiti was, as it has been so many times in its history, just a little bit ahead of the curve.