A Deadly Train Collision in Germany
At least 10 people are dead and dozens hurt in the crash in Bavaria.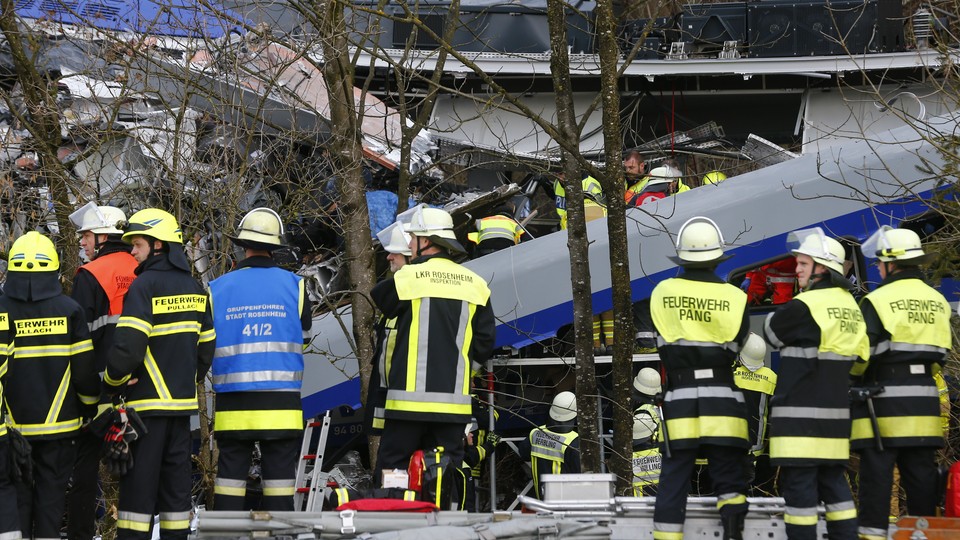 Updated on February 9 at 1:48 p.m. ET
A head-on collision Tuesday between two trains in southern Germany has killed at least 10 people and seriously injured dozens more,
officials say
.
The crash, said to be the worst in the region's history, took place shortly after 7 a.m. near the town of Bad Aibling. Deutsche Welle, the German broadcaster,
reported that 108 people were injured
in the crash, and two people were still missing.
The reason for the crash is unknown, but Alexander Dobrint, the German transport minister,
said the two trains were on a curve
and it appears the drivers hadn't seen each other and didn't have time to brake. He said speeds of up to 60 mph were possible on the stretch of track where the crash occurred.
Dobrint said the stretch where the collision occurred was fitted with a system designed to prevent such crashes. It's unclear, he said, why that system didn't work. The train's black boxes have been recovered and should provide more answers, he said.
The trains were regional commuters that carry people to work. They're also usually full of children on their way to school, but this week is winter break in Bavaria.
Authorities issued an urgent call for blood donations, as ambulances and rescue helicopters from neighboring Austria carried the injured to hospitals across the region.
Images of the wreck showed the fronts of the two blue-and-yellow trains smashed, with splintered metal and debris scattered on the ground.
Christian Schreyer, the board chairman of Transdev, the company that operates the trains, explained to
CNN how the reported
safety system on that stretch of track worked.
Normally, as the trains approached one another, a red light would alert the driver of an oncoming train. Even if the driver should miss that light, the automatic-breaking system should halt it. A driver and a driver instructor were aboard each train,
Schreyer said
, so it's likely the lights malfunctioned.
"We assume that those signals were green," he said, "but we don't know yet."