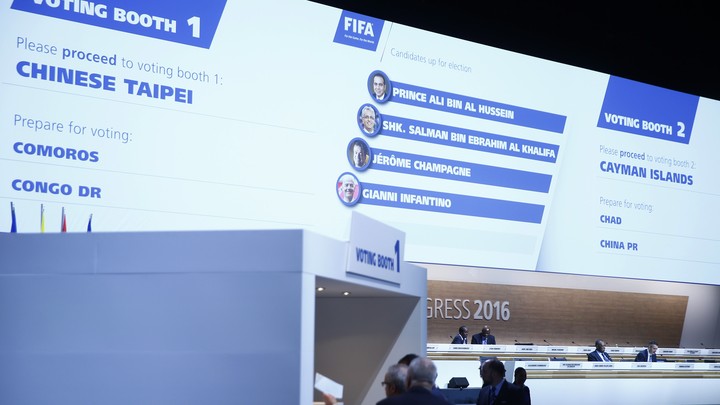 FIFA has a new boss.
Soccer's governing body elected Gianni Infantino as its president to succeed Sepp Blatter, the disgraced chief who was banned for six years for violating the organization's ethics rules.
"We will restore the image of FIFA," Infantino said in his first address as president.
Infantino won in the second round of voting, earning 115 votes, defeating Bahrain's Sheikh Salman bin Ebrahim al-Khalifa (88), and Jordan's Prince Ali bin al-Hussein (four votes).
The election of Infantino, who holds Swiss and Italian citizenship, and who runs UEFA, European soccer's governing body, firmly enshrines soccer's power in the continent. There had been speculation ahead of the vote that the new FIFA's chief would be more reflective of soccer's support base in Asia, the Middle East, or Africa.
Prior to the election, FIFA passed a package at its extraordinary congress, to give the session its official name, meant to overhaul the institution.
The way FIFA is governed will be overhauled: FIFA Council replaces ExCo; standing committees reduced from 26 to 9. pic.twitter.com/6zMm6596uU

— FIFA Media (@fifamedia) February 26, 2016
Key committees to have at least 50% independent members. Plus eligibility checks for all elected officials by independent Review Committee.

— FIFA Media (@fifamedia) February 26, 2016
Separation of power is a crucial part of the reforms. FIFA Council to set strategy, General Secretariat to take everyday business decisions.

— FIFA Media (@fifamedia) February 26, 2016
President & Council members to serve maximum term of 3 x 4 years. Compensation for senior figures to be disclosed. pic.twitter.com/Ltf0hG6VKZ

— FIFA Media (@fifamedia) February 26, 2016
Reforms commit FIFA & its members to do more to promote #womensfootball & improve gender balance in decision-making. pic.twitter.com/GmxFL0QDp1

— FIFA Media (@fifamedia) February 26, 2016
FIFA will further embed human rights components into the organisation's policies/activities: https://t.co/TWEwKNi3eJ pic.twitter.com/3rXJu5oZ3m

— FIFA Media (@fifamedia) February 26, 2016
There will be greater participation & diversity in decision-making including a new Football Stakeholder's Committee. pic.twitter.com/Cl275BZZCQ

— FIFA Media (@fifamedia) February 26, 2016
The changes, which will go into effect in 60 days, appear to address some of the concerns about how FIFA was run—and seem to reflect some of the recommendations made by FIFA's reform committee in December on ways to overhaul how soccer was governed.
But those changes aside, Infantino's biggest challenge will be to change the perception of how FIFA works. Transparency has never been big in global sport, nowhere more so than soccer, which, under Blatter, who had served five terms as president since 1998, was tarnished by allegations of corruption, questions about the way in which World Cups were awarded, and criminal inquiries by U.S. and Swiss authorities that resulted in the arrests of several FIFA executives.  
"It is fair to assume that the house of FIFA is polluted, and if you've been in the house for a number of years, you're probably contaminated in one way or another even if you didn't contribute to the pollution directly," said Jeff Thinnes, CEO and co-founder of JTI, Inc., and an expert on ethics and sport. "That having been said, I think what really is the important question is what is the scope of the new president's responsibilities going forward, and I think that scope should be very limited."
Bigger questions remain about how soccer is run locally, where regional soccer confederations and national associations wield much influence. Their roles, along with a lack of transparency, has sullied perceptions of how the sport is governed.
"The real reforms that need to take place can't just rest in FIFA headquarters," Thinnes said. "They really need to be driven through all of the sub-levels of this sport. and that's just impossible with one person."
We want to hear what you think about this article. Submit a letter to the editor or write to letters@theatlantic.com.