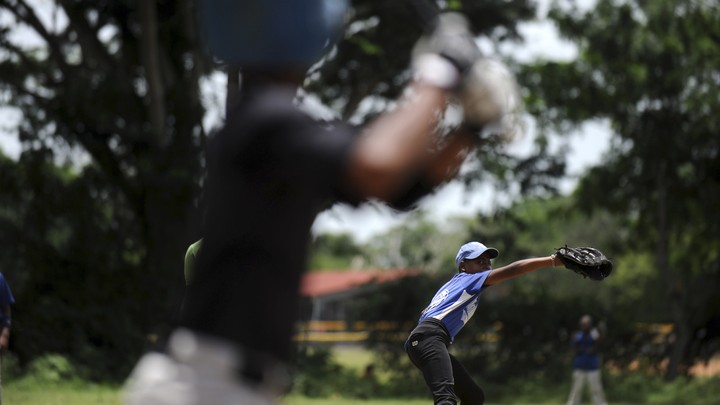 Propagandalands
Peter Pomerantsev | Granta
"The activists behind their laptops seemed as big as ministries; mythological fiends from Twitter as real as tanks. The borders between Russia and Ukraine, between past and present, between soldier and civilian, rumour and evidence, actor and audience had buckled, and with that the whole rational, ordered sense of perspective suddenly gave way to a thinking which was magical and mystical, where reality was unknowable and seemed to be decided somewhere up on high by divine conspiracies."
* * *
Are the 2020 Tokyo Olympics in Trouble?
Dave Roberts and Robert Whiting | Foreign Policy
"Japanese may take some comfort in knowing that Tokyo has already waded through these same problems before, in the run-up to the 1964 Olympics — which went on to be regarded as perhaps the most successful of all time. Indeed, it was these earlier games that galvanized Tokyo to accomplish one of the greatest urban transformations of modern times and opened the door for Japan to re-enter the world stage. However, although the 1964 games exceeded expectations, it left troubling legacies that seem to have been forgotten — and are on the verge of being repeated."
* * *
The Republic of Baseball
Michael Hanson | The New York Times
"Baseball is everywhere in the Dominican [Republic], and the images it creates are both innocent and jarring. Outside the walls of all-inclusive resorts that sell paradise to tourists, Dominican kids in dollar flip-flops swing sticks at bottlecaps. Older boys live together under the supervision of a trainer, sleeping in crowded, stark rooms while hoping that their path will lead to a professional contract and a chance to play in one of the academies that every major league team operates on the island."
* * *
Life As a Female Refugee: 'You Don't Know Who to Trust'
Renate van der Zee | Al Jazeera
" 'We never sleep [at the same time]. One of us always stays awake. We've heard too many stories of women who have been robbed,' says 38-year-old Samaher from Baghdad. She has a soft voice and sad, dark eyes.
Three weeks ago she fled Iraq with her baby boy and two female friends.
Now she is at the transit camp of Vinojug on the Macedonian-Greek border, waiting for the train to Serbia.
'I am so tired,' she says. 'Even when it's my turn to sleep, I can't. I am always afraid something might happen.'"
* * *
Object of Intrigue: North Korea's Black Market Lapel Pins
Ella Morton | Atlas Obscura
"Official pins are the work of Mansudae Art Studio, the propaganda factory responsible for churning out murals of Kim Jong-il frolicking with rosy-cheeked school children and hanging out in fields of flowers. But China has gotten in on the game, producing black-market versions of the pins that get smuggled into the DPRK to be sold, swapped, and bartered. These knock-off pins are available to international buyers for a few bucks each on eBay."
* * *
How Cows Can End the South Sudan War
Justin Lynch | The Daily Beast
"In a country where cattle are the centerpiece of society, they have also become a rare source of peace. In South Sudan, cows are walking bank accounts in a land where financial institutions are an urban luxury; they are a source of nutrition in a country of food shortages, and a requirement for marriage—men must pay a bride's family around 30 cows to cement a partnership. … Local arrangements that bring a semblance of normalcy to a devastated population may be temporary and might collapse at any moment, they are less grand bargains and more piecemeal solutions, but they are nonetheless vital steps toward sorting out the intricate layers of local conflict in this war."
We want to hear what you think about this article. Submit a letter to the editor or write to letters@theatlantic.com.