A Battle Over Caste Spills Into Delhi's Water Supply
A fight over jobs and opportunity grew deadly over the weekend, and rioters seized control of a vital canal.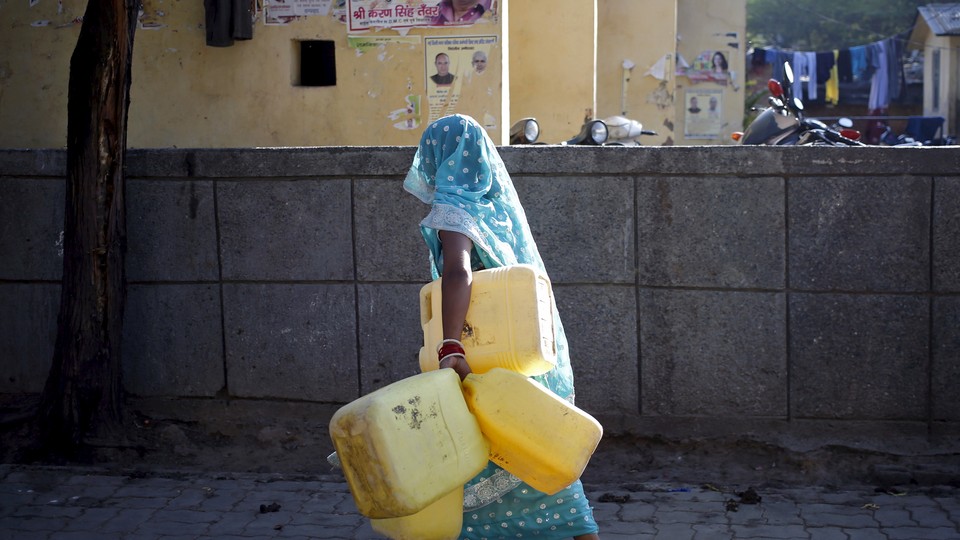 Four days of caste-related protests in the Indian state of Haryana have left 19 people dead and 10 million residents of neighboring Delhi without water.
At the heart of demonstrations is the Jat community, a historically more affluent group, which has launched demonstrations calling for the same economic benefits typically afforded those groups who occupy a lower position in Hinduism's often-abstruse caste hierarchy. Discrimination based on caste is, in theory, illegal, though reports of atrocities against lower castes surface on a nearly daily basis. In an attempt to level the playing field, members of the perceived lower castes receive government quotas in schools and jobs—a process called reservation, which is similar to affirmative action in the U.S.
Over the weekend, protesters in Haryana, home to about 25 million people, of whom Jats make up about 30 percent, brought traffic in parts of the state to a halt. They eventually captured and damaged a canal that provides Delhi with 60 percent of its water supply. On Monday, Arvind Kejriwal, Delhi's chief minister, declared the crisis had gotten dire.
We've completely run out of water. I appeal to the centre with folded hands to immediately intervene and get munak canal started in Haryana

— Arvind Kejriwal (@ArvindKejriwal) February 22, 2016
The Indian army was eventually deployed and retook the canal on Monday. By evening, a deal had been reached to end the protests as the leaders of the Jat community secured a pledge for more civil jobs.
In essence, the fight has had resembled something of a reverse affirmative-action initiative, where the Jats have sought to be designated as an "Other Backward Caste," which receives more economic assistance.
"Almost half of government jobs and university seats in the country are reserved for members of special groups," notes The New York Times. "This has led many others to demand similar status as they struggle to find employment in a country with severe shortages of good colleges and jobs."
As the BBC pointed out, last year India's Supreme Court rejected the Jats' bid for a special-group designation.
With the political crisis seemingly paused, how Delhi's water supply was so precarious is another point of concern. Beyond its canal, the landlocked area relies on a polluted river and ground reserves for its water.
"The state hasn't built, dredged or maintained areas that historically collected water as infrastructure has failed to keep up with rapid urbanization," The Wall Street Journal reported.
Residents started boiling water stored in tanks as the supply grew short and schools remained closed on Monday in an effort to conserve water. Officials expect it may take another three days before normal supplies return.