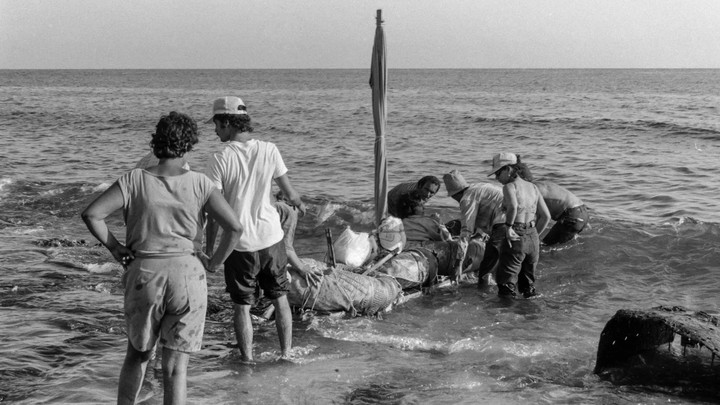 Since 2014, agents along a particular 171-mile stretch of U.S.-Mexico border have seen a dramatic rise in Cuban migrants. Hundreds arrive each day, sometimes 600 in one weekend. They come because of a 50-year-old, Cold War-era law that, unlike for almost any other migrant group, allows them to stay.
Beginning almost immediately after Fidel Castro's 1959 Marxist revolution, the United States welcomed Cuban defectors. And for a while Cuba let them leave. "Freedom Flights" from 1965 to 1973 carried some 300,000 Cubans to Miami, and in that time Congress passed the Cuban Adjustment Act, which presumed anyone leaving Castro's country was a political refugee. For decades, and through many immigration overhauls, that law has stuck, allowing Cubans who made it onto U.S. soil refuge, and a one-year fast-track to legal status.
Until recently, leaving Cuba wasn't easy. If Cubans wanted to travel abroad, they needed a permit from the government, as well as an invitation from the foreign country they wished to visit. The image of Cuban migration has historically been of sunburned people on rafts riding ocean currents to Florida. Through much of the 1990s, that was true. It even prompted the "wet-foot, dry-foot" policy.
But the Cuban immigration of late has been on airplanes and in buses through Central America. In 2013, the only requirement to leave became a valid passport. Ecuador has some of the most open immigration policies in the world, and a tourist visa isn't required for visits less than 90 days. So when Cuba eased its own travel restrictions, people boarded flights to Ecuador, then crossed Colombia and into Central America, traveling well-established routes to the U.S. (although there have been some hiccups, mostly caused by Nicaragua). The migrants cross in Arizona and California, as well, but two-thirds have ended up at the Laredo border sector in Texas, where they were allowed to walk into the U.S.
The easy admission has at times angered other Latin American migrants. Some 43,000 unaccompanied minors and tens of thousands of families fleeing gang violence tried to cross the U.S.-Mexico border in 2014. When they arrived, many were locked in detention centers for months. Most would be ordered deported, and recently Immigration and Customs Enforcement has raided the homes of migrants across the country.
Cuban migrants coming to the U.S. doubled from 2013 to 2014, reaching 24,000. Last fiscal year it nearly doubled again, breaking 43,000. That rise dovetailed with Obama's 2014 announcement that he and Cuban president Raul Castro planned to normalize relations between the two countries. In January of 2015, Obama relaxed trade and travel restrictions. Then in August of that year, the U.S. raised its flag for the first time since 1961 above its embassy in Havana.
In the latest show of the cozying relations, Obama announced Thursday he will travel to Cuba next month—though he said the U.S. remained concerned by Cuba's human rights record and he will raise that record directly with Cuban officials. No other sitting president has done that since 1928. Earlier in the week, the administration also signed an agreement to allow commercial flights to the island, and Cuba returned a long-lost U.S. missile.
As the two countries continue to become more comfortable with one another, there'll be a lot of reevaluating past decisions. One may be the Cuban Adjustment Act. In the run-up to passing an ultimately unsuccessful immigration bill in 2013, Marco Rubio, whose own parents came from Cuba, said the blanket-style protection provided by the law should be re-examined. Rubio told The Tampa Bay Times he wasn't "sure we're going to be able to avoid, as part of any comprehensive approach to immigration, a conversation about the Cuban Adjustment Act."
This article is part of our Next America: Communities project, which is supported by a grant from Emerson Collective.
We want to hear what you think about this article. Submit a letter to the editor or write to letters@theatlantic.com.