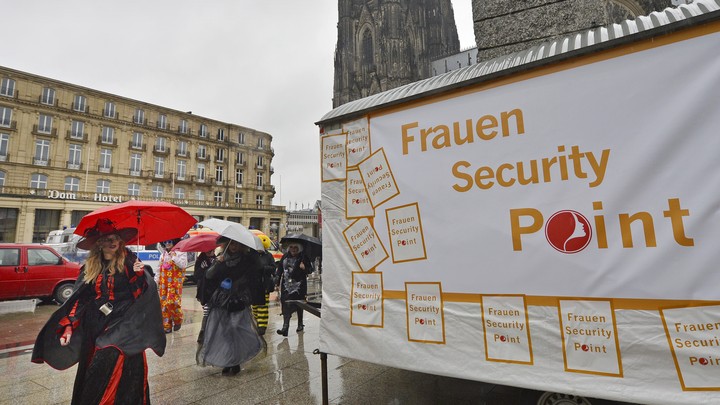 On New Year's Eve in the German city of Cologne, hundreds of women were harassed, groped, or robbed as revelers rang in 2016. Gangs of men, many drunk, formed rings around young women  near the city's cathedral. In the days and weeks after the holiday, the number of complaints filed to police rose nearly tenfold. Police, outnumbered and unable to control the crowds, described the assaults as a "completely new dimension of crime."
Now, just over a month later, there's a small white booth with orange lettering outside Cologne's cathedral. "Women's Security Point," it reads.
The booth is meant to serve as a spot for women and girls who feel threatened during Carnival, a five-day annual street party in the Rhineland region that kicked off Thursday. The festival, which draws hundreds of thousands of people, is one of pure merrymaking, with parades, colorful costumes, masked balls, lots of singing—and plenty of booze. City and police officials have vowed "to do everything in their power" to avoid a repeat of New Year's Eve in Cologne, the epicenter of the celebrations.
The number of complaints stemming from the wave of crime on New Year's Eve stands at 945, according to the BBC. About 60 percent are allegations of sexual assault. The wave of crime sparked debate over police response and sexual-assault prevention, as well as Germany's open-door refugee policy; most of the perpetrators were described as men of Arab or North African origin, and the two who have been arrested are from Morocco and Tunisia.
This year, Cologne police have doubled their usual presence at Carnival to about 2,000 officers, some of whom will wear body cameras. The city's police chief was fired days after New Year's Eve for what the German interior ministry called "serious mistakes" in the department's reaction to the assaults. Cologne police had initially issued a news release that reported most celebrations had gone "peacefully" in the city, but soon retracted it as the scope of the crimes started to become clearer.
Cologne has released guidelines for women participating in Carnival festivities, advising them to stay away from individuals who make them uncomfortable, travel in groups, avoid consuming alcohol alone, and in the event of an attack, "muster up all your rage (scream) and fight back with determination."
"Women have the right to move freely and without danger in public spaces," the advisory explained. "It is not the responsibility of women to protect themselves against sexual assaults, either by the way they dress or by avoiding appearing in public."
The guidelines are markedly different than the advice offered by Cologne's mayor in the days after the New Year's Eve assaults. Back then, Henriette Reker, a victim of assault herself, suggested that women could protect themselves from sexual harassment or assault by keeping potential assailants at "arm's length." The comment drew backlash for appearing to place the responsibility for the prevention of sexual violence on victims rather than perpetrators.
Deutsche Welle reports that a girls' high school in Cologne has closed entirely Thursday because it's near the city's main train station, where many of the attacks occurred on New Year's Eve.
The revelation that most of the attackers that night were foreign led some to link the crimes to the 1 million refugees and migrants the German government accepted in 2015. Hundreds-strong protests, some of them violent, against immigration of Muslims sprung up in German cities following the assaults. German Chancellor Angela Merkel vowed to find and prosecute the perpetrators regardless of their backgrounds, and introduced measures that would make it easier to deport asylum-seekers convicted of committing crimes in the country. The proposal is expected to pass the German Parliament. Several thousand people continue to arrive at Germany's borders each day.
Earlier this week, a welfare organization held training sessions in Cologne for migrants intended to introduce them to the raucous Carnival celebrations. The program, conceived months before New Year's Eve, advises first-time revelers how to enjoy the festivities without overdoing it, reported the AP's Daniel Niemann, who sat in on the session.
"Especially gentlemen, if you do it right and if you do it good, charming, nice and not pushing, you might have success with women," explained one slide. "This is no guarantee. No enforceable right and no promise for a marriage."
We want to hear what you think about this article. Submit a letter to the editor or write to letters@theatlantic.com.