The EU's Proposal to Keep Britain in the Bloc
British Prime Minister David Cameron is calling the proposal "real progress," but says more work needs to be done.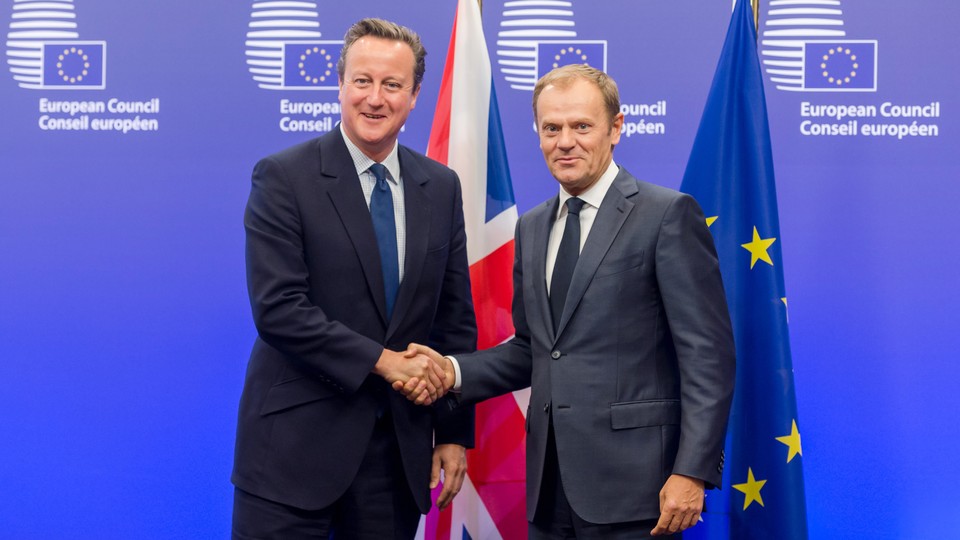 European Council President Donald Tusk published a draft agreement Tuesday that he hopes will keep Britain in the EU.
The draft, which must be supported by the bloc's other 27 member states, will be the subject of debate at an EU summit later this month. Britons will also vote by the end of 2017—though a vote could come as soon as this summer—in what's being called an in-out referendum on whether to stay in the EU.
Britain's major concerns with EU membership, as we have previously reported, center on four areas: economic governance, competitiveness, sovereignty, and immigration. The draft agreement released Tuesday discuses each of those issues. For one, it would give national parliaments the power to block EU legislation; it would not commit Britain to an "ever closer union" with the rest of the bloc, and it would allow for what British media are calling an "emergency brake" on benefits granted to immigrants.
Tusk presented the draft agreement in Shakespearian terms:
Cameron's reply:
Draft EU renegotiation document shows real progress in all four areas where UK needs change but there's more work to do.

— David Cameron (@David_Cameron) February 2, 2016
In a letter to the members of the European Council, Tusk wrote:
Keeping the unity of the European Union is the biggest challenge for all of us and so it is the key objective of my mandate. It is in this spirit that I put forward a proposal for a new settlement of the United Kingdom within the EU. To my mind it goes really far in addressing all the concerns raised by Prime Minister Cameron. The line I did not cross, however, were the principles on which the European project is founded.

I deeply believe that our community of interests is much stronger than what divides us. To be, or not to be together, that is the question which must be answered not only by the British people in a referendum, but also by the other 27 members of the EU in the next two weeks.

This has been a difficult process and there are still challenging negotiations ahead. Nothing is agreed until everything is agreed. I am convinced that the proposal is a good basis for a compromise.