Remembering Boutros Boutros-Ghali
The Egyptian diplomat and former UN secretary-general was 93.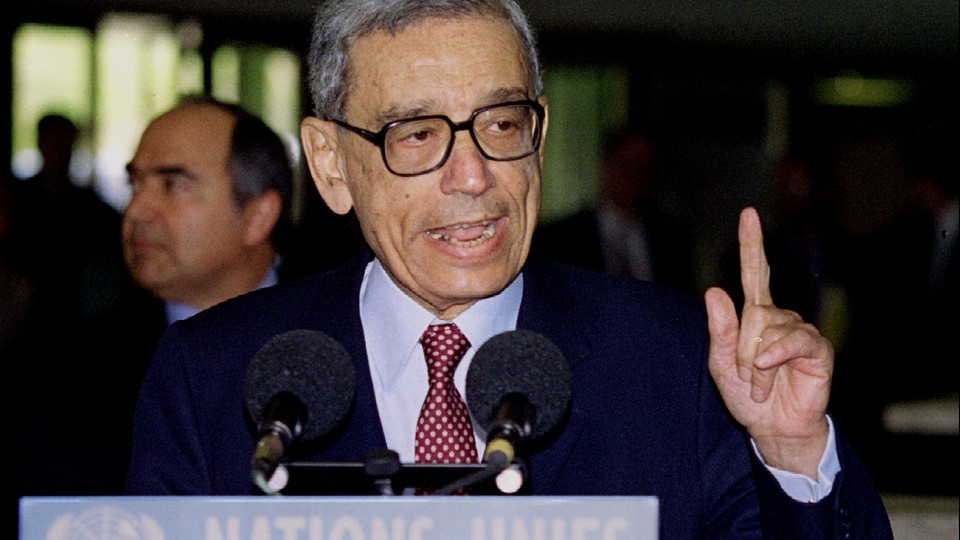 There are many reasons why Boutros Boutros-Ghali, the Egyptian diplomat and former UN secretary-general, appears in the annals of 20th-century history.
First, Boutros-Ghali, who died on Tuesday at 93, grew up in one of Egypt's most prominent Coptic Christian families and was the grandson of Boutros Ghali, the Egyptian prime minister, who was assassinated in 1910. His father, Yusef, served as the country's finance minister.
Later, as an ascendent member of Egypt's diplomatic class, he garnered seemingly countless academic degrees, including a Ph.D. in international law from the University of Paris, and directed the Centre of Research of the Hague Academy of International Law. He was also a Fulbright scholar, wrote a dozen books and hundreds of scholarly pieces in prestigious journals, and taught law at the University of Cairo.
In 1977, Boutros-Ghali joined Egyptian President Anwar Sadat as a leader of Egypt's groundbreaking delegation to Israel; he had been named acting foreign minister after Sadat's previous chief diplomat resigned in protest against the overture to Israel. Two years later, Boutros-Ghali was present at the White House when Israel and Egypt, which had fought four wars in 30 years, signed their monumental peace agreement. The two heads of state were later awarded the Nobel Peace Prize.
Following Sadat's assassination, Boutros-Ghali continued to serve in high leadership positions in the country over the next 15 years, including as deputy prime minister and secretary of state. Eventually, he was elected secretary-general of the United Nations, the first African and Arab to hold the post.
Taking over the UN's top position in the sanguine days following the end of the Cold War, Boutros-Ghali's tenure was marred by the failed international efforts to stop the Rwandan and Bosnian genocides and the fighting in Somalia. He increasingly clashed with the lead diplomats and administrations in Washington, D.C., and London and, after he was replaced by Kofi Annan, he became the only secretary-general to only serve one term.
Affable and charismatic, Boutros-Ghali also became a cultural fixture, name-checked in Seinfeld, and a capable participant in an extremely memorable interview about world diplomacy with Ali G, Sacha Baron Cohen's alter ego.
Perhaps more than anything, Boutros-Ghali is a reminder of a time when Egypt, the world's most populous Arab country, was a vital force in the Middle East. In the wake of the Arab Spring, a Coptic Christian (and one married to a Jewish woman) would stand little chance of playing a leading role in a country and a region beset by religious and political strife.
The UN Security Council was the first to announce Boutros-Ghali's death on Tuesday. The council held a moment of silence before entering discussion on the ongoing humanitarian crisis in Yemen.