Is Julian Assange's Detention Arbitrary?
A UN panel will announce its decision Friday.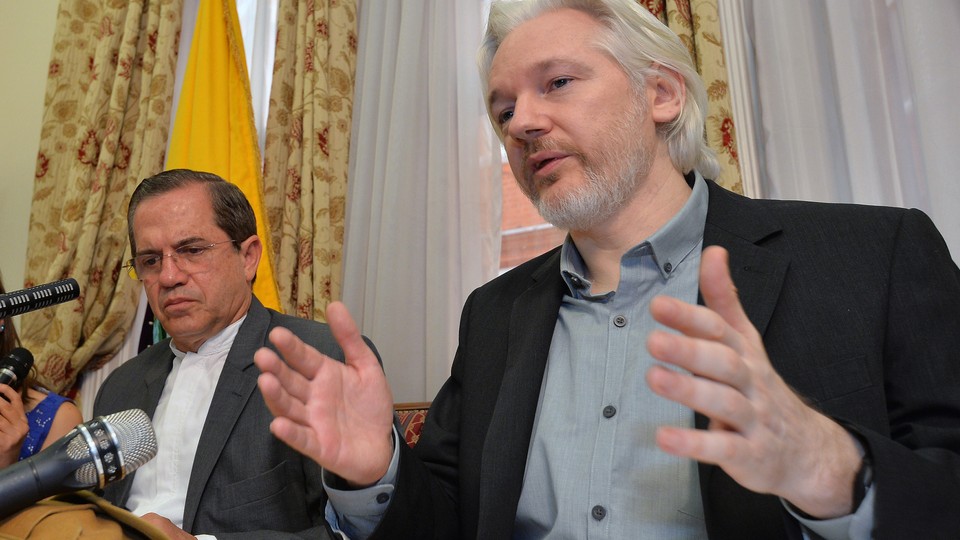 Updated on February 4 at 11:01 a.m.
We're going to have to wait another day to officially find out how a UN panel will rule on the detention of Julian Assange, the Wikileaks founder—though a Swedish Foreign Ministry spokeswoman is telling the AP that the panel has ruled the detention "arbitrary."
"It is a different assessment than what the Swedish authorities have made," Katarina Byrenius Roslund, the spokeswoman, told the AP. She declined to comment further.
Earlier Thursday, Assange said that if the UN Working Group on Arbitrary Detentions ruled against him, he would "accept arrest by British police."
That was followed by a report on the BBC that said the panel would rule in Assange's favor. The BBC did not cite a source for its reporting, but, it said, the decision, which was taken in December, was shared with Britain and Sweden. The UN would merely say it could neither confirm nor deny the BBC's reporting.
#Assange: We will release the opinion of UN Working Group on Arbitrary Detentions on Feb 5, 11am CET. We cannot confirm other info today.

— UN Human Rights (@UNHumanRights) February 4, 2016
In 2012, Assange, who had been arrested two years earlier in the U.K. under a European Arrest Warrant, sought asylum in the Ecuadorian Embassy in London so he could avoid being extradited to Sweden where he is wanted for questioning over claims of sexual assault—claims he denies. It's worth pointing out here that last year Swedish authorities dropped two cases of sexual assault against him, though a claim of rape still stands.
Assange has been holed up in the embassy since that time. In 2014, he appealed to the UN panel, saying his situation was tantamount to arbitrary detention because he couldn't leave the embassy without being arrested.
Assange has said if the UN panel rules in his favor he not only expects his passport to be returned, but an end to attempts to arrest him. Britain, and, according to the BBC, Sweden, have already made clear it is not bound by the UN panel's decision.
"We have been consistently clear that Mr Assange has never been arbitrarily detained by the UK but is, in fact, voluntarily avoiding lawful arrest by choosing to remain in the Ecuadorean embassy," a government spokesman told the BBC. "The UK continues to have a legal obligation to extradite Mr Assange to Sweden."
Still, Assange's attorney argues the UN panel's decision may not be legally binding, but it does have a moral force.
"The ball is in Sweden's yard, in the prosecutor's yard," Per Samuelsson, the attorney, told the BBC. "She is not formally bound by the decision by the UN, but morally it is very difficult to go against it."
Assange, the founder of Wikileaks, the website that posted classified American and other information online, says he believes U.S. authorities will seek his extradition if he is sent to Sweden.