Assange Says He's Vindicated, but Britain Has Other Ideas
A UN panel ruled that the Wikileaks founder's detention is arbitrary.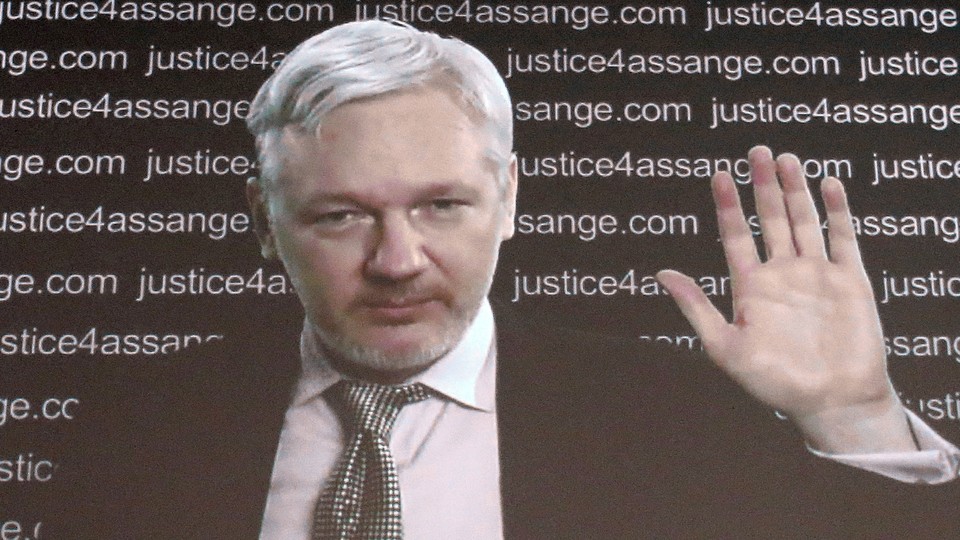 Updated on February 5 at 11:56 a.m. ET
Julian Assange, the Wikileaks founder, says a UN panel's ruling Friday that his detention is arbitrary is a "really significant victory that has brought a smile to my face."
"The lawfulness of my detention is now a matter of settled law," he said at a news conference in the Ecuadorian Embassy in London after the UN Working Group on Arbitrary Detentions announced its decision.
British authorities said they don't feel the same way. In a statement, the U.K. Foreign Office said: "This changes nothing."
"We completely reject any claim that Julian Assange is a victim of arbitrary detention," the statement said. "The U.K. has already made clear to the UN that we will formally contest the working group's opinion."
Philip Hammond, the British foreign secretary said:
#Assange is a fugitive from justice, voluntarily hiding in the Ecuadorian embassy. I reject the report from #UNWGAD.

— Philip Hammond (@PHammondMP) February 5, 2016
The BBC quoted the Metropolitan Police as saying it will make "every effort" to arrest Assange if he leaves the Ecuadorian Embassy.
As we reported Thursday, Assange was arrested in 2010 under a European Arrest Warrant issued by Sweden where he is wanted for questioning over claims of sexual assault—claims he denies. Assange's Australian passport was seized by British authorities. But in 2012, while on bail, he sought asylum in the Ecuadorian Embassy in London so he could avoid extradition. Last year, Swedish authorities dropped two cases of sexual assault against him, though a claim of rape still stands.
In 2014, Assange appealed to the UN panel, saying his situation was tantamount to arbitrary detention because he couldn't leave the embassy without being arrested. In its decision announced Friday, the panel agreed, saying Assange's detention "should be brought to an end, that his physical integrity and freedom of movement be respected … [and he] should be afforded the right to compensation."
The ruling by the five-member panel was 3-to-1 in Assange's favor. One person did not take part in the proceedings.
In Ecuador, Foreign Minister Ricardo Patino told the Telesur network the decision "shows clearly that we are talking about political persecution." But Britain maintains it is bound by the European Arrest Warrant against Assange.
The UN panel's ruling isn't legally binding. Still, Assange's attorney argues though that may be true, the decision does have a moral force.
"The ball is in Sweden's yard, in the prosecutor's yard," Per Samuelsson, the attorney, told the BBC on Thursday. "She is not formally bound by the decision by the UN, but morally it is very difficult to go against it."