Another Terrorist Attack in Turkey
The blast, which Ankara's governor attributed to a car bomb, has killed at least 28 people.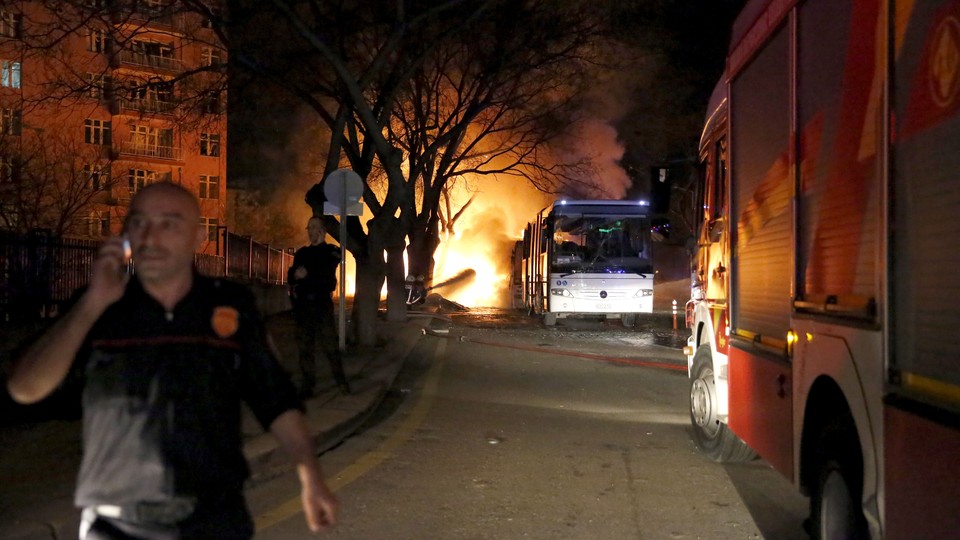 Updated on February 17 at 2:46 p.m. ET
An explosion in the Turkish capital, Ankara, has killed at least 28 people and wounded dozens of others, according to multiple outlets. CNN Türk reported the rush-hour explosion occurred near military buildings in the city.
Mehmet Kılıçdar, Ankara's governor, said the attack was carried out by a car bomb. It's unclear how many of those killed were members of the military.
"We are looking into details of the explosion," Prime Minister Ahmet Davutoğlu said prior to canceling a scheduled trip to Belgium.
Photos and videos posted on social media showed plumes of smoke in the area in the aftermath of the incident. Turkey has been targeted repeatedly in recent months; in January, a suicide bomber killed 10 people in Istanbul.
Following Wednesday's episode, the Turkish government placed a media blackout that would prohibit the publication of images of the scene. Turkish officials later confirmed that military vehicles had been targeted at a stoplight and condemned the attack as "contemptible and dastardly."
Turkey, which borders Syria, is bearing the brunt of the refugee crisis sparked by that country's civil war. In recent days, Turkey, along with Saudi Arabia, had been lobbying for a ground invasion of Syria as prospects for a cease-fire dim.
Although no one has yet claimed responsibility, suspicion immediately fell on two groups: ISIS, which controls territory across Iraq and Syria; and the PKK, the Kurdish separatist group Turkey regards as a terrorist organization. Indeed, Sky News quoted a Turkish security official as saying initial signs indicate the PKK was behind the attack. Turkey blamed ISIS for last month's attack in Istanbul.
This is a developing story and we'll update it when we learn more.