The Search for Answers at Médecins Sans Frontières
The global medical charity has called on an international commission to investigate a recent attack on a facility in Yemen.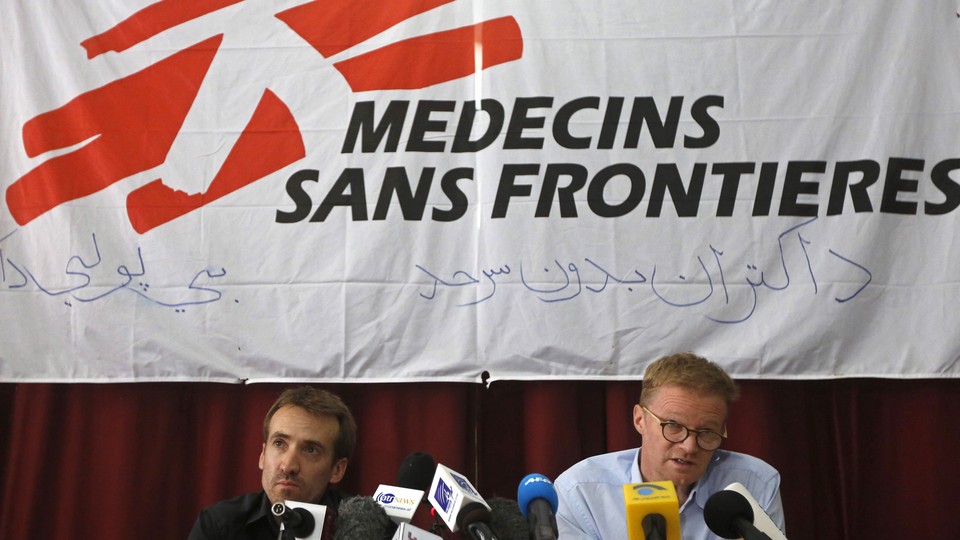 The global medical charity Médecins Sans Frontières has called for a full investigation of a recent bombing of a Yemen hospital that killed six people and injured seven others.
Médecins Sans Frontières, also known as Doctors Without Borders, said in a statement Monday that it has requested an investigation from the International Humanitarian Fact-Finding Commission, an independent body created by the Geneva Convention in 1991 to handle alleged breaches of international humanitarian law.
The Shiara Hospital, located in the city of Razeh in the Saada province in northern Yemen, was struck by a "projectile" on the morning of January 10, destroying buildings and forcing the hospital to close for several hours.
MSF could not confirm the origin of the attack. The province, which is near the Yemeni border with Saudi Arabia, has been the site of many airstrikes from a Saudi-led coalition of Arab states targeting Iranian-allied Houthi rebels in Yemen.
"The war in Yemen is being fought with total disregard for the rules of war," MSF said in a statement on its website.
The international commission recognized MSF's request in a statement on its website, saying it "stands ready to provide its services in this context."
The attack was the third such bombing of a medical facility run or supported by MSF in Yemen in as many months. In October, an airstrike destroyed a hospital in the Haydan district of the Saada province and slightly injured one person. In December, a mobile clinic in the city of Taiz was hit by airstrikes, leaving one person dead and eight injured. Last week, an MSF ambulance was hit and its driver killed in an airstrike in the town of Dahyan.
In October, a U.S. airstrike destroyed a hospital in Kunduz, Afghanistan, killing 30 people in what American officials described as an accidental hit. The group pulled its staff from Kunduz following the strike.
"Increasingly, we are seeing attacks on medical facilities being minimized, being labeled 'mistakes' or 'errors,'" Raquel Ayora, MSF's director of operations, said Monday.
MSF previously called on the humanitarian commission to investigate the Kunduz attack. The commission requires consent by the U.S. government before it can carry out such investigations. MSF says the commission has not received approval.
MSF currently runs 11 hospitals and health centers and supports 18 more in Yemen. The group says it has treated more than 20,000 people in the country.