The Aftermath of the Istanbul Attack
Ten of the 11 victims are German, and Turkish authorities arrested five person in connection with the suicide bombing.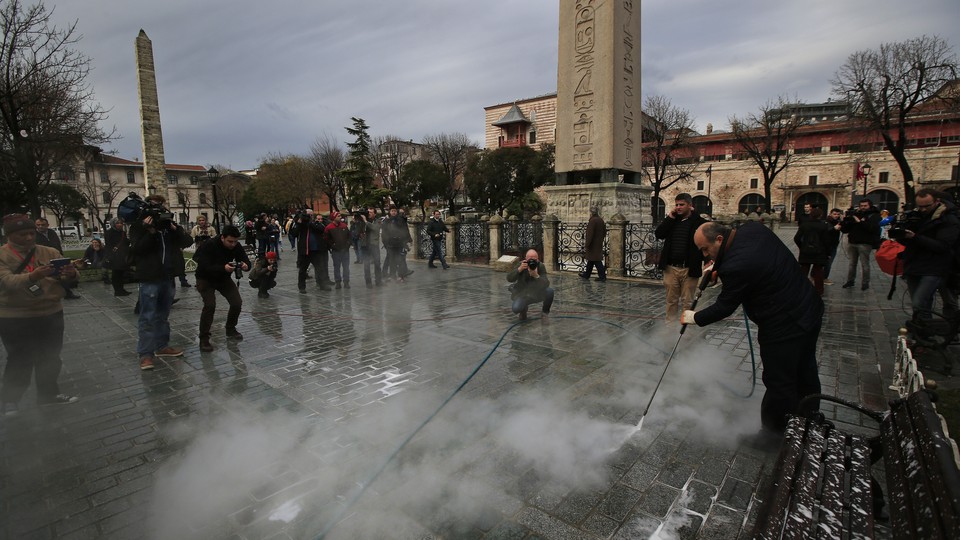 Updated on January 13 at 12:29 p.m. ET
Ten of the fatalities in Tuesday's suicide bombing have been identified as German, and a Turkish official says one person has been arrested in connection with the attack.
Sawsan Chebli, the German foreign ministry spokeswoman who provided the number of fatalities on Wednesday, also said seven Germans were among the wounded; five of them were in intensive care, she said.
But Turkish Interior Minister Efkan Ala, at a news conference with his German counterpart in Istanbul, put the number of wounded at 11: nine Germans, a Norwegian and a Peruvian. He also said 11 people had been killed in the attack, that's one more than the figure released Tuesday.  
The attack Tuesday struck Istanbul's historic Sultanahmet district, which is popular with tourists. Thomas de Maiziere, the German interior minister, said it did not appear that Germans were deliberately targeted.
"In the current stage of the investigation, there is no indication that the attack was targeted against Germans," he said. "I see no reason to refrain from trips to Turkey."
On Tuesday, Turkish authorities identified the bomber as Nabil Fadli, who they said was an ISIS member. They initially said he was Syrian. Then, they said he was Saudi. On Wednesday, Turkish news reports said Fadli was a 28-year-old Saudi national who had applied for asylum in Turkey. They said he was identified by his fingertips at the site of the explosion.
Five people have been arrested in connection with the attack: Ala said one person has been arrested; later, Prime Minister Ahmet Davutoglu said four others had been detained.
Ala said the bomber wasn't on a list of suspected ISIS members in either Turkey or other countries.  Turkish authorities also arrested dozens of terrorism suspects, including three Russians, in raids across the country, the Anatolia News Agency reported.